Press Release
Saint Louis University Hospital nurses to hold rally to demand protections when treating patients with COVID-19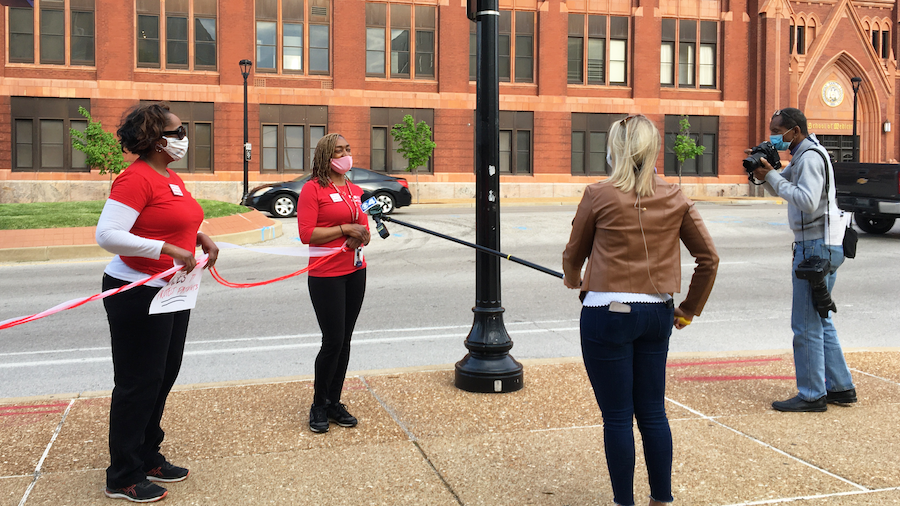 RNS say after unveiling $550 million new hospital, SLUH still not providing adequate supplies and protections to frontline healthcare workers
St. Louis, MO – Registered nurses at SSM Saint Louis University Hospital (SLUH) are holding a rally to call attention to their concerns about patient safety and personal protective equipment (PPE), including nurses not being consistently provided with new, unused N95 respirators required to safely treat COVID-19 patients, announced National Nurses Organizing Committee/National Nurses United (NNOC/NNU) today.
"Our new hospital is impressive, but beautiful doesn't save lives," said Earline Shephard, a SLUH RN and nurse representative for NNOC/NNU. "Patients are waiting in the halls of the ED to be treated. We're still trying to staff all these new beds and now the hospital wants to place patients in areas where staff aren't trained for that kind of patient. Nurses are struggling to care for patients without sufficient staff, PPE, and basic supplies—in the middle of a pandemic."
Who: Kellie Allen, Marchelle Vernell, Earline Shephard and other RN members of NNOC/NNU
What: Nurses to speak out for safety at SLUH Hospital and RN media availability
Where: Corner of South Grand Blvd. and Rutger St.
When: Wednesday, Sept. 16, 8:30 a.m. CT
SLUH nurses have also filed a complaint with the Occupational Safety and Health Administration (OSHA) over the lack of adequate PPE and inadequate infection control policies for preventing the spread of COVID-19. NNOC/NNU says current policies violate infectious disease protocol because they allow nurses to care for COVID-19 positive patients near non-COVID-19 patients or they require nurses to continue working after being exposed to COVID-19, putting patients, co-workers, and their families at risk. So far, the hospital has not agreed to the union's proposals for respirators, timely notification of exposure, or paid quarantine after exposure or infection.
"Information about COVID-19 is changing daily, and it can be hard to keep track, but you'd expect the hospital caring for you to be following the latest science," said Kellie Allen, an RN and NNOC/NNU nurse representative at SHUH. "Instead we're seeing confusion and delays in information. We're not allowed to wear our own N95s to keep ourselves safe. Sometimes my colleagues don't even find out until a week later that they were exposed at work without proper PPE."
"We've had several events where multiple staff got sick in a department, and it was preventable," said Allen. "The ministry of SSM began during an infectious disease outbreak. It is unfortunate that we have stepped so far away from their mission during the current health care crisis."
If you are interested in sending a camera crew to the rally or in learning more about the situation at Saint Louis University Hospital, registered nurses will be available for the press. Please text Jenn Dean at 415.917.7132 to arrange FaceTime or other video interviews.