Press Release
RNs at Southern California Hospital at Culver City to Hold Informational Pickets for Patient Safety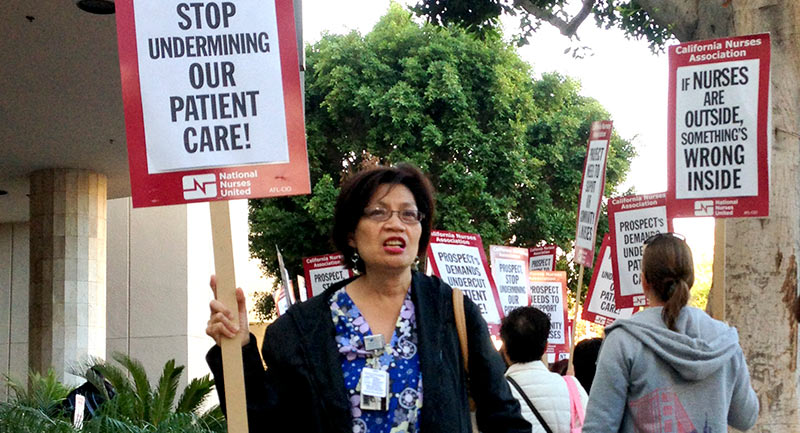 Registered nurses at Southern California Hospital at Culver City (SCHCC) will hold two informational pickets on Wednesday, Feb. 19 to demand the hospital address safety concerns at the hospital and to improve conditions to help in the recruitment and retention of experienced nurses, announced California Nurses Association (CNA) today.
"When you have subpar conditions and equipment that's always broken, patient care suffers," said David Craig-Smith, RN. "We are committed to providing our patients superior care, and we take seriously our roles as patient advocates, that is why we are walking the picket line today to demand that the owners of Southern California Hospital step up and fix the problems, so we can do our job to the best of our ability."
SCHCC is owned by Prospect Medical Holdings (Prospect), which owns 20 hospitals across the country along with 165 clinics and treatment centers. According to Moody's, Prospect generated approximately $3.2 billion dollars in revenues in 2018. In filings with Medicare, Prospect reported that in the three-year period from 2016 through 2018, the company's hospitals earned more than $133 million. Those profits included more than $73 million from three Southern California hospitals, including SCHCC.
What: Informational Pickets for Patient Safety
When: Wednesday, Feb. 19   7:30 a.m. to 8:30 a.m. and Noon to 2 p.m.
Where: Southern California Hospital at Culver City
             3228 Delmas Terrace, Culver City, Calif.
Nurses say short staffing and broken equipment are chronic problems at the facility. They note that one of the hospital's four elevators, one of the two elevators designated for patient and visitor transport, has been out of service since December 3, 2019. Nurses say the loss of the elevator makes it difficult to move patients, visitors, and equipment throughout the eight-floor, 420 bed hospital in a timely manner.
"When nurses need equipment such as an IV pump, heart monitor, or a crash cart to care for a patient, seconds and minutes count," said Nadia Seray-Wurie, the chief nurse representative for CNA. "We are seeing delays moving patients and moving equipment to where they need to be because of this broken elevator. In addition to constant problems with broken computers, pumps, and monitors, we also have a serious problem with our roof leaking."
The leakage problem is so severe in the hospital that there are tarps covering the ceiling in rooms used to store equipment such as intubation tubes, tracheostomy tubes, gauze, and other materials. Earlier this month, state inspectors issued a citation to the hospital noting that water intrusion was leading to mushrooms growing out of a wall in the hospital.
Nurses say short staffing throughout the hospital leads to delays in care, frustration for patients, and forces nurses to go without breaks or meals. Last year, the hospital management cut the hospital's transport nurse position. The loss of a transport nurse means that other bedside nurses are forced to leave their floor, and up to four other patients, to accompany a patient to get scans or other treatments off the floor, this can take an hour or more.
As conditions in the hospital have deteriorated, the number of experienced nurses leaving the facility has increased. Nurses say in the fiscal year that ended in September 2019, the hospital had a turnover rate of 27 percent. Nurses say when experienced nurses leave, patient care suffers, as those nurses serve as mentors to the younger nurses.
"This hospital is owned by a multi-billion-dollar health care company," said Ray Carter, RN. "Prospect has the money and the obligation to create an environment where nurses can do their best work and patients can get the care they deserve."
NOTE: This is informational picket, NOT a strike or work stoppage. Nurses are engaging in an informational picket during their non-work hours.