Press Release
RNs at Rocky Mountain VA rally to alert public to patient safety concerns, short staffing, and intimidation of nurses exercising their union rights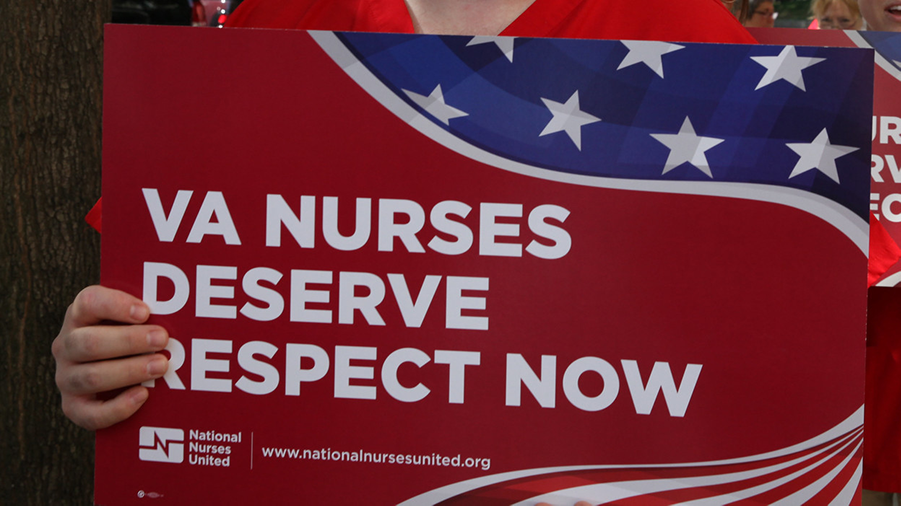 Registered nurses at the Rocky Mountain Regional VA Medical Center in Aurora, Colorado will hold a rally Friday, Nov. 20 to alert the public about patient safety issues as a result of chronic short staffing, to denounce hospital management's decision to implement widespread shift changes, and to employ overt intimidation tactics as an attempt to deny the nurses their collective bargaining rights, announced National Nurses United/National Nurses Organizing Committee (NNU/NNOC) today.
The day's action comes after the hospital abruptly changed nursing schedules without bargaining with the nurses and wrongly cited a nurse who engaged in protected union activity under the Federal Service Labor Management Relations Statue when she hung flyers in employee only areas of the facility.
"We are alarmed to see the flagrant disrespect, intimidation, and disregard for our union rights," said Sharda Fornnarino, RN. "No nurse should be pulled away from their patients, detained, and cited for exercising their rights. Furthermore, we understand there are times when changes must be made in the hospital. We do not have an issue with change, but we have an issue with being excluded in the discussions and decision-making about our working conditions, a bargained right, which is guaranteed by our contract.
What: Rally to alert public to safety concerns for patients and intimidation of nurses
When: Friday, Nov. 20 at 4:45 p.m.
Where: Across the street from Rocky Mountain Regional VA Medical Center
(13650 E. Colfax Ave. near the intersection of E Colfax Ave. and Fitzsimons Pkwy.)
Nurses note the unilateral shift changes come at a time when nurses are already under intense stress as Covid-19 cases rise and the hospital is chronically short staffed. In addition, nurses are becoming ill themselves due to poor hospital contact tracing procedures, and a lack of optimal personal protective equipment (PPE), both of which put patient care in jeopardy.
"Why is the hospital changing schedules now when we are already feeling the stress of being on the frontlines of the Covid crisis?" said Thomas Culpepper, RN. "Is this not enough for us to contend with? How did we go from being heroes during the first surge to being disrespected and basically made to feel inconsequential for this second surge? Now we have to worry about the stresses of a home life thrown into needless chaos while also contending with Covid, the lack of proper PPE, and working to protect ourselves from the virus."