Press Release
RNs Rally to Demand Transparency as Sale of Seton Medical Center Stalls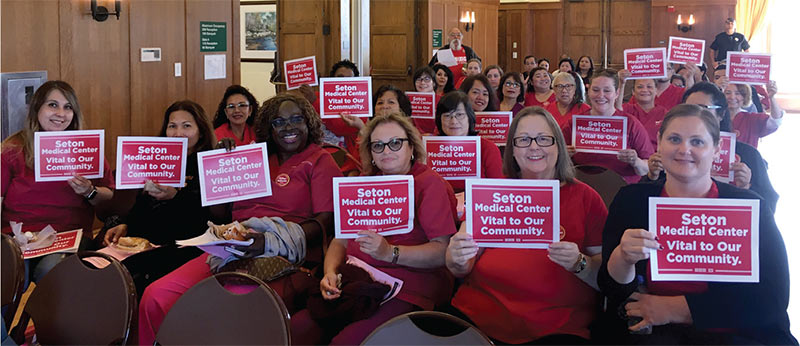 Registered Nurses Warn Verity's Silence Contributed to the Closure of Sister Hospital in LA
Registered nurses will hold a rally on Wednesday, Feb. 12, 2020 to demand that Verity Health System (Verity), the owner of Seton Medical Center in Daly City be transparent about the expected sale of the hospital, announced the California Nurses Association today.
"Seton Medical Center provides vital services to an underserved community here in San Mateo County," said Phoebe Minkler, a registered nurse who works in the intensive care unit. "For months, the public has been kept in the dark about the future sale of Seton. After seeing how Verity's action contributed to the illegal and catastrophic closure of St. Vincent Medical Center in Los Angeles, we are very concerned that the same thing could happen to our beloved hospital. Verity must share all it knows about potential buyers with its patients and the public."
"Seton Medical Center is critical in north San Mateo County," said Supervisor David Canepa. "The closure of the hospital would devastate patients and would devastate those who work there. Verity needs to find a buyer as soon as possible."
What: Rally to Demand Transparency on Sale of Seton Medical Center
When: Wednesday, Feb. 12  — Noon to 1:00 p.m.
Where: Seton Medical Center, 1900 Sullivan Ave., Daly City
Last year, a bankruptcy judge cleared the way for KPC Group to purchase Seton and St. Vincent Medical Center. Court documents indicate that Verity learned in November that the sale of St. Vincent Medical Center was falling apart, yet Verity failed to share that information with the public. Instead, Verity announced on January 6 that it intended to close the hospital immediately and a bankruptcy judge allowed Verity to close the hospital before the end of the month.
"Verity's silence contributed to the closure of the hospital and that silence robbed the community the opportunity to locate an appropriate and responsible buyer and thereby, save the hospital," said Shane Ward, RN. "We cannot allow that to happen in our community. It is time for Verity to share what it knows about the potential sale to KPC or give the community the opportunity to find an appropriate solution that meets the needs of those served by this hospital."