Press Release
RNs to Rally in Chicago Feb. 22 in Protest over Supreme Court Case to Be Heard - Seen as Threat to Patient Care and Corporate Attack on Worker, Union Rights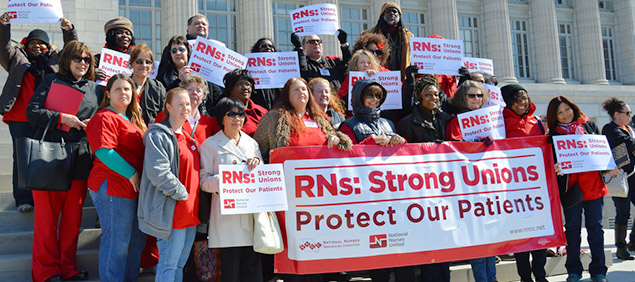 Registered nurses, joined by unions, healthcare workers and community allies, will hold a public rally on Thursday, February 22 in Chicago in advance of a Supreme Court hearing they say would severely jeopardize the ability of nurses who work in public health settings to advocate for safe patient care.
The focus is a case called "Janus v. AFSCME," widely expected to receive a favorable review from the pro-corporate majority on the Supreme Court February 26.
The rally and press conference will be held at the John H. Stroger Jr. Hospital of Cook County, 1969 Ogden Ave, Chicago, IL 60612, at 12:15pm.
The case, solicited, pressed and bankrolled by billionaires and corporate executives, is intended to weaken public sector unions by encouraging employees in unionized public sector workplaces to refuse to pay dues — while they enjoy the rights and benefits of a union contract and representation.
A not so hidden goal, which matches anti-union "right to work" laws for private sector workplaces pushed by the same groups across the U.S., is to decimate unions financially, crippling their ability to effectively challenge employer abuses against workers and the public, and bankrupting their ability to advocate for public policies that benefit all working people.
Without a strong union, employers have free reign to exploit their unprotected workers.   As things stand, nurses and other workers who have the protection of a powerful union can speak up without fear of retaliation or being unjustly fired — which, in cases where patient safety is at stake, could be the difference between life and death for patients when they are at their most vulnerable. 
Martese Chism, a nurse at John H. Stroger Hospital,  says: "The power of solidarity is what enables us to be strong patient advocates. Budget cuts frequently threaten to close services that the community desperately needs. When the system threatened to close pediatric services at Stroger, we came together with other public sector unions at County and fought to keep pediatrics open."
"As a public health nurse, I am a public servant, committed to serving Cook County's most vulnerable communities. My union makes it possible for me to speak up on behalf of patients and the public, without fear of retaliation," says Joanne Lingle, Cook County Public Health Nurse
*Endorsing organizations: National Nurses Organizing Committee, National Nurses United, Reclaim Chicago, The People's Lobby, The Chicago Federation of Labor, DSA Labor Working Group, Community Strategy Group, East Chicago, IN, Southeast Side Chicago Coalition to Ban Petcoke
*Additional endorsements will be added