Press Release
RNs to Rally Across California Feb. 22 to Protest Supreme Court Case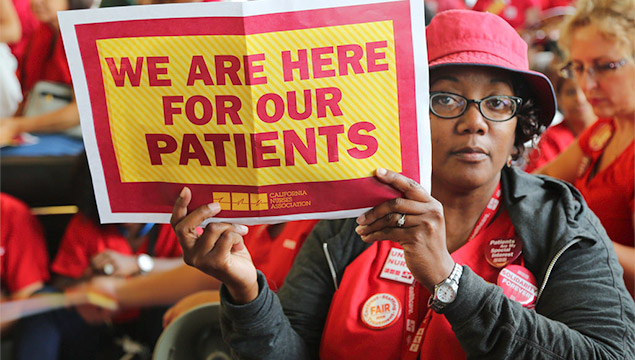 Seen as Threat to Patient Care, Corporate Attack on Workers, Union Rights
Registered nurses, joined by community supporters, will hold public rallies Thursday, February 22 around California in advance of a Supreme Court hearing they say would severely jeopardize the ability of nurses who work in public health settings to advocate for safe patient care.
Rallies will be held in Northern California in Martinez, Salinas, and San Mateo, and in Southern California in Escondido, Lancaster, San Bernardino, and Ventura (times and locations below).
The focus is a case called "Janus v. AFSCME," widely expected to receive a favorable review from the pro-corporate majority on the Supreme Court February 26.
The case, solicited and bankrolled by billionaires and corporate executives, is intended to weaken public sector unions by encouraging employees in unionized public sector workplaces to refuse to pay dues — while they enjoy the rights and benefits of a union contract and representation.
A not so hidden goal, which matches anti-union "right to work" laws for private sector workplaces pushed by the same groups across the U.S., is to decimate unions financially, crippling their ability to effectively challenge employer abuses against workers and the public, and bankrupting their ability to advocate for public policies that benefit all working people.
Without a union, employers have free reign to exploit their unprotected workers. As things stand, nurses and other workers who have the protection of a union can speak up without fear of retaliation or being unjustly fired — which, in cases where patient safety is at stake, could be the difference between life and death for patients when they are at their most vulnerable.
"Union protection absolutely saves lives," says Sue Phillips, an RN who works at Palomar Medical Center in Escondido, one of the Feb. 22 rally sites.
"With the union I have that platform where I can safely speak out for patient care," says Maureen Dugan, RN, a CNA board member who works at the University of California San Francisco, one of the medical centers that would be adversely affected by the ruling.
"A lot of time in non-union environments, nurses are intimidated and bullied into staying quiet," Dugan noted. "These hospitals that don't have unions don't care."
"It's the union that brings many safety laws in legislation and public regulatory protections. It's the union dues that fund those efforts," says Dugan. "It's the nurses in my hospital, in my region, in my whole state that make up the strength of our union and our ability to protect our patients, our license, and our profession."
February 22 actions, all in front of the following hospitals:
Northern California
Martinez – Contra Costa Regional Medical Center, 2500 Alhambra Ave., 4 p.m.
Salinas – Salinas Valley Memorial Hospital, 450 E Romie Lane, 3 p.m.
San Mateo – San Mateo County Hospital, 222 W 39th Ave., 12 noon.
Southern California
Colton (San Bernardino County)  – Arrowhead Regional Medical Center, 400 North Pepper Ave., Colton, 12 noon.
Escondido – Palomar Medical Center, 2185 Citracado Parkway, 12 noon.
Lancaster – Antelope Valley Hospital, 1600 W Avenue J, 12 noon.
Ventura – Ventura County Medical Center, 300 Hillmont, 8 a.m.