Press Release
RNs to Protest Short Staffing, PPE Problems as Covid-19 Crisis Surges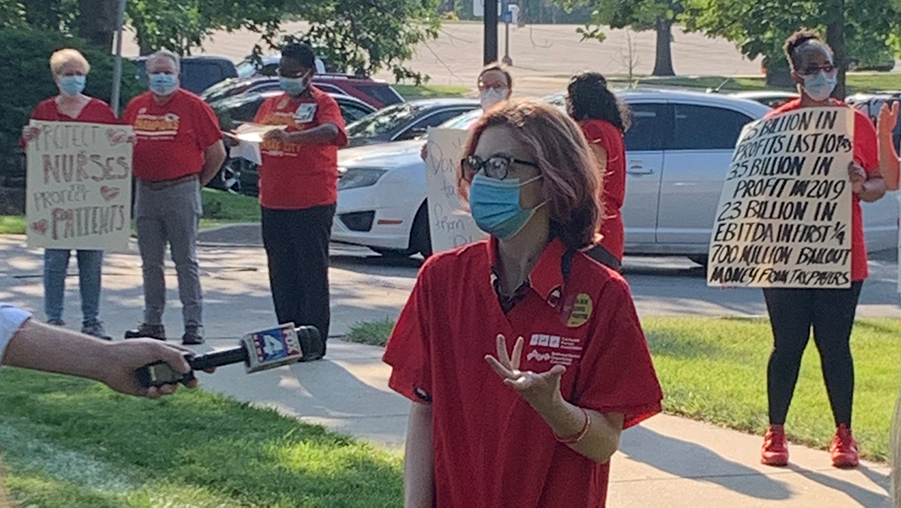 Registered nurses who work at HCA's Research Medical Center in Kansas City, Mo. and Menorah Medical Center in Overland Park, Kan. will hold a public action Tuesday to highlight ongoing problems with inadequate staffing and personal protective equipment (PPE) in the midst of an alarming surge of the Covid-19 pandemic.
What: RNs Action to Challenge Unsafe Practices
When: Tuesday, November 17, 5 p.m.
Where: HCA Health Midwest Headquarters,
             5440 W 110th St, Suite 400, Overland Park KS  
At the height of the pandemic in June, HCA cut the budget for staffing at Research and Menorah. Cuts in nursing staff caused nurses to have to take more patients, creating unsafe staffing levels on units where the RNs care for very sick patients and dying patients. At both hospitals, nurses were cut from the staffing levels every shift and across multiple hospital units. Since then, more than 300 RNs have left the bedside.
"We are pushing ourselves to the limit and still not having time to provide the level of care our patients deserve and need," says Research RN Zo Schmidt. "During a historical pandemic, we need more nurses, not fewer. I've seen a mass exodus of nurses, and more are planning to leave. We know that to heal, our patients deserve individualized care from their nurse."
Schmidt, who works in a general medical care unit, notes nurses' staffing assignments have increased from four to six, including trauma patients who need more individualized care since the trauma unit has been converted to a Covid-19 unit during the latest surge.
Ensuring nurses have the optimal PPE is also a continuing problem. At Research, single use PPE is unsafely and routinely re-used multiple times during nurses' shifts. At Menorah, RNs are told to wear an N95 until they achieve 24 hours "wear time" and to store the dirty used N95 in a paper bag before they can get a new one. 
Both practices expose the RNs to infection, and sure enough, nurses report that multiple RNs have contracted Covid-19 at five units at Research, and at four units at Menorah. The RNs are demanding HCA provide single-use N95s, elastomeric respirators, or Powered Air Purifying Respirators (PAPRs) when caring for all suspected and confirmed Covid-19 patients.
"We need more staff each shift and more PPE protection," says Menorah RN Summer Baker. "If nurses get an N95 mask, we have to wear it for multiple hours, with multiple patients, before we get a new one. Many nurses and staff are getting sick with Covid-19. In many units all across the hospital we started having outbreaks in September, and it hasn't stopped. We are exhausted and scared, body mind and spirit" 
Research RN Jenn Caldwell reports that she has difficulty getting the optimal PPE, and "I have heard from multiple co-workers all across the hospital, too, who are having to fight for N95s, for goggles and masks. We shouldn't have to."
"This is exhausting enough without also having to also have to fight for the protections we need to care for hospital patients who need us. Nurses leave because of staffing and not feeling protected from Covid-19 ourselves. Staff all over the hospital are getting sick with Covid-19," Caldwell said.