Press Release
RNs Protest Ascension's Decision to Cut Services to a Dangerous Level at Providence Hospital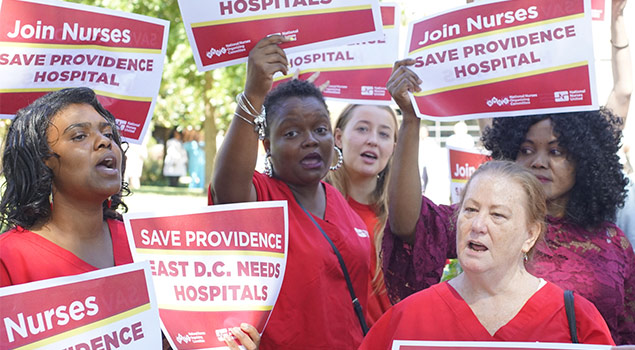 —RALLY and PROTEST—
TUESDAY, December 11 at 10 a.m.
Nurses Renew Call for Full Restoration of all Acute-care and Emergency Department Services
Registered nurses reject Ascension's decision to dramatically cut services to dangerous levels at Providence Hospital, a move that nurses say will adversely affect the health of the people of east D.C.
According to RNs, over the past few days, Ascension has told nurses, with no public announcement, that it plans to staff only 10 to 15 beds out of the hospital's 238, and operate a bare bones emergency room, that will serve only low-acuity patients, without the benefit of an operating room, or intensive care unit. These cuts are scheduled to go into effect this Friday, December 14, say nurses.
"We know that is it imperative for the health and well-being of the people in east D.C. that Providence stay open, operating a fully functioning hospital with 238 beds, a fully operational emergency room supported by an intensive care unit and operating rooms," said Elissa Curry, a registered nurse at Providence Hospital. "If Ascension fails to do that, people will die unnecessarily without adequate access to care."
What: Rally and Protest to Save Providence Hospital
When: Tuesday, December 11 at 10 a.m.
Where: Providence Hospital, 1150 Varnum Street NE Washington DC
(corner of 12th and Varnum Streets N.E.)
Nurses also object to what they say is unfair treatment by Ascension in its attempt to lay off nurses, some of whom have worked at Providence for 30 or 40 years, without providing severance payments which Ascension is providing to other laid off Providence Hospital workers. Some of the nurses who are scheduled to be laid off have worked at Providence Hospital for 30 or 40 years. Nurses will file an unfair labor practice charge with the National Labor Relations Board this week over the discriminatory practice and Ascension's fraudulent concealment during 2017 negotiations.  
Ascension, the largest Catholic health system in the world and the largest non-profit health system in the U.S. announced in August its intention to close Providence Hospital, including its emergency room and acute-care services. Following an outcry from registered nurses, caregivers, community, labor and faith leaders, who warned of the disastrous effects the closure would have on the community's health and well-being, D.C. Council and Mayor Muriel Bowser passed emergency legislation giving the D.C. State Health and Planning Development Agency (SHPDA) the authority to approve or disapprove of hospital closures.
In a December 5 letter to the C.E.O of Providence Hospital, SHPDA noted it was disapproving of Providence Hospital's current closure plan and noted that the agency expects the hospital to continue providing inpatient, outpatient and emergency services through April 30, 2019. SHPDA further noted that Ascension has not submitted an application to renew its operating license which is set to expire on December 14.
SHPDA stated in the letter that Providence has failed to detail how the hospital "intends to protect the health and welfare of the Hospital's total patient population, i.e., emergency, acute and ambulatory patients," and that Providence did not provide SHPDA information on "how it will handle the transfer of emergency room patients, those who show up with acute conditions that are life threatening or that could lead to long-term impairment, or those patients with ambulatory care sensitive conditions who will show up in the Hospital."
"Ascension's failure to be transparent about its future plans to the public, to SHPDA, and to its patients, is an attempt by this billion dollar entity to mask its effort to abandon the very people it was created to help, the poor, the vulnerable and the underserved," said Rose Farhoudi, a registered nurse at Providence Hospital. "However, the nurses, the caregivers, community, faith and labor are committed to fight to keep Providence Hospital open as a fully functioning hospital, with a fully operational emergency room and acute-care services. The people of east D.C. deserve no less."