Press Release
RNs to Picket Ohio, West Virginia, and California Community Health Systems Hospitals March 19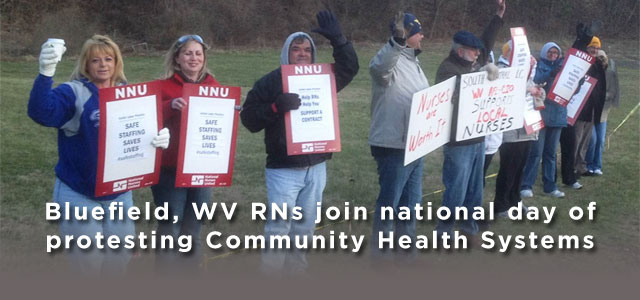 To Protest Care Problems, Labor Law Violations
Registered nurses at five Community Health Systems hospitals in West Virginia, Ohio, and California will hold a national day of action Tuesday, March 19 to call attention to brazen violations of federal law by CHS-affiliated hospitals and the hospitals' failure to address rampant patient care problems.
"With their outrageous behavior, ignoring the democratic vote of the nurses, retaliation and threats against those who provide hands-on care for their patients, and disgraceful dismissal of concerns over widespread patient safety problems, these hospitals could be a poster child for lawless behavior," says Deborah Burger, RN, co-president of National Nurses United.
All five of the facilities – Bluefield Regional Medical Center and Greenbrier Valley Medical Center in West Virginia, Affinity Medical Center in Ohio, and Barstow Community and Fallbrook hospitals in California – are represented by NNU affiliates, including National Nurses Organizing Committee and the California Nurses Association.
Picketing will be held Tuesday, March 19 at:
Bluefield Regional Medical Center, 510 Maryland Ave., Bluefield, WVa., 6 p.m. to 8:30 p.m.
Greenbrier Valley Medical Center, picket at 122 Maplewood Ave., Ronceverte, WVa, 6 p.m. to 8:30 p.m.
Affinity Medical Center, 875 8th St. NE, Massillon, Oh, 6 p.m. to 8:30 p.m.
Barstow Community Hospital, 820 East Mountain View St., Barstow, Ca, 6:30-9 a.m. and 4-7 p.m.
Fallbrook Hospital, 624 E. Elder St., Fallbrook, Ca., 6 p.m. to 8 p.m.
CHS is the second largest for-profit hospital chain in the U.S., and one of the wealthiest. Over the past five years, CHS reported over $1.5 billion in profits to the Security Exchange Commission. CHS CEO Wayne Smith piled up $21.5 million in total compensation in 2011, according to the AFL-CIO Executive Pay Watch project.
Despite the secret ballot elections for union representation by the RNs at each of the hospitals last year, hospital officials have illegally refused to negotiate in West Virginia and Ohio while walking away from bargaining at the Southern California facilities.
Refusal to bargain as well as numerous other wanton and illegal violations of the nurses' rights and federal labor law have already prompted the National Labor Relations Board to issue a series of complaints, with the real possibility the hospitals will end up in court.
Other egregious, illegal behavior includes retaliation against nurse activists, gag rules restricting the RNs' free speech rights, and unilateral changes in work rules and policies.
The RNs are especially appalled by threats made against nurses who seek to resolve serious problems with unsafe staffing and other patient care concerns. When the RNs have attempted to address the issues to hospital managers, by submitting forms saying they will carry out the assignment despite their objection (ADOs) that it could adversely impact patients, several of the hospitals have reacted with threats of discipline, threats to challenge the RNs' legal licensure, and in at least one case, a threat of physical harm.
"What a disgraceful message to send to your community, that when nurses attempt to improve conditions to protect patients, they face harassment, intimidation, and threats to their job and personal safety. Nurses and NNU will not stand for such reprehensible behavior," Burger said.
"The ADO gives RNs a voice," said Affinity RN Sarah Falanga. "We need this voice to make sure that patients are safe. We have a duty and an obligation to provide patients the level of care prescribed to them by the doctor. We can't do that when we are caring for three to four patients (in intensive care). We are ready and willing to fight for the safety of our patients," she said
Fallbrook RN Veronica Poss explained that the nurses at her facility will be out March 19 "to let patients know we are here to advocate from the bedside."
"We joined CNA because we wanted a voice in patient care. Assignment Despite Objection forms are accepted at CNA-represented hospitals across the state and the country but Fallbrook Hospital and other CHS owned hospitals refuse to even look at them. Why would CHS not want to hear from frontline caregivers about our patients' needs?" Poss asks.
Among the long term consequences is the erosion of the RN workforce, evidenced in high turnover rates of RNs, which costs local communities, patients and families their most valued, experienced RNs.
Just prior to a Valentine's Day protest last month, Bluefield RN Ramona Boyer noted, "My patients are someone's mothers, fathers, babies, sisters, brothers, and they entrust their lives to us. I want to have the staff that would allow me to care for them in the same way I would want my family to be cared for. They deserve nothing less."
Labor board hearings on the violations are scheduled in April for Affinity, Fallbrook and Barstow, and are pending at Bluefield and Greenbrier.