Press Release
RNs to Mark Mother's Day Providing Critical Medical Care to Asylum Seekers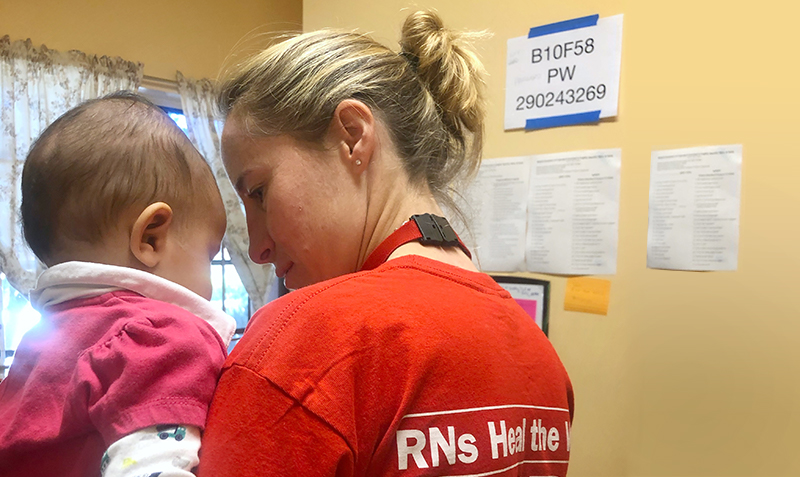 Nurses available for interviews May 11 to 13
Registered nurses with the Registered Nurse Response Network (RNRN) will spend this Mother's Day weekend caring for children, mothers, and families as they provide critical medical aid to asylum seekers in Tucson, Ariz. RNRN, a disaster-relief project of the California Nurses Foundation (CNF) and National Nurses United (NNU), is working with Casa Alitas, a shelter operated by Catholic Community Services of Southern Arizona, as hundreds of migrants are expected to arrive this weekend.
"Of all the lessons my mother taught me, the most important to her, and to me, was to love everyone as you love yourself and to always help others when they are in need," said Kim Moenich, a registered nurse from North Carolina. "This Mother's Day, I could think of no greater way to honor my mother's legacy than to volunteer with RNRN, helping those seeking refuge from hunger, poverty, war, and death. Any small difference I might be able to make in any person's life as a volunteer is my way of paying back all the sacrifices that my mama made for me."
Trish Gonzalez, a pediatric nurse from Northern California, said she felt it was important for her to welcome mothers who have risked everything in order to provide for their children.
"The work we do, that ability to assess and guide families through their most difficult times, is paramount," said Gonzalez."It's what we do daily as nurses. We represent the compassionate, kind face of America that I want asylum-seeking families to remember when they look back on their difficult journey. It's a privilege as a mother, grandmother, and RN to assist in meeting their needs over this Mother's Day weekend." 
Nurses from previous RNRN deployments to Tucson have said many migrants show signs of PTSD, trauma, dehydration, and exhaustion, as well as cold and flu symptoms. 
Some of the migrants' deteriorated medical states appear to have been exacerbated by poor treatment and unhealthy conditions while in federal detention. Migrants have told RNRN volunteers that they were housed in fenced cages with concrete floors and cold temperatures without adequate bedding or clothing for warmth. Many migrants described a lack of food, and water available for them in federal detention facilities. Nurses also heard from a number of migrants that their labeled prescription medications had been confiscated or withheld by federal agents.  
Since RNRN began sending teams of nurses to Casa Alitas in February the shelter has provided care to some 8,000 migrants.
RNRN volunteer nurses have cared for thousands of patients during disaster relief and humanitarian assistance deployments that include the South Asian tsunami (2004); Hurricanes Katrina and Rita (2005); the Haiti earthquake (2010); Super Typhoon Haiyan/Yolanda (2013); Continuing Promise with the Department of Defense (2010, 2015); Hurricanes Harvey and Maria (2017); Volcan de Fuego Relief in Guatemala (2018), Hurricane Michael (2018); and the Camp Fire in Butte County, Calif. (2018); and ongoing deployments to the Arizona border to provide medical care to asylum seekers (2019).