Press Release
RNs at Marin General Will Strike Thursday, Nov. 5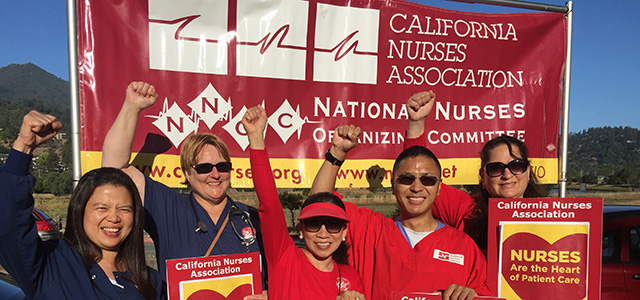 Safe Staffing and Workplace Safety Issues Put Patients at Risk, Say Nurses
 
Due to management's refusal to meaningfully address nurses' patient care concerns, Marin General Hospital (MGH) nurses will move forward with a strike Thursday, Nov. 5, the California Nurses Association (CNA) announced today.
 
The walkout will involve around 520 registered nurses from MGH, who have been in negotiations with the hospital for 11 months. Nurses say patient care and workplace safety issues have not been adequately addressed—although the hospital has reported $49 million in profits over the last three years.

"It takes a lot of courage to stand up for what's right. But it's part of our job to ensure that our patients have access to safe, quality care—and right now, the inadequate staffing, the workplace safety issues, the issues with retaining experienced nurses—all of that puts our patients at risk," said Lynn Warner, RN. "We have been calling on management to put patients over profits, and our nurses are ready to do what it takes to enact that meaningful change."

        What:       RNs at Marin General Strike over Patient Care Concerns
        When:      7 a.m. to 7 p.m., Thursday, Nov. 5
        Where:     Marin General Hospital, 250 Bon Air Rd, Greenbrae, CA 94904
 
Issues that MGH nurses are calling on management to address include:
Safe Staffing: MGH nurses say that lack of adequate staffing in several departments is causing challenges in obtaining sufficient breaks. Studies show that inadequate breaks and resulting fatigue can compromise patient care—and can negatively affect nurses' health and safety. Nurses are calling on the hospital to add one additional nurse per department, to assist in providing break relief.
Workplace Safety: Nurses and nursing assistants are at significant risk of injuries and musculoskeletal disorders, which are often the result of manually lifting patients. (According to the Centers for Disease Control, musculoskeletal injuries from overexertion in healthcare occupations are among the highest of all U.S. industries.) MGH RNs do not have sufficient lift equipment or 24-hour access to lift teams to help move and turn patients in the middle of the night.

"At night we do not have a lift team to help us turn patients and step in during emergency situations," said Virginia Currie, an RN in the Cardiac Specialty Care Unit. "Marin County has a high elderly population and I provide care for acute patients with serious heart conditions. We need a twenty-four hour lift team to assist and help prevent RN injuries on the job."
Retention of fulltime, experienced nurses: Over the past year, as working conditions have continued to deteriorate, MGH has struggled to fill 62 open RN positions with full-time, experienced nurses. As a result, RNs say, there has been an influx in the use of "traveler" nurses in several units of the hospital (temporary nurses, often brought in from other areas). Travelers are unfamiliar with the hospital and patient population, nurses say, and also often take valuable training time—only to leave. Nurses are calling on management to invest in hiring local nurses and retaining the longtime, experienced nurses the community deserves.

"Marin General calls itself 'your healing place.' Nurses are the ones at the bedside, providing that healing," said Virginia Currie, RN. "What we're doing with this strike is standing up and saying that the hospital's failure to address patient care and workplace safety issues—is resulting in it negating its own mission. Our patients and our community deserve better."