Press Release
Registered Nurses Honor National Nurses Week with Lobby Days For Federal Legislation to Protect Patients and Nurses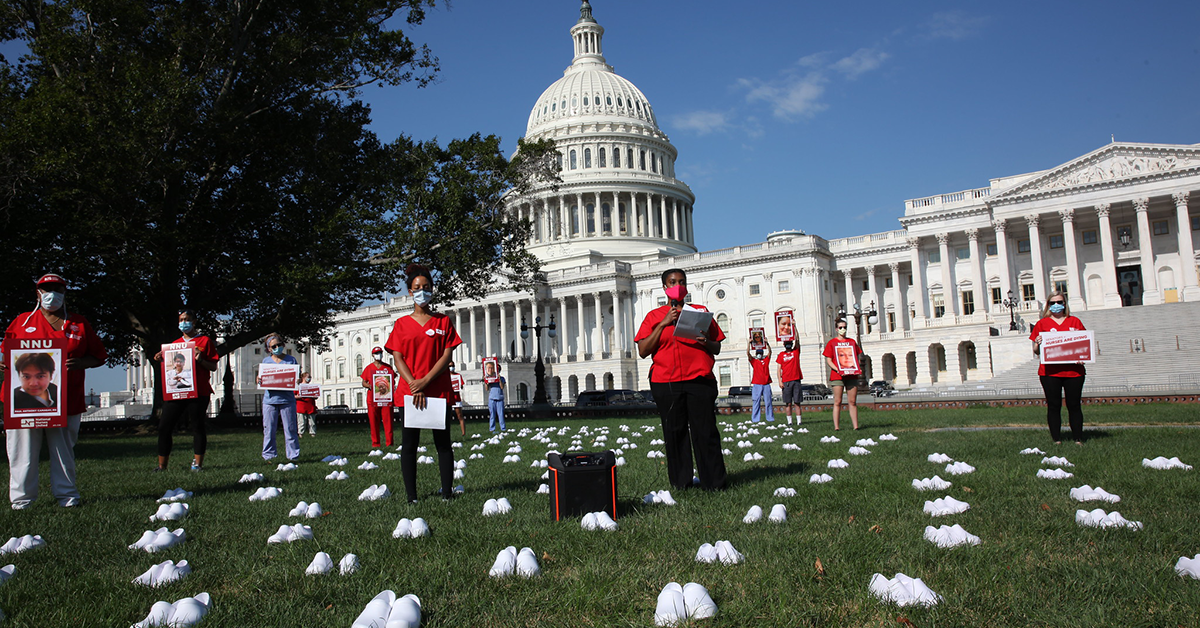 RNs from across the country urge U.S. House and Senate members to support bills aimed at improving patient care, health care worker protections
Hundreds of registered nurses from across the country will meet virtually with federal lawmakers on May 4-10 to urge them to step up measures to improve protections for hospital patients and nurses and other health care workers across the country.
The RNs, members of the National Nurses United (NNU), which represents more than 170,000 RNs across the country, will meet with scores of members of the U.S. House of Representatives and the U.S. Senate to discuss their legislative priorities for the 117th Congress. Among other things, the nurses will be sharing stories and working conditions from the front lines of the deadly Covid-19 pandemic. The union members are urging federal lawmakers to pass legislation that would guarantee health care for all through a Medicare for All system, remedy hospital understaffing through mandatory, minimum nurse-to-patient ratios, and issue an OSHA standard for workplace violence prevention for health care and social workers.
The nurses will also be highlighting their long-standing demand for an OSHA Emergency Temporary Standard (ETS) to protect them and their coworkers during the ongoing pandemic. That OSHA ETS was sent by the Labor Department to the White House for regulatory review on April 26 and the nurses are demanding swift completion of that review and the promulgation of the ETS in time for International Nurses' Day on May 12, the 201st anniversary of the birth of Florence Nightingale, the founder of modern nursing.
"These registered nurses are patient advocates, at the bedside, in their communities, and in the halls of Congress," said Jean Ross, RN and an NNU president. "Congress needs to hear from the nurses who have been on the front lines of this pandemic and who know best the measures that need to be taken to ensure patient and frontline health care worker safety."
The RNs are calling on legislators to support:
Workplace Violence Prevention for Health Care and Social Service Workers Act (H.R. 1195). This bill, introduced by Rep. Joe Courtney (D-Conn.) and passed by the House on April 16, would mandate that the federal Occupational Safety and Health Administration (OSHA) create a national standard requiring health care and social service employers to develop and implement a comprehensive workplace violence prevention plan. The legislation is now waiting on Senate action.
Medicare for All Act (H.R. 1976), introduced by Reps. Pramila Jayapal (D-Wash.) and Debbie Dingell (D-Mich.), this legislation would establish a Medicare for All national program. This includes guaranteed primary care, hospital care, women's reproductive health services, dental, vision, mental health, substance abuse treatment, prescription drugs, long-term care and support, and the cost of transportation for disabled and low-income patients, all free at the point of service.
Nurse Staffing Standards for Hospital Patient Safety and Quality Care Act, which would mandate unit-specific RN-to-patient ratios for acute-care hospitals. This would help address the epidemic of deliberate understaffing in our nation's hospitals that puts patients and the public at risk.
Protecting the Right to Organize Act, or PRO Act (HR. 842, S. 420), introduced by Sen. Patty Murray (D- Wash) and Rep. Bobby Scott (D-Va.), will amend the National Labor Relations Act (NLRA) to strengthen protections in numerous ways for workers who want to unionize, including by increasing punishment for employers who violate workers' rights. It would also prevent employers from holding captive audience meetings where anti-union consultants are brought in to dissuade workers from supporting the union. The legislation passed the House, but has yet to be considered for a Senate floor vote.
Tax on Wall Street Speculation Act (H.R. 2735, S. 1283) introduced by Rep. Barbara Lee (D-Calif.) and Sen. Bernie Sanders (I-Vt.), this would levy a tax of a fraction of a percent on the trades of stocks, bonds, and derivatives, raising hundreds of billions of dollars annually to help meet human needs.
V.A. Employee Fairness Act (H.R. 1948, S. 771), introduced by Rep. Mark Takano (D-Calif.) and Sen. Sherrod Brown (D-Ohio), would ensure the V.A.'s health care professionals like nurses, physicians and dentists have the same collective bargaining rights already granted to other federal employees.
National Nurses United is the largest and fastest-growing union and professional association of registered nurses in the United States with more than 170,000 members nationwide.