Press Release
RNs File Lawsuit Against Trump Administration, Department of Veterans Affairs, VA Secretary Wilkie Alleging Illegal Tactics to Deny Union Protections and Silence RNs Ability to Advocate for Veterans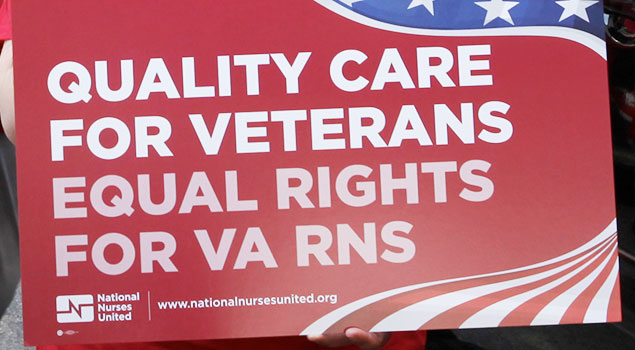 Registered nurses with National Nurses Organizing Committee/National Nurses United (NNOC/NNU) filed a lawsuit today against the Department of Veterans Affairs, VA Secretary Robert Wilkie, and the Trump administration charging they acted illegally in a "deliberate campaign to eviscerate collective bargaining rights of the VA nurses and other health care workers." Nurses say by denying their union protections, the VA is attempting to limit a Veterans Affairs nurse's ability to advocate for the highest quality of patient care.
In the lawsuit, the nurses contend this administration acted illegally in October when Secretary Wilkie rejected a contract reached by NNOC/NNU and VA negotiators, and ratified by the nurses. Furthermore, the nurses charge that this administration violated the Constitution and federal law when earlier this month Secretary Wilkie eliminated the scheduled time that nurses and other medical professionals use to advocate for coworkers' rights on the job, and best care practices so RNs can provide high quality care for veterans. These hours are referred to as official time.
The lawsuit filed in the U.S. District Court for the District of Columbia asks the court to rescind Secretary Wilkie's disapproval of the ratified contract, and to restore official time.
"We must stand up to these brazen and heavy-handed attacks on our legal rights as we advocate for the highest quality of care for our veterans," said Bonnie Castillo, RN and executive director of NNOC/NNU, "This administration seems bound and determined to silence the collective voice of workers. Secretary Wilkie clearly overstepped his legal authority. We have a moral obligation to our patients, our veterans, to fight back against these actions."
"I am so excited we will have our day in court," said Irma Westmoreland, RN and NNOC board member. "Our nurses need to be able to focus on patient care, not worry about if they will have a contract, or if they could face retaliation for advocating on behalf of our veterans."
On November 8, in what the nurses call "an affront to the rule of law," Secretary Wilkie eliminated official time. According to the lawsuit, official time is guaranteed by the Federal Service Labor-Management Relations Statute. The VA has recognized the use of official time for medical employees since 1991. Congress recognized official time is an integral part of a collective bargaining agreement when it passed the 1978 Title VII of the Civil Service Reform Act.
The lawsuit contends Secretary Wilkie acted in an "extreme and egregious" manner when on October 19, he disapproved the contract VA negotiators had reached with NNOC/NNU negotiators. Secretary Wilkie made note of 357 objections in the contract, even though 75 percent of those provisions were included in the previous contract signed by former VA Secretary Eric Shinseki in 2012. The nurses characterized Secretary Wilkie's objections as "arbitrary" and "unreasonable." As an example, they point to his objection with the following agreed on provision; "disciplinary and adverse actions will be impartial, taken with due process and not based on gossip or unsubstantiated rumor based on the circumstances and complexity of the case."
In May, this administration issued a set of presidential executive orders that sought to strip federal employees of their hard-won union rights. The American Federation of Government Employees (AFGE) and other national unions challenged those executive orders in court. In August, U.S. District Judge Kentanji Brown Jackson struck down the majority of provisions in those orders. The Trump administration is appealing. NNOC/NNU is working in conjunction with AFGE and other unions in defending Judge Jackson's decision.
NNOC/NNU represents 11,000 registered nurses at 23 VA facilities across the country.