Press Release
RNs, EMS leader to update campaign to stop closure of Olympia Medical Center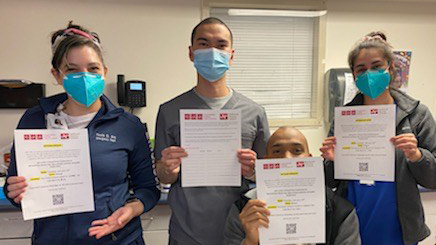 Nurses: UCLA should take over operation of hospital during pandemic
Registered nurses from Olympia Medical Center and UCLA, a Los Angeles Emergency Medical Services (EMS) leader, and other invited prominent speakers will hold a virtual press conference on Wednesday to update the campaign to stop the calamitous closure of Olympia amidst a still-raging pandemic.
What: Virtual press conference with RNs from Olympia Medical Center
When: Wednesday, February 3, 11 a.m. PST
The press conference will be available for viewing via FB live at: https://www.facebook.com/calnurses/posts/3765467146842867
Douglas Zabilski, Battalion Chief and paramedic with the Los Angeles Fire Department EMS Bureau, will join Olympia and UCLA nurses at the press conference. Other community leaders, to be announced, have also been invited to participate.
Alecto Health Services, the current operator of the mid-Wilshire hospital, is rushing ahead with plans to close the hospital by March 31. Just last week, Alecto shut down a general medical surgical floor of the hospital, even as the facility continues to treat Covid-19 patients.
"Alecto has demonstrated an appalling indifference to public outrage about this closure, and the consequences of terminating a vital public health resource with Los Angeles residents still being hospitalized and dying every day from Covid-19," said California Nurses Association President Zenei Cortez, RN.
With UCLA Health having purchased the Olympia property, and a crisis in availability of ICU beds throughout the county, UCLA "should immediately take over operation, and maintain it as a full-service hospital, and until they do, force Alecto to keep it open with no break in service," Cortez said.
"Frontline healthcare workers in the city of Los Angeles are stretched beyond our limits. Our ICU bed capacity has been at zero percent for months," said UCLA ER RN Marcia Santini.
"Unless UCLA management will commit to maintaining Olympia as a full-service hospital for the good of the community, they will be turning their back on the community of LA at a time when patients need them the most. UCLA nurses demand that UCLA management put patients over profits and take over the operating of Olympia Medical Center immediately," Santini said.
At a public hearing of the Los Angeles County Emergency Services Commission, Olympia RN Belma Hartano said, "If Alecto is not going to keep the hospital open, we have to tell UCLA they have to operate the hospital.
EMS Commissioner John Hisserich said that the "UC Regents clearly have some responsibility."
Zabilski and a representative of the nearby Culver City Fire Departments warned the EMS of dangerous delays in patient transport if Olympia closes, and a disruption to the entire EMS system. Longer transports of patients, and often holds before patients can be admitted due to lack of available beds, would likely lead to a decrease in the number of ambulances and paramedics available.
Citing the "historic public health emergency," the Commission passed a resolution recommending the Los Angeles County Board of Supervisors call for a six-month delay in the closure of Olympia until at least September 30.
Olympia treated more than 2,000 Covid patients over the past year, and it continues to be filled with Covid-19 patients. Alecto is seeking to close the hospital even after it received more than $27.6 million in combined Covid stimulus money and advance Medicare payments in 2020. Several speakers at the Commission meeting called for an audit of how Alecto has spent that public funding.