Press Release
RNs demands Cook County Health halt all disciplinary threats against nurses who are advocating for safe patient care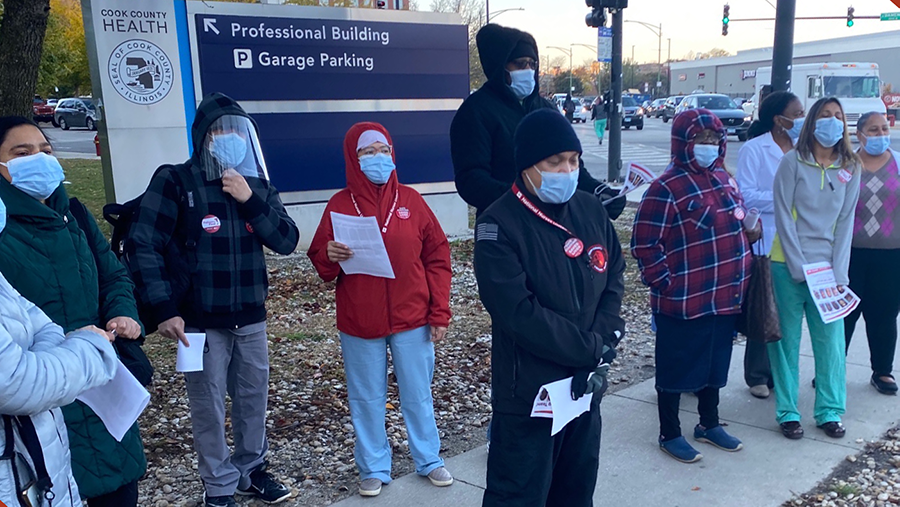 Nurses denounce hostile opening salvo by hospital management as contract negotiations begin
Registered nurses are demanding that Cook County Health management immediately halt all disciplinary action levelled at nurses who are advocating for improvements in patient care, announced National Nurses Organizing Committee/National Nurses United (NNU) today.
"We are astonished and blindsided by Cook County's blatantly punitive actions when we were clearly engaging in free speech and patient advocacy," said Conseulo Vargas, a registered nurse at Stroger Hospital. "On Wednesday, we rallied outside management offices, then approached management with a list of our priorities that we see must be addressed in contract negotiations in order to ensure that all our patients get the very best care possible. We were engaging in patient advocacy, which is not only our right, but our duty."
RNs note that both the First Amendment of the Constitution and the Illinois Public Labor Relations Act allow them to share their concerns with management. Furthermore, nurses contend the county's attempt to silence nurses in their attempts to improve conditions for patients is disturbing, illegal, and violates the mission of Cook County Health, which states:
"Our mission is to deliver integrated health services with dignity and respect regardless of a patient's ability to pay. We seek to create partnerships with other health providers and communities to enhance the health of the public. We also advocate for policies that promote the physical, mental and social well-being of the people of Cook County."
Nurses made it clear to management that their upcoming contract must include clear policies aimed at eliminating institutional racism in the workplace, both toward nurses and patients. In addition, the nurses are demanding that the Cook County Health system be fully funded in order to provide appropriate care for all county residents. And finally, Cook County must provide staff with appropriate personal protective equipment, on-demand Covid testing, and put in place enforceable safe staffing standards. Nurses note lapses in these areas have led to more than 80 registered nurses in the Cook County Health system testing positive for Covid.
"We look forward to returning to the negotiating table to improve patient safety at all our facilities and thereby improve the health care for all the residents of Cook County," said Falguni Dave, a registered nurse at Stroger Hospital.
National Nurses Organizing Committee/National Nurses United represents 1,350 nurses throughout Cook County Health.