Press Release
RNs at HCA's Regional Medical Center of San Jose demand hospital adhere to California safe-staffing laws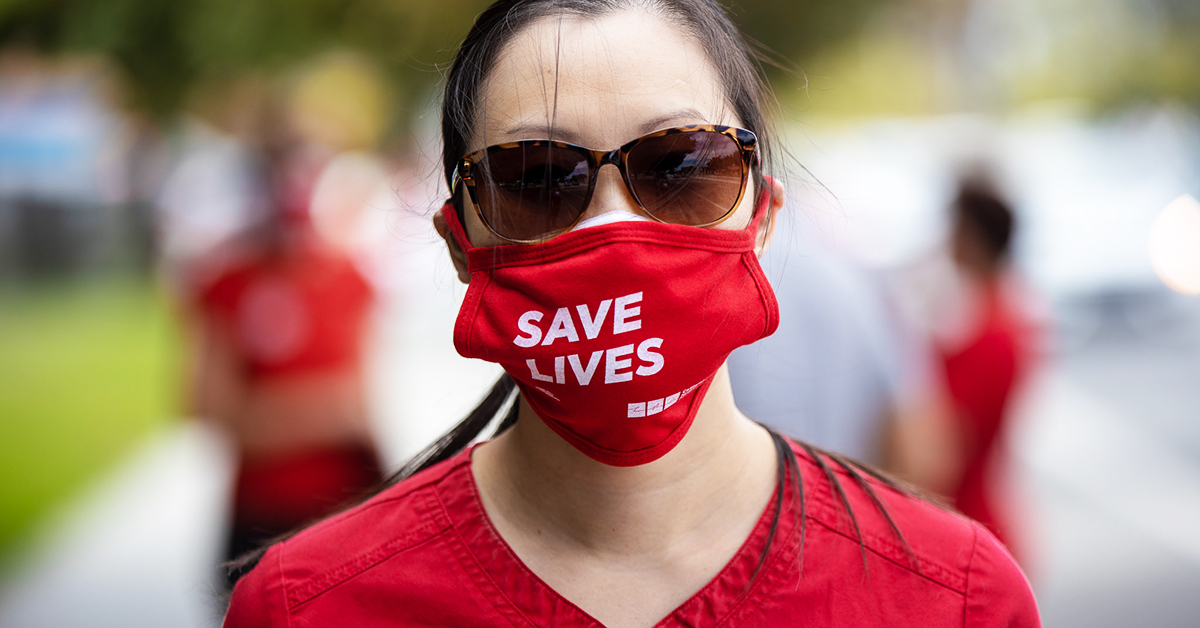 Nurses say short staffing and management's punitive culture jeopardize patient care
Registered nurses at HCA's Regional Medical Center of San Jose, will hold an informational picket on Tuesday, Oct. 26 to demand safe patient staffing and the adherence to the state-mandated nurse-to-patient laws, announced the California Nurses Association/National Nurses United (CNA/NNU) today.
"California has mandated safe-patient laws because these laws save lives," said Michelle Lorang, an ICU nurse at Regional Medical Center. "But we are seeing nurses in the ICU caring for three patients when the law is clear they should have no more than two. Short staffing leads to delays in care and is associated with poorer outcomes. Our patients deserve better. HCA has the power to address the staffing crisis by hiring more nurses. It is really that simple."
Nurses say they are seeing coworkers leave the hospital because of the chronic staffing problems and management's punitive culture. According to hospital records, there were more than 760 staff nurses at the hospital last year, while there are less than 545 today. That is a loss of more than 28 percent of the hospital's nurses.
What:

   Regional Medical Center RNs to protest unsafe staffing

When:

  Tuesday, Oct. 26, 2021, 2:30 p.m. – 4:30 p.m.

Where:

Regional Medical Center, 225 N. Jackson Ave., San Jose
             (Action will be at the corner of Jackson and McKee)
HCA recently released data showing that Regional Medical Center discharged more Covid-19 patients than any other hospital in Santa Clara County last year. Nurses say they have gone above and beyond to provide care since the start of the pandemic, but the hospital has refused to provide adequate staffing and is targeting those who speak out about their concerns.
"Due to short staffing, we are not able to take our rest and meal breaks, but now management is coming after outspoken nurses who fail to take their breaks and disciplining them," said Linda Vences, who has worked as a registered nurse at Regional Medical center for 20 years. "No nurse should be forced into having to decide whether to remain at the bedside and face disciplinary action or leave their patient without optimal coverage."
Furthermore, nurses say they are being forced to work overtime as management refuses to contact off-duty RNs to alleviate short staffing.
In addition, they say that currently, many units are having to work without a designated code nurse who would assist in a life-threatening emergency.
"I shudder to think what would happen if there were not enough hands free to come running if my patient were coding," said Lorang. "We need to be there for our patients and a dedicated code nurse can mean the difference between life and death."
HCA is the wealthiest hospital system in the U.S. In the third quarter of this year, HCA posted a profit of $2.26 billion. Last year, HCA reported $3.7 billion in profits, a 7.1 percent jump over 2019. Sam Hazen, HCA's CEO, collected $30.4 billion in compensation in 2020.
The California Nurses Association/National Nurses United is the largest and fastest growing union and professional association of registered nurses in the nation with 100,000 members in more than 200 facilities throughout California and more than 175,000 RNs nationwide.