Press Release
RNs, community call emergency virtual town hall in defense of Black and Brown lives and reject Preckwinkle's racist health budget proposal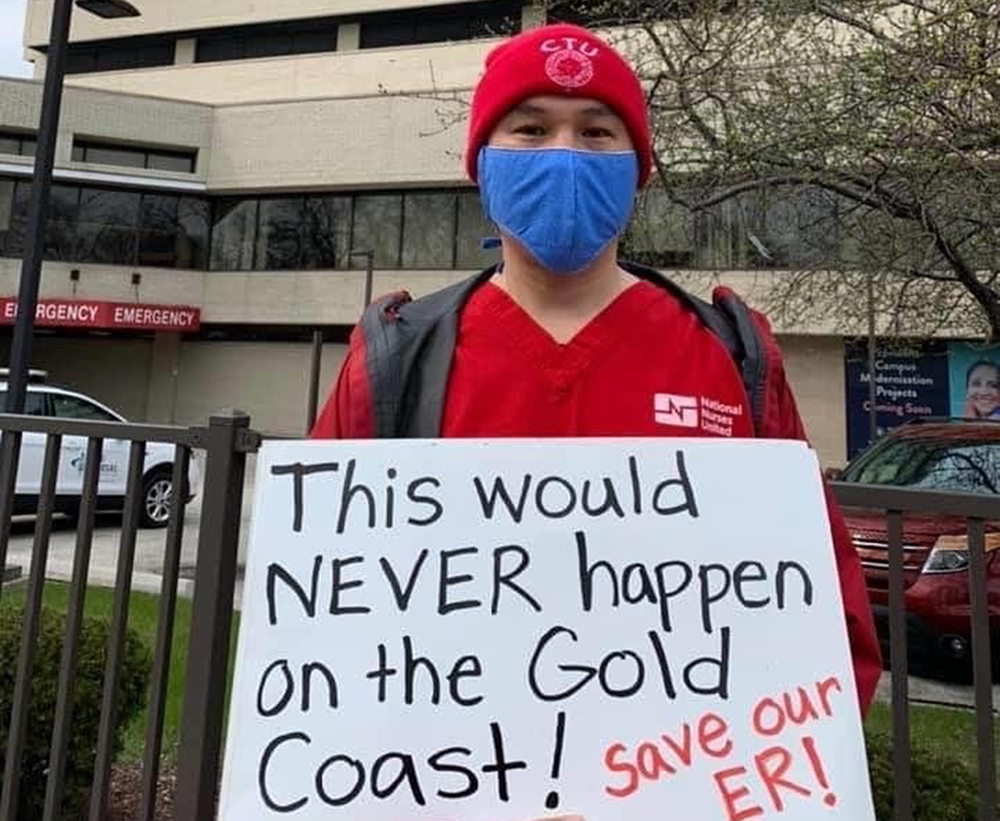 Registered nurses, labor leaders, and community activists are calling on all concerned citizens to join the fight to defend public health for Black and Brown Chicagoans during an emergency virtual town hall meeting, Monday, Oct. 26, announced National Nurses United (NNU) today. Nurses are appalled that Cook County President Toni Preckwinkle would propose closing down the emergency room at Provident Hospital as well as South Shore Clinic and Woodlawn Clinic in the midst of a pandemic that has disproportionately harmed Black and Latinx communities.
"Preckwinkle has said publicly that Cook County's budget should not be balanced on the 'backs of the residents' but that is exactly what she is doing when she proposes these deep cuts to medical services that serve our most vulnerable communities," said Edrienna Jamison, a registered nurse working in the intensive care unit at Provident Hospital. "We must be clear to our elected officials that cutting these services during a pandemic will lead to people getting sicker and unnecessary deaths."
What: Emergency Virtual Town Hall to Fight Against Preckwinkle's Austerity Budget and the Closure of Provident Hospital's ER, South Shore Clinic, and Woodlawn Clinic.
When: Monday, Oct. 26, 8 p.m. to 9 p.m. CT
Join by registering here: https://bit.ly/34ktgKq
     (You can register at anytime either before or after the meeting has started)
Nurses understand that if the emergency room at Provident Hospital is closed, this will clear the path for a complete closure of the hospital. When the emergency room is closed, the County will no longer be required to staff a doctor at the facility and, without a doctor, patients will no longer come to the hospital. It is clear that Cook County officials are engineering the closure of this hospital by cutting services. In April, Cook County abruptly closed the intensive care unit and just recently management decided to staff just 10 of the hospital's 85 beds.
"We desperately need the emergency room services at Provident Hospital," said Martese Chism, a registered nurse with Cook County, noting the ER logged nearly 29,000 visits in 2019. "Black women in Chicago have one of the highest maternal mortality rates in the nation, some of our neighborhoods have infant mortality rates that are comparable to that of the West Bank, and we have a life expectancy on one side of town that is 12 years lower than the other. We need to be increasing medical services to the poor and vulnerable communities, not cutting these lifesaving services."
This proposed budget not only hurts Cook County's most vulnerable patients but would also lay off more than 130 workers, including nurses and others who have risked their own health and the health of their families caring for their patients and neighbors during this pandemic.
"Our communities must be able to access affordable, appropriate care in our own neighborhoods," said Dennis Kosuth, a registered nurse at Provident Hospital. "Nurses understand these closures are an example of structural racism at work during a time when we know that our Black and Brown patients are disproportionately contracting and dying of Covid-19.