Press Release
RNs caring for migrant families in Tucson condemn negative health impact of detention, after already arduous journey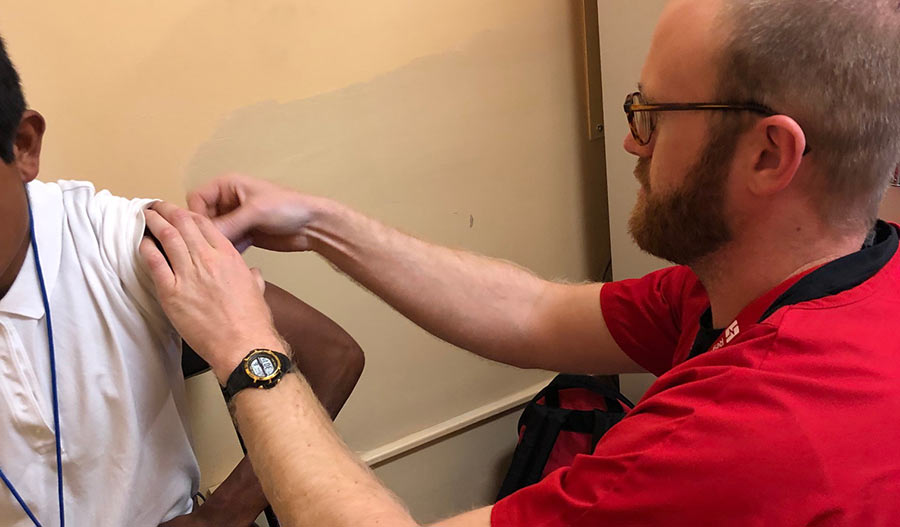 Nurse volunteers with the Registered Nurse Response Network (RNRN) — a disaster-relief project of the California Nurses Foundation (CNF) and National Nurses United (NNU) — who are providing medical care in Tucson for migrants just released from federal detention, say that harsh conditions and lack of basic nourishment in detention are resulting in negative health impacts on families and children, after an already arduous journey.
 
"Crackers is all they're given [to eat in detention]. Crackers or tortillas and they may have a little bit of water. So these families are hungry, dehydrated. It's important that we begin to nourish their bodies, take a look at them, and really provide them with the care that they need," said Cathy Kennedy, a Sacramento RN and NNU vice president, who just completed a deployment to Tucson.
 
The nurses are providing the medical aid at the Casa Alitas shelter operated by Catholic Community Services of Southern Arizona, which has provided assistance to more than 2,000 migrant families since October 2018. In February, when RNRN first started sending teams of volunteer nurses to the area each weekend, nurses were assessing about 40 to 60 patients each day. Now, nurses are seeing upwards of 100 people each day.
Kennedy emphasized that the patient demographic volunteer nurses are seeing is "parents with little children, or mothers who are pregnant" many of whom share harrowing stories with the nurses about escaping life-threatening conditions in their home countries, including extreme poverty and food scarcity, as well as violence. To that end, Kennedy and her fellow nurse volunteers question why patients are forced to endure harsh conditions in federal detention—conditions that have led to deteriorated medical states of some migrants.
 
"Many of [the patients we are seeing] come from Central America—Guatemala, Honduras, El Salvador—and travel up through Mexico. That journey is hard and they have a lot of potentially traumatic things that happen to them, but from what we're seeing, the medical needs happen actually much more acutely after they have presented themselves to U.S. Officials, asking for asylum, and then have been detained," said Casa Alitas Medical Coordinator Dr. Anna Landau.
 
Migrants and asylum seekers have shared with nurses that they are often housed in fenced cages with concrete floors, in very cold temperatures without adequate bedding or clothing for warmth. Nurses from previous RNRN deployments said that they have heard repeated stories of medications being confiscated or denied to those in custody, including medications for children with serious conditions, such as asthma inhalers and anti-seizure medications.
 
In addition, the nurses are distressed by migrants' reports that they are being held for days without access to adequate food, clean water, or opportunity to bathe. They note that migrants nearly always arrive at the shelter very hungry, and suffering from dehydration.
 
"It's really inhumane, and it's almost as though they're being treated like animals," said Kennedy. "These are human beings—these are families. We need to look into ourselves and provide them with whatever we can to make them feel that we do care about their safety and their health."
 
RNRN volunteers say that after patients arrive at Casa Alitas, eat something and have the opportunity to shower, receive clean clothing and rest—they often realize they don't feel well and come back to nurses for care. When it sinks in to the migrant families that they are somewhere safe, say nurses, the relief they see in their patients is palpable.
 
"I became a nurse so I could help people. RNRN is an opportunity to give back, and this is something I feel very strongly about," said volunteer RN Missy Gilbert. "I was blessed with the opportunity to do the Peace Corps and live in Central America, and the people there opened their hearts and homes to me, and I feel like I can do nothing less than the same when they're coming to my country."
 
RNRN volunteer nurses have cared for thousands of patients during disaster relief and humanitarian assistance deployments that include the South Asian tsunami (2004); Hurricanes Katrina and Rita (2005); the Haiti earthquake (2010); Hurricane Sandy (2012); Super Typhoon Haiyan/Yolanda (2013); Hurricanes Harvey and Maria (2017); Vulcan de Fuego Relief in Guatemala (2018), Hurricane Michael (2018); the Camp Fire in Butte County, Calif. (2018); and the Continuing Promise 2010 and 2015 humanitarian missions with the Department of Defense. RNRN volunteers have also provided first aid and basic response services to hundreds of community events across the country, as well as rotating teams who assisted the water protectors in Standing Rock in 2016.
 
RNRN is powered by CNF and NNU, the largest union and professional organization of registered nurses in the United States with more than 150,000 members.