Press Release
RNs Call On Mee Memorial Hospital to Ensure Quality Care by Investing in Nursing Staff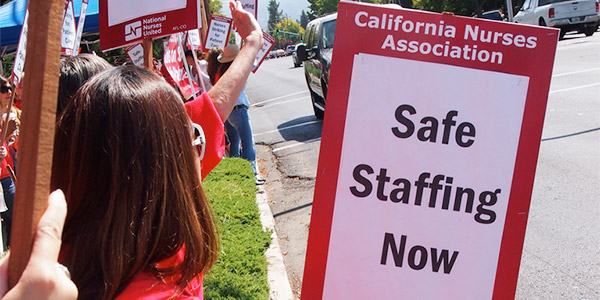 Monday May 22 - Informational Picket
High Turnover Rate, Poor Recruitment and Retention, Puts Patients at Risk, RNs Say
Registered nurses at Mee Memorial Hospital in King City will hold an informational picket in front of the hospital on Monday, May 22, to demand that management address the conditions that are undermining the hospital's ability to recruit and retain the staff needed to ensure quality care.
"As nurses, safe, quality, compassionate patient care is our number one priority. Currently the administration refused to listen to our concerns," said Barbara Martinez, an RN in the ER. "We cannot sustain quality care with the levels of staff turnover and the vacancies we are experiencing. That's why we're rallying. We want the public to know that we're advocating for high quality care and we welcome their support."
What: Registered Nurses Hold Informational Picket Demanding Hospital Invest in Nursing Staff
When: Monday May 22 9 a.m.-1 p.m. and 4 p.m.-8 p.m.
Where: Mee Memorial Hospital, 300 Canal Street, King City – Front entrance.
"This community and our patients deserve the best in care and that's why we are speaking out as patient advocates," said Porfirio Montoya, RN, Med Surg. "We are rallying because for months management has refused to take the necessary steps to strengthen nursing staff recruitment and retention. To ensure quality care they must invest in the nursing staff. They must listen to us and act on our concerns."
Registered nurses at Mee Memorial Hospital are affiliated with the California Nurses Association/National Nurses United, the largest and fastest growing all-RN professional organization and union in the nation with a membership of 100,000 RNs in more than 200 facilities throughout California and more than 150,000 nurses nationwide.  CNA/NNU plays a leadership role in safeguarding the health and safety of RNs and their patients and has won landmark legislation in the areas of staffing, safe patient handling, infectious disease and workplace violence prevention.