Press Release
RNs at Steward Health's Florida Medical Center in Lauderdale Lakes to protest proposed shut down of emergency and in-patient services for psychiatric patients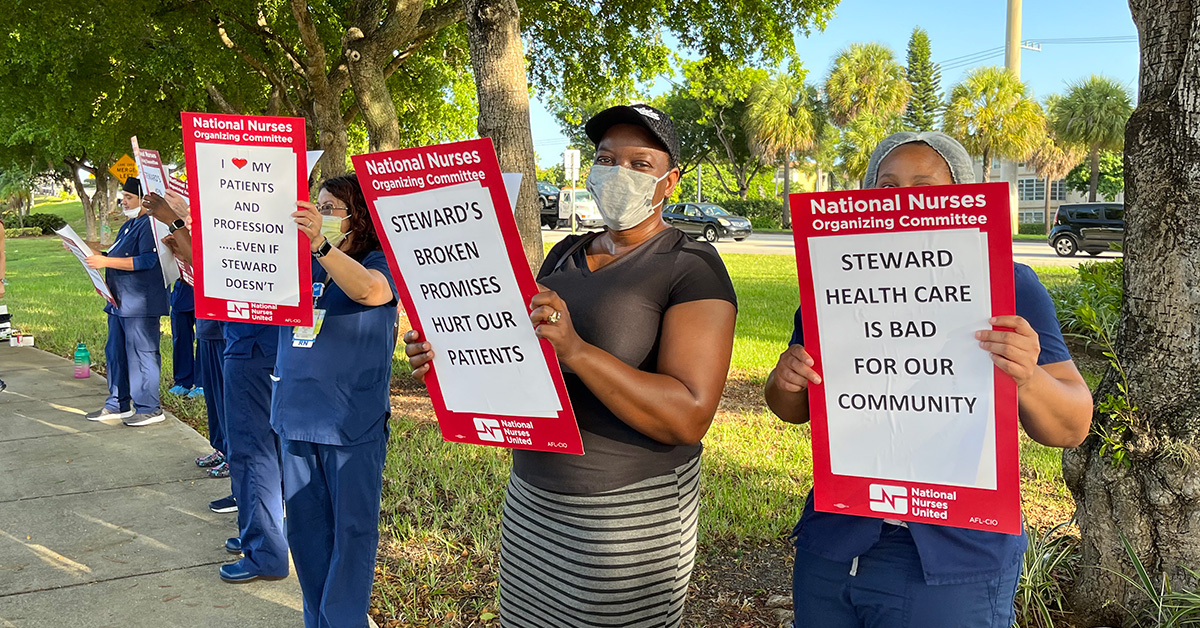 Registered nurses at Steward Health Care-owned, Florida Medical Center, in Lauderdale Lakes, Fla. will hold a press conference on Aug. 12, to protest the hospital's sudden announcement last week that they intend to shut down the psychiatric emergency and in-patient mental health units at the end of August, announced National Nurses Organizing Committee/National Nurses United (NNOC/NNU) today.
"I have worked in these units for 16 years and the need for psychiatric services has never been this high. There are no other options for our patients. They don't have transportation and are in no condition to travel long distances to seek care," said Gladys Emekekwue, a registered nurse who works in the psychiatric emergency and in-patient mental health units. "If this closure goes through, our patients will definitely be at great risk of suicide and self-harm. We are stunned that Steward Health Care is ordering this shut down at Florida Medical Center."
Who:

RNs at Steward Health's Florida Medical Center

What:

Press conference to protest proposed service shut down

When:

Friday, August 12, 8:30 a.m.

Where:

Florida Medical Center, 5000 West Oakland Park Blvd., Lauderdale Lakes, Fla. near hospital entrance
Management announced to nurses that they plan to stop accepting psychiatric admissions on August 15, and will shut down the psychiatric emergency department August 31. After this date patients needing acute psychiatric care, including those transported to the hospital by law enforcement, will be turned away. Psychiatric patients will not be allowed to access services in the regular emergency department and there is no contingency plan in place. The in-patient mental health unit currently serves 48 patients. Management has informed nurses from the units slated for closure, that they will have the opportunity to work in other units of the hospital.
According to nurses, when Steward Health purchased Florida Medical Center in 2021, the company promised to improve patients' well-being and involve the community in decision making. An August 2, 2021 company press release, announcing the Florida hospital acquisitions, including Florida Medical Center, stated "Steward Health Care's physician-led business model was built to unlock access to the highest-quality care at a sustainable cost, committed to providing personalized, ongoing medical services that positively impact patients' physical, emotional, and mental wellbeing."
In the same statement, Steward Health Care CEO, Dr. Ralph de la Torre said, "Everything we do is about improving our patients' well-being, which requires not only tailoring care to each patient, but also learning from and engaging with every community we serve."
"Is this how they 'unlock' access to care, by locking the doors? Neither Steward Health Care nor hospital management has consulted with the staff or the community on this disastrous proposal," said Fabienne Joseph, a registered nurse who works in the psychiatric emergency and in-patient mental health units. "Emergency and inpatient behavioral health services are not only essential to our patients, they are very important to the health and safety of the surrounding community. Most of our patients are uninsured so Stewards' objective is clear. They want to dump patients they can't extract a profit from."  
The proposed shut-down comes at a time when nationally, Florida ranks third in prevalence of mental illness, and 49th in adult access to mental health services, with 63.5 percent of adults with mental illness not receiving treatment.
"Our patients are not trash to be thrown out on the street when it's inconvenient for Steward, but this is exactly what Steward is doing with the closure of behavioral health services," said Carine Bonhomme, a registered nurse in the psychiatric emergency department. "Many of our patients will not get the care they need, and I'm worried about what might happen to them. It's now clear to nurses that Steward values their profits more than the lives of our patients."
NNOC/NNU represents roughly 385 registered nurses at Florida Medical Center.  
National Nurses United is the largest and fastest-growing union and professional association of registered nurses in the United States with more than 175,000 members nationwide.