Press Release
RNs Applaud the Reintroduction of VA Employee Fairness Act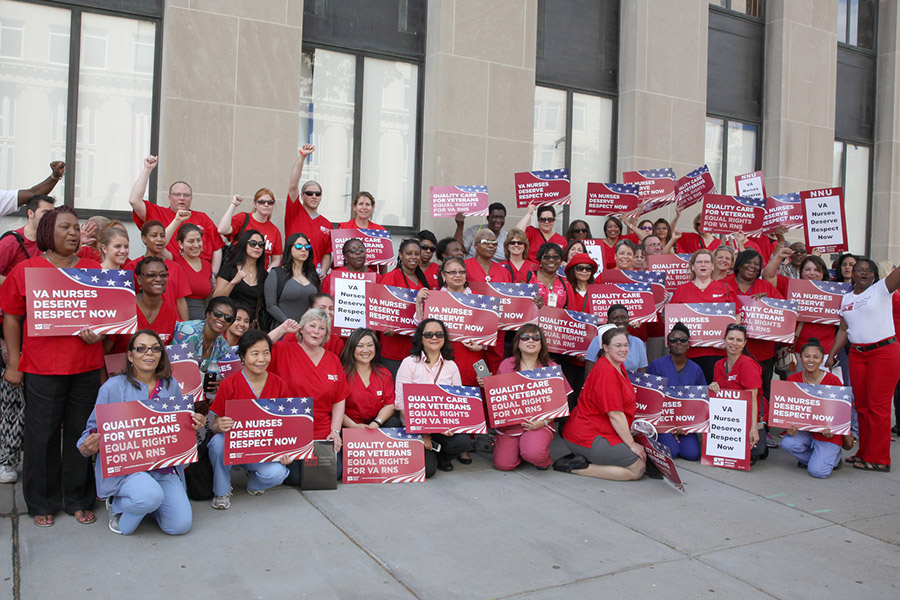 National Nurses United applauds Sen. Sherrod Brown (D-OH) and Rep. Mark Takano (D-CA) on the reintroduction of federal legislation that restores full collective bargaining rights for nurses and other clinicians at the Veterans Administration medical facilities, which they say is essential to assuring high-quality care for our nation's veterans. The passage of this legislation will secure the right for registered nurses to bargain over direct patient care issues, such as safe limits on the number of patients assigned to nurses. Full collective bargaining rights would enhance the ability of RNs in the VA to advocate for veterans' care and safety.
Sen. Brown and Rep. Mark Takano reintroduced the VA Employee Fairness Act this week with the support of five senators and 27 representatives. The legislation would reform Section 7422 of Title 38 of the U.S. code, which currently limits the rights of VA professionals in collective bargaining. 
"Veterans are provided the best quality and timely care when the VA workforce can thrive," said Rep. Takano. "With more than 40,000 employee vacancies in the VHA alone, it is crucial to ensure that doctors, nurses, and other medical professional are equipped with the best tools to retain and recruit the best talent to serve veterans — this bill will help make that possible."
"Registered nurses in the VA serve as frontline workers delivering healthcare to our nation's veterans. As RNs, we take very seriously our roles as advocates for patients," said Irma Westmoreland, RN. "Without full collective bargaining rights, our ability to speak out on behalf of our patients is reduced and threatened within the VA. As a result, we cannot advocate for the highest quality of safe patient care that our veterans deserve. The VA Employee Fairness Act would restore our rights to bargain, and therefore make the VA a safer place for patients and nurses."
Under current law, Section 7422, nurses cannot negotiate over direct patient care issues. In October 2018, nurses saw how this prohibition on bargaining on direct patient care issues was used to provide cover for the arbitrary and unlawful rejection of a negotiated contract between RNs and the VA. NNU has filed a lawsuit alleging the rejection was part of a "deliberate campaign to eviscerate collective bargaining rights of the VA nurses and other health care workers."
"We have seen the perverse and deliberate misinterpretation of this piece of law used to justify union-busting tactics by an administration determined to deny nurses their basic labor rights and push a privatization agenda," said Bonnie Castillo, RN and executive director of National Nurses United. "As advocates for veterans, union nurses are committed to opposing all efforts to move veterans out of the VA and into the for-profit private sector. This is one of the reasons VA nurses are being attacked by this administration."
The VA Employee Fairness Act ensures registered nurses in the VA can file grievances and pursue arbitration over issues related to direct patient care as well as to their economic standards and health coverage. This would give VA nurses the same rights as nurses in the private sector and other federal departments. Strengthened collective bargaining rights for VA RNs is essential to keeping experienced RNs at the bedside to protect our veterans. 
It is imperative that Congress supports the VA Employee Fairness Act that gives nurses the tools they need to speak up for patient safety and patient care.