Press Release
RNs Applaud Reintroduction of Robin Hood Tax Act to Raise Money for Education, Health Care, and Vital Social Programs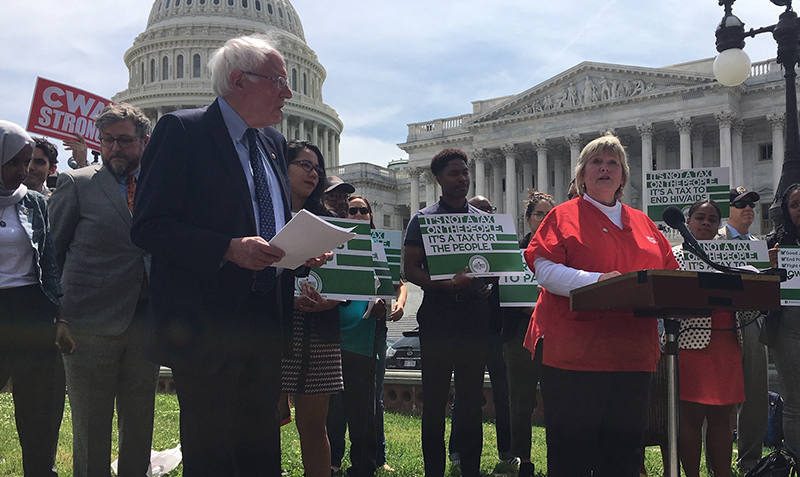 National Nurses United applauds today's reintroduction of the Inclusive Prosperity Act by Sen. Bernie Sanders and Rep. Barbara Lee. This important legislation would raise an estimated $220 billion dollars a year to fund critical social programs including Medicare for All, public college for all and student debt relief, lifesaving global HIV/AIDS treatment and prevention, climate crisis mitigation and adaptation, housing assistance, job creation and job training programs, and investments in rebuilding our water and wastewater infrastructure and our physical infrastructure. 
The legislation, also known as the Robin Hood Tax, would establish a small financial transaction tax which would substantially reduce the high-frequency trading that puts our financial markets and economy at risk, while ensuring that Wall Street pays its fair share to help protect our communities and our environment.
"Nurses know that economic inequality and poor health go hand in hand. Every day, we see people who come into our emergency rooms in medical crisis because they went without preventative care or medicine because they couldn't afford it," said NNU President Jean Ross, RN. "This small tax on Wall Street will improve the lives of millions of people by funding Medicare for All, public college for all, critical environmental and climate crisis mitigation programs, job creation, housing assistance, and HIV/AIDS treatment and prevention programs. We applaud Sen. Sanders and Rep. Lee for their leadership on this vital issue."
Economists estimate that a tiny surcharge of no more than a nickel on every $10 in trades of stocks, and a lesser tax on the trading of bonds and derivatives, could increase revenues collected by the Treasury Department by $220 billion a year. 
"As a nation the time is long overdue for us to get our priorities right," said Sen. Bernie Sanders. "It is time we made Wall Street pay their fair share in taxes and stop the type of reckless gambling by Wall Street speculators that nearly destroyed the economy over ten years ago." Sen. Sanders said the trillions raise by the tax would help improve the lives of millions of people. "That is money we could be using to make public colleges and universities tuition free, and substantially reduce student debt. It is money that we could use to reduce childhood poverty, to fix our crumbling infrastructure, to invest in affordable housing, childcare, renewable energy and energy efficiency. The middle class bailed out Wall Street in 2008, now it is Wall Street's turn to help rebuild the middle class." 
"I am proud to introduce the House version of the Inclusive Prosperity Act because taxing Wall Street is not an extreme idea. The government already taxes everyday families for basic items like food, clothes, and housing. Wall Street gets away with no taxes, even when conducting high-risk financial transactions," said Rep. Lee. "This has to stop. It's past time to make sure Wall Street pays their fair share so that we can provide funding for things that make us a better nation like jobs, housing, infrastructure, and college education." 
More than 10 years after the Great Recession, many Americans are still in worse shape than they were before the collapse, and nearly 40 million people are living in poverty. Income inequality is staggering, with Forbes reporting the wealthiest 10 percent of Americans owning 70 percent of the nation's assets while the bottom 50 percent of American households had virtually no net worth at all.
The taxes set by the bill would not affect households earning less than $75,000 annually. Instead, its principle targets are institutional and individual stock, bond, and derivative traders whose reckless speculation fueled the 2008 recession.
Some 40 nations have some form of a financial transaction tax and the U.S. had a similar tax from 1914 until 1966. For decades, the United Kingdom has had a tax on stock trades at the same stock tax rate proposed by this bill, and its volume of trading has still grown robustly.  
National Nurses United is the largest union of registered nurses in the United States, with over 150,000 members nationwide.