Press Release
RNs applaud as momentum grows to pass the VA Employee Fairness Act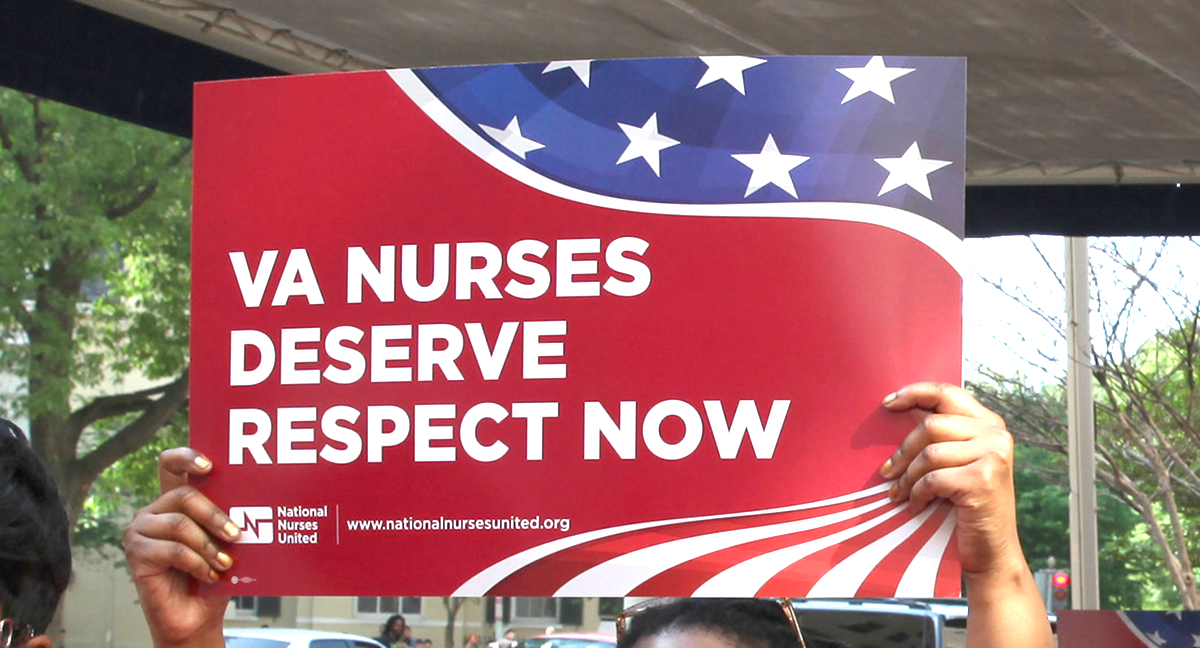 More than 202 co-sponsors sign onto the measure in the US House of Representatives
National Nurses United (NNU) is pleased to announce that more than 202 members of congress have co-sponsored the VA Employee Fairness Act of 2021 (H.R. 1948) introduced by Rep. Mark Takano (D-CA-41), chairman of the House Committee on Veterans' Affairs. The VA Employee Fairness Act grants full collective bargaining rights to registered nurses and other clinicians in the Veterans Health Administration. NNU, the largest union of registered nurses in the nation, recognizes that providing equal bargaining rights to nurses and other health care professionals is crucial to improving recruitment and retention and allowing RNs to advocate freely for patient safety and care.
"Nurses are the heart and soul of any hospital, and there is no substitute for the care and attention we provide to our patients. As workers on the front lines of patient care, nurses must have the ability to advocate for our patients and ultimately improve the quality and standard of care provided by the VA as well as the recruitment and retention of our peers," said Irma Westmoreland, RN and vice-president of National Nurses United. "Without full collective bargaining rights, nurses in the VA are hindered in our ability to effectively advocate for the health and safety of our patients and ourselves. For the sake of our nation's heroes who deserve the very best patient care, we look forward to this bill being taken up swiftly on the floor of the House of Representatives."
"VA offers some of the best healthcare in the world, and I'm grateful that over 200 of our colleagues have signed on to co-sponsor my bill to ensure VA can continue to be a first-in-its-class healthcare provider by recruiting and retaining top-tier doctors, nurses, and other medical professionals," said Chairman Takano. "VA's medical professionals go above and beyond to serve veterans and their communities, and this bill will mean fair collective bargaining rights for all of VA's healthcare workers."
In addition to garnering the bipartisan support of more than 202 co-sponsors, the VA Employment Fairness Act was recently endorsed by the Congressional Labor Caucus. The measure has also been endorsed by the AFL-CIO, other unions that also represent V.A. employees, the Union Veterans Council, and Vietnam Veterans of America.
Under current law, nurses and other clinicians are denied full collective bargaining rights under Section 7422 of Title 38 of the U.S. Code. Added in 1991, this section restricts the ability of registered nurses to speak out about poor working conditions and to resolve disputes with management. As a result, the quality of patient care can deteriorate and problems in VA facilities can go unaddressed. The VA Employee Fairness Act would improve patient care in VA hospitals by reinstating the right of nurses to bargain collectively on all issues including professional conduct or competence, compensation, and allow them to file grievances and arbitrate disputes over working conditions.
"Nurses at VA hospitals have been on the front lines of the Covid-19 pandemic where we've cared for veterans despite a severe lack of staff and supplies," said Westmoreland. "It is of paramount importance that we nurses be able to negotiate staffing levels, competencies, compensation, infection control protocols, and more to ensure we are able to continue to provide the excellent care that our veterans and other patients deserve. When we nurses are able to advocate freely, when we have the resources to provide the care we know is optimal, when our voices make a difference, then we stay at VA hospitals and we grow together as nurses who can best care for our veterans."
National Nurses United represents more than 175,000 nurses across the country, including more than 12,000 nurses at 23 VA hospitals.