Press Release
RNs at 15 HCA Hospitals Plan Protest Over Demand for Layoffs, Pay Cuts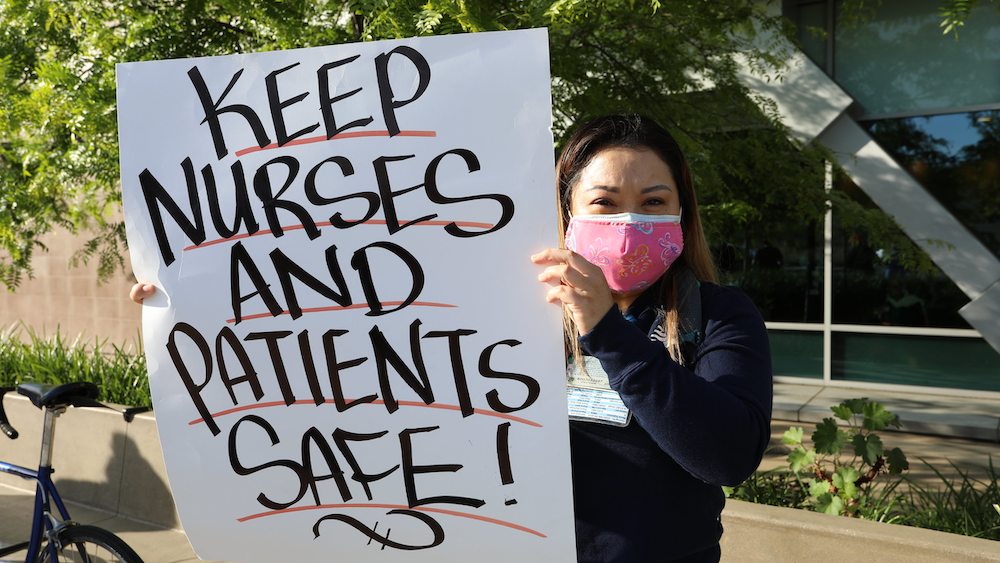 Registered nurses at 15 HCA hospitals in six states will participate in actions Thursday and Friday to protest demands by the nation's largest hospital chain for widespread layoffs and economic cuts that nurses say will also put patients in danger.
RNs at many HCA hospitals also continue to be at risk due to inadequate provision of optimal personal protective equipment in the face of a still raging pandemic.
"After nurses have put their lives on the line to protect HCA patients, it defies belief that HCA, which has widely failed to provide the protection nurses need, wants to further punish them with layoffs and other cuts," said Malinda Markowitz, RN, National Nurses United Vice President and longtime HCA RN.
HCA is using the pretext of the pandemic for its demands, say, nurses, even after it received an additional $700 million bailout from the federal government's Coronavirus Aid, Relief and Economic Security Act, plus another $4 billion in Medicare loans. Over the past decade HCA has racked up more than $25 billion in profits.
"Nurses at RMC have worked tirelessly, often without adequate protective support from HCA, to keep ourselves, our families and our patients safe in the face of this pandemic. For the richest healthcare company in the world to repay us with threatened layoffs and pay cuts is disgraceful," Zoe Schmidt, RN at Research Medical Center in Kansas City.
"It is unconscionable for HCA to use the cover of the pandemic to swell its profits and dividends for shareholders at the expense of its frontline caregivers, and the patients who will be harmed by cuts in nursing staff," Markowitz said.
HCA demands include a unilateral, undetermined number of layoffs, wage freezes, and other cuts. In individual letters at various HCA facilities, hospital executives are also threatening unilateral cuts in nurses' hours and "reassignment," which equates to reductions in patient care.
"Threats of layoffs also are a clear signal to our patients to expect cuts in patient services," said Candice Cordero from Blake Medical Center in Bradenton, Fl. "It is unconscionable for HCA to be frightening our communities with the loss of needed patient care, especially from a system with so much wealth."
At one HCA hospital, Regional Medical Center in San Jose, CA, HCA is planning to terminate all maternal-child care by May 30, a portend of what nurses say could be a model elsewhere.
Many HCA hospitals are already troubled by short staffing which puts patients at risk. "Every single layoff will mean one less nurse at the bedside for the individualized care every one of our patients needs and deserves," said Vanessa Evans, RN, Mountainview Hospital, Las Vegas.
Wage freezes and pay cuts through reduced hours "will harm many of our families who like so many of our neighbors have lost jobs and income in this expanding economic crisis," said Kim Smith, RN, Doctors Regional Hospital, Corpus Christi, TX. 
The pay cuts "are especially disgraceful and a slap in the face while we have struggled, often without adequate protective support from HCA, to protect our patients, keep ourselves and our families safe, and limit the spread of the virus in the face of this dangerous pandemic," said Edie Gates, RN, Oak Hill Hospital, Brooksville, Fl.
NNU last week released the results of a survey of 23,000 nurses in all 50 states that documented that months after the outbreak of the coronavirus pandemic nurses continue to work with unsafe protection. Nearly 2,000 of the responses came from RNs in Florida, a state of heavy HCA concentration, and where nurses will rally at eight hospitals this week.
In numbers paralleling national rates, 83 percent of Florida RNs reported being compelled to re-use single-use disposable respirators or masks with a COVID-19 patient. More than two-thirds cited having to work with exposed skin when caring for confirmed or suspected infected patients. A third were required to use "decontaminated" respirators with confirmed COVID-19 patients. Further, over 80 percent of Florida RNs say they have not been tested for the virus.
None of those practices are safe, putting the nurses in danger of becoming infected and spreading the virus to other patients, other staff, and their own family members. NNU has reported that nationally some 110 nurses have already died due to COVID-19, by far the highest in the world.  
"When we are infected no one is safe," said Louella Ellis, RN, Central Florida Regional Hospital, Sanford, FL. "When nurses are lost, who will be there to take care of our patients?"
NNU affiliates represent 10,000 HCA RNs from California to Florida.
All actions (with local staff contact) are Thursday, May 28 or Friday, May 29, all times local
California
Regional Medical Center of San Jose (Luis Bocaletti, 408-439-7953)
Friday, 3:45 p.m., 225 N. Jackson Ave., San Jose, CA
Florida
Medical Center of Trinity (Sam May, 747-207-5106)
Thursday, 7:30 a.m., 9330 State Road 54, Trinity, FL 
Blake Medical Center (Brian Walsh, 813-466-4810)
Thursday, 8:00 a.m., 2020 59th St. West, Bradenton, FL 
Doctors Hospital of Sarasota  (Brian Walsh, 813-466-4810)
Thursday, 6:00 p.m., 5731 Bee Ridge Rd., Sarasota, FL
Central Florida Regional Hospital (Matt Emmick, 407-446-5047)
Friday, 6:30 a.m., corner SR 46 and Mangoustine, Sanford, FL 
Oak Hill Hospital (Sam May, 747-207-5106)
Friday, 7:30 a.m., 11375 Cortez Blvd, Brooksville, FL 
Fawcett Memorial Hospital (Brian Walsh, 813-466-4810)
Friday, 8:00 a.m., 21298 Olean Blvd, Port Charlotte, FL 
Osceola Regional Medical Center (Matt Emmick, 407-446-5047)
Friday, 8:30 a.m., corner of Oak St. and Central Ave., Kissimmee, FL 
St. Petersburg General Hospital (Erica Askin, 813.682.7214) 
Friday, 11 a.m., corner of 66th St. and 38th Ave., St. Petersburg, FL
Missouri/Kansas
Research Medical Center (Julie Perry RN, 816-665-4746)
Nurses from Menorah Medical Center, Overland Park, KS will also be participating  
Thursday, 6:00 p.m., 2316 E Meyer Blvd, Kansas City, MO
Nevada
Mountainview Hospital (LaNita Troyano, 702-682-9678)
Thursday, 8:00 a.m., 3100 N. Tenaya Way, Las Vegas NV 
Texas
Del Sol Medical Center (Mateos Chekol, 915-307-1285)
Thursday, 8:00 a.m., 10301 Gateway West Blvd, El Paso, TX
Corpus Christi Medical Center, Bay Area Campus (Omar Bantayan, 956-250-1824),
Thursday, 6:00 p.m.,  7101 S. Padre Island Dr., Corpus Christi, TX 
Las Palmas Medical Center (Mateos Chekol, 915-307-1285)
Friday, 8:00 a.m., 1801 N. Oregon St., El Paso, TX