Press Release
RNRN Volunteers to Provide Much-Needed Medical Aid in Northern Guatemala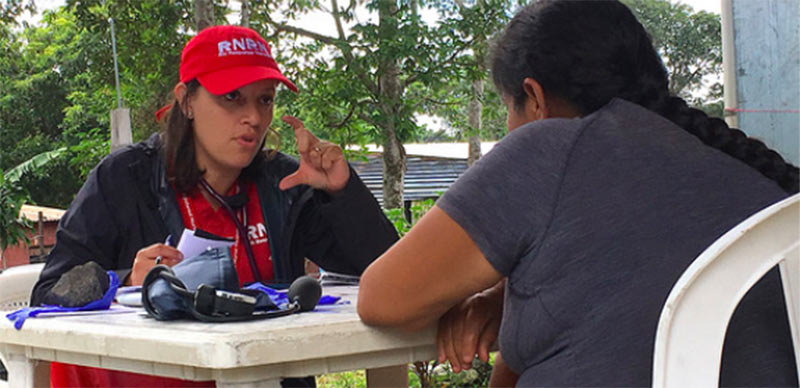 Nurse volunteers from the Registered Nurse Response Network (RNRN)—a disaster-relief project of the California Nurses Foundation (CNF) and National Nurses United (NNU)—are heading to Guatemala this week to help provide much-needed medical services to remote communities in the northernmost part of the country. RNRN will be sending eight registered nurses, along with two nurse practitioners, as part of a larger delegation of medical providers to the Peten region.
 
The RNRN volunteers will share tools to help people in the communities practice preventive health care. The medical delegation is dedicated to sharing their knowledge and learning from community members in a spirit of compassion and cooperation.
 
The RNRN volunteers are available for interviews as their schedule permits while in Guatemala and after they return to the United States on April 3.
 
"My family is from El Salvador and working with RNRN is a great opportunity to give back," said Ada Bajada, a nurse practitioner from San Francisco.
This will be Bajada's second deployment with RNRN. She spent several days in Guatemala last year providing medical care in the aftermath of eruption of Volcan de Fuego in June. That eruption left 332 people dead, 246 people missing and thousands displaced. Bajada said she was inspired to return to Guatemala because she saw how much the care meant to those who had very limited access to medical care.
 
"It was really moving to me that people were waiting in line for hours, in the hot sun, tired and hungry," said Bajada. She says those who have a little money can pay for care, but many people are barely surviving. "People needed primary care-- the basics, something for a cold, parasites, pains, or diarrhea."
 
Sonia Torres, a registered nurse who works in the ICU in Texas, said she is excited to go to Guatemala right after completing a deployment working with migrants and the asylum seekers in Tucson.
 
"This is definitely full circle for me. It will be interesting to see [the conditions] they are leaving," Torres said. She noted the contrast between her privilege and their deprivation: those who she met at the Casa Alitas shelter in Tucson had to endure a long, arduous trip that took weeks and months to reach the United States, the RNRN volunteers have a much easier time making the trip to Guatemala. "We get to go on a plane and we are there within a day," she said.
 
During their deployment in Guatemala, the nurses are expecting to provide medical services to at least 2,000 people in the community of Nuevo Horizonte, near the city of Flores in the Peten department.
 
RNRN volunteers will be working side by side with local medical providers and the Cuban Medical Brigade.
 
RNRN volunteer nurses have cared for thousands of patients during disaster relief and humanitarian assistance deployments that include the South Asian tsunami (2004); Hurricanes Katrina and Rita (2005); the Haiti earthquake (2010); Hurricane Sandy (2012); Super Typhoon Haiyan/Yolanda (2013); Hurricanes Harvey and Maria (2017); Vulcan de Fuego Relief in Guatemala, Hurricane Michael, and the Camp Fire in Butte County CA (2018); and the Continuing Promise 2010 and 2015 humanitarian missions with the Department of Defense. RNRN volunteers have also provided first aid and basic response services to hundreds of community events across the country, as well as rotating teams who assisted the water protectors in Standing Rock in 2016.
 
RNRN is powered by CNF and NNU, the largest union and professional organization of registered nurses in the United States with more than 150,000 members.