Press Release
RNRN Volunteers Provide Medical Relief in the Bahamas following Hurricane Dorian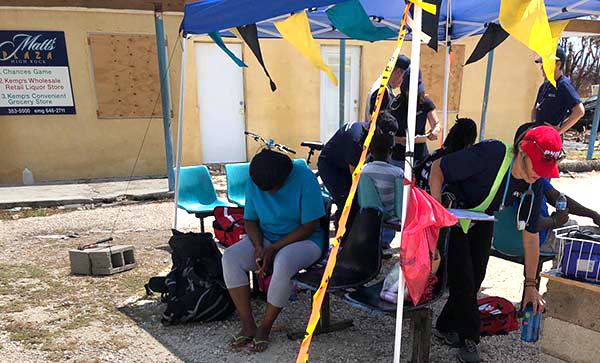 Nurses may be available for interview depending on conditions in the Bahamas or when they return to their homes states.
Registered Nurse Response Network (RNRN), a national network of volunteer disaster-relief nurses sponsored by National Nurses United (NNU) and California Nurses Foundation is deploying a team of nurses to the Bahamas this week, in conjunction with International Medical Corps to help local health care workers provide medical assistance in the wake of Hurricane Dorian, RNRN announced today.
This is the third group of nurses from RNRN to head to the disaster zone since Hurricane Dorian hit the island on Sept. 1 as a Category 5 storm with winds of up to 185 mph. Fifty-one people are confirmed dead in the Bahamas, and 1,300 are still missing.
"When we flew over the Abaco it looked like a bomb went off, there were just trunks of the trees, not any green left, homes were completely smashed, and cars were overturned," said Christina Schonbrun, a registered nurse from San Francisco who was part of a team deployed to the Bahamas from Sept. 6 through Sept. 13. "I have never seen anything like that, it was so sad, so disheartening."
Christine Grant, a registered nurse from Washington, D.C., who volunteered with RNRN in Puerto Rico following Hurricane Maria, says science clearly indicates that increasingly powerful hurricanes and other examples of extreme weather events are the result of a man-made global climate crisis, brought about by the fossil fuel industry.
"As nurses we have a responsibility to speak up not only for our patients, but our planet as well," said Grant. "We know that the climate crisis is leading to public health crises that disproportionally hurt the most vulnerable and marginalized people. We see that as the planet burns and ocean water temperatures rise, more and more vulnerable people are subject to the extreme weather that brings death and destruction to those already struggling to survive in substandard housing, and without adequate access to health care and nutrition."
NNU is actively fighting climate change, supporting global policies that shift humans away from a reliance on fossil fuels, and supporting the enactment of the Green New Deal.
"Unfortunately, this is something we have all contributed to, some countries more than others, particularly the United States," said Grant. "So, it is everyone's responsibility to see what they can do to combat this crisis. This has to be a wake-up call for everyone to ask themselves 'What is it that I can do?'"
Many people who suffer from chronic conditions lost their medications when Hurricane Dorian hit or during the flooding. As part of a medical team, RNRN volunteers went door-to-door to see what medications people needed and then supplied those medications to the patients.
During her time in the Bahamas, Schonbrun cared for very fragile patients who had been evacuated from a nursing home to a church. She was also part of a team that went to homes to offer tetanus shots and educated people about the dangers of infection from the massive debris that covered much of the island.
"It makes you feel really good about being able to be there and help people and even just to talk to them," said Schonbrun.
She called the experience working with RNRN life changing. 
"This has completely changed my perspective on life, how you can't take anything or anyone for granted," said Schonbrun "We were right by the ocean and there was a house wherer the only thing left was a foundation. A family of four lived there and none of them had been found. It makes you realize how fragile life can be."
Grant said volunteering with RNRN allows her to live her core belief that we are all responsible for one another. "The work that RNRN does connects with my spirit and my desire to help those who are unfortunately less fortunate than we are in this country. A crisis can happen anywhere, and I would like to think that individuals would come to our aid. It is simply about taking care of our fellow man, because we are all in this together."