Press Release
RN Volunteers Back from Puerto Rico to Speak Out on Ongoing, Worsening Public Health Crisis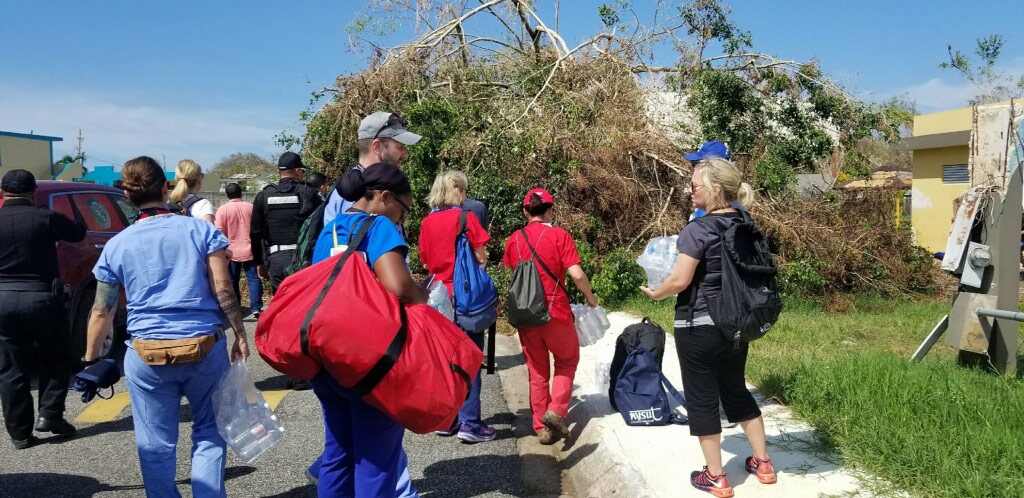 Registered nurse volunteers recently returned from two weeks of providing nursing care and other disaster relief will join House Minority Leader Nancy Pelosi and other members of Congress to speak out Thursday on Capitol Hill about the ongoing humanitarian crisis in Puerto Rico.
WHO:
Democratic Leader Nancy Pelosi (D-CA)
Rep. Nydia M. Velázquez (D-NY)
Rep. José E. Serrano (D-NY)
Rep. Rep. Luis V. Gutiérrez (D-IL)
Bonnie Castillo, RN, Associate Executive Director, National Nurses United (NNU)
Cathy Kennedy, RN Vice-President, National Nurses United
Olivia Lynch, RN from Merced California
Christine Grant, RN from Washington DC
WHAT: Press conference with Congress members, RNs calling for additional assistance for Puerto Rico and to share insight regarding current conditions on the ground.
WHEN: Thursday, October 26, 2017, 12:30 p.m. ET
WHERE: HVC-215 (U.S. House Visitors Center), Washington, D.C.
Watch video of the Press Converence
The RNs, members of the Registered Nurse Response Network (RNRN)—a disaster relief program sponsored by National Nurses United, the largest U.S. union of RNs—were in Puerto Rico as part of a 300-member deployment led by the AFL-CIO, in conjunction with the Puerto Rican Federation of Labor and the San Juan Mayor's office.
Among conditions the RNs witnessed:
People standing in line for hours in blistering heat waiting for desperately needed water and food, only to finally see federal disaster officials bringing paperwork "to collect data" rather than distributing critical supplies.
Residents continuing to live in houses with roofs blown off and soaked interiors where there is dangerous black mold growing that creates respiratory distress and illness.
Major areas away from urban centers where residents still have received no provisions, have no running water and no electricity.
An outbreak of leptospirosis, a dangerous bacterial disease that has already claimed lives.
Numerous communities without clean water that are at risk of the outbreak of water-borne illness epidemics.
"It pains us to know that for many Puerto Ricans, the volunteers on this deployment provided the only aid they received—and were a temporary buffer between life and death. If our volunteer nurses can provide this aid, how has our government, with all of its resources, been unable to do the same?" asks Cathy Kennedy, RN, Vice-President of NNU and a leader of the volunteer mission.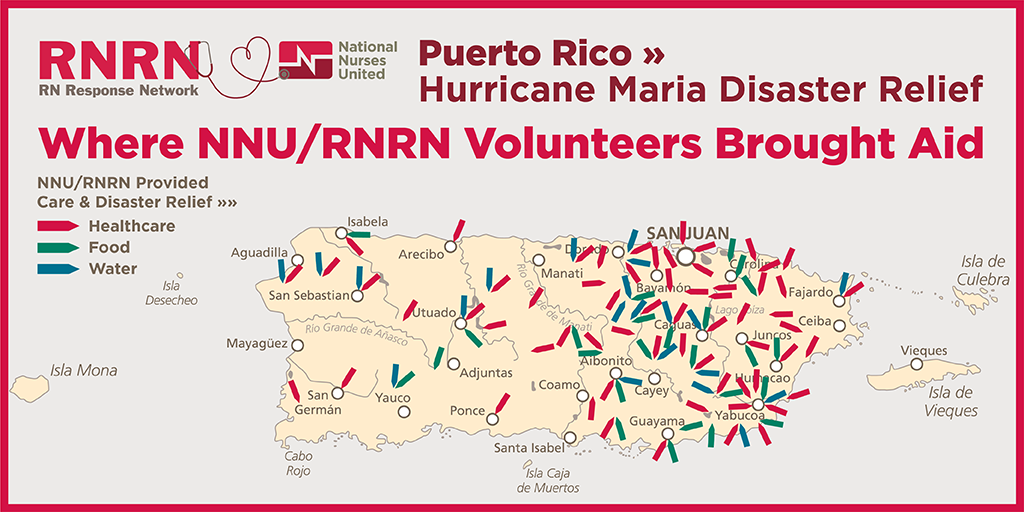 "We cannot be silent while millions of people continue to endure conditions no one should endure, with an unconscionable poor response from a government that should view a full and timely recovery for its citizens as a top priority. Especially in this new era of a growing climate crisis—where none of us are invulnerable to disaster," said Bonnie Castillo, RN, director of NNU's RN Response Network.
"It is unconscionable that the people of Puerto Rico are being left to die. Our nurses witnessed a humanitarian and healthcare crisis, and we KNOW our government has the power to bring relief to those who are suffering," Kennedy said.