Press Release
RN Response Network Deploys Second Team of Volunteer Nurses to Puerto Rico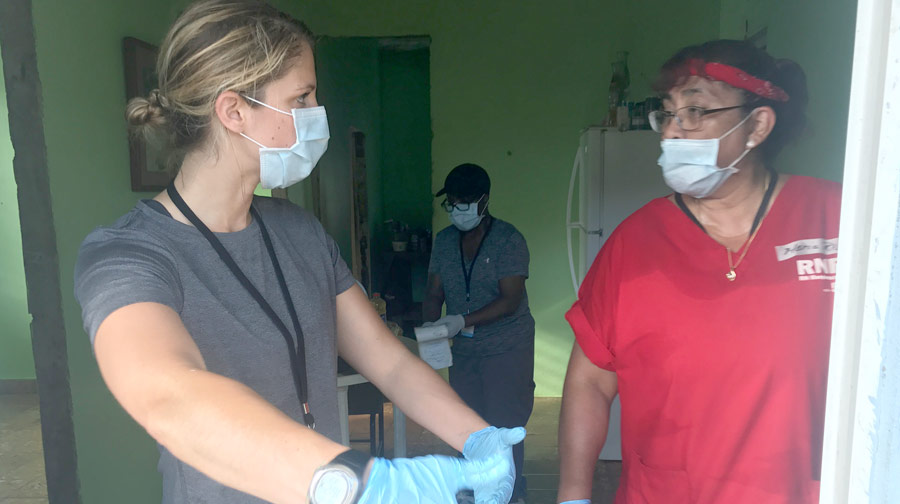 In partnership with International Medical Corps, RNRN volunteers are back in Puerto Rico this week, helping hundreds of patients
Nurse volunteers from the Registered Nurse Response Network (RNRN)—a disaster relief project of National Nurses United (NNU)—are back on the ground this week in Puerto Rico, working in partnership with International Medical Corps volunteers and local providers to help staff mobile primary care clinics and conduct home visits to hundreds of patients, many of whom still lack access to regular primary care support for chronic medical conditions such as diabetes and hypertension.
This week's team of RNRN volunteers is returning to the island after a previous deployment in October, 2017, in conjunction with the AFL-CIO.
"We are pleased to be doing what we can to help the people of Puerto Rico, especially in light of the fact that the federal government response continues to be inadequate, even months after the hurricane first struck the island," said RNRN director Bonnie Castillo, RN. "While our courageous RN volunteers have left their homes and families to do what they can and to help provide relief for patients and healthcare workers in Puerto Rico, we know that this U.S. territory deserved so much more help from the U.S. government."
"I'm excited to be back to continue on with what we were doing on the first deployment," said Maria Rojas, an RN from Tampa, Florida. "I'd like to see how things have progressed. I know we are going to help people, although it feels like it's never enough. If I could do this full time, I would."
In addition to the support provided for patients, RNRN volunteers will also be providing much needed relief and support to the local clinic medical staff, many of whom were impacted themselves by the storm and need respite from the long and arduous working conditions they have encountered since the storm struck four months ago.
During RNRN's previous deployment to Puerto Rico, in October, RNs point out that they stepped into first responder roles, in many cases, due to frequent encounters with storm survivors who had not yet been contacted by any aid workers.
"The people of Puerto Rico are dying. We have a healthcare crisis here right now," said lead RNRN volunteer nurse Cathy Kennedy, in an October update for the island, where nurses witnessed a deadly lack of clean water, food and shelter. Conditions in Puerto Rico still remain very challenging, say nurses, with 40 percent of the island still without power.


Betty Woods, a nurse practitioner from northern California and a veteran of several previous RNRN deployments, including Hurricane Katrina and the 2010 Continuing Promise humanitarian mission with the Department of Defense, is looking forward to providing the victims of Hurricane Maria with the care and support that they need.
"Hopefully, we'll be able to accomplish some positive things there, getting people the care they need and assisting them as we can," said Woods. "As a nurse, it really important to be exposed to disaster relief projects. It brings us in touch with the world in a different way."
Through this current deployment, a partnership with International Medical Corps in collaboration with La Asociacion de Salud Primaria de Puerto Rico (ASPPR), a non profit network of 76 clinics supporting vulnerable populations in Puerto Rico, RNRN/NNU continues its commitment to ensure that proper care and attention are given to the ongoing dire conditions in the aftermath of Hurricanes Irma and Mara, and that the citizens of Puerto Rico receive the support they need for a full recovery.
"I know that I, along with all the other nurses, had a hard time leaving the island in October," said RN Amy Tidd, of Bangor, Maine. "There was still so much to do when we left. I honestly feel blessed to have the opportunity to go back."
"Any time I go on a trip with RNRN, I bring something to it, but I always take back a lot more, from the people I work with there, from patients and healthcare workers in a particular country," said Woods. "I would encourage anyone who wants a different outlook on life to volunteer."
To donate/volunteer: Visit RNResponseNetwork.org or call 1-800-578-8225.
For more than 12 years, RNRN volunteer nurses have cared for thousands of patients during disaster relief and humanitarian assistance deployments that include the South Asian tsunami (2004); Hurricanes Katrina and Rita (2005); the Haiti earthquake (2010); Hurricane Sandy (2012); Super Typhoon Haiyan/Yolanda (2013), the Continuing Promise 2010 and 2015 humanitarian missions with the Department of Defense, and Hurricanse Harvey, Irma and Maria (2017). RNRN volunteers have also provided first aid and basic response services to hundreds of community events across the country, as well as rotating teams who assisted the water protectors in Standing Rock in 2016. RNRN is powered by NNU, the largest organization of registered nurses in the U.S.