Press Release
Representative Alexandria Ocasio-Cortez Joins Veterans and RNs to Demand Congress Protect Veterans Health Care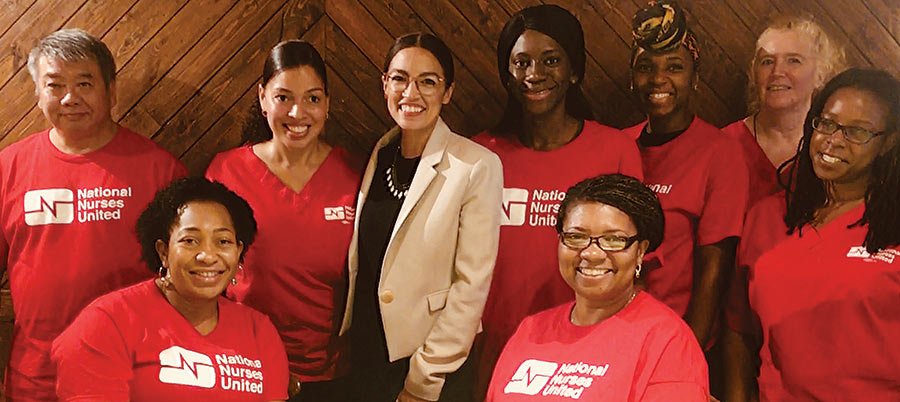 Nearly

 

43,000 Medical

 

Staff

 

Vacancies

 

-

 

A

 

Deliberate Attempt to

 

Deprive

 

the VA

 

of Necessary Resources
Rep. Alexandria Ocasio-Cortez will join veterans and registered nurses for an April 17 town hall discussion on protecting  VA health care system from the threat of privatization. Nurses and veterans are calling for an immediate end to the administration's attacks on the VA health care system and demanding the VA be fully staffed and funded so it can continue to provide the highest quality of care to our nation's veterans, National Nurses Organizing Committee/National Nurses United (NNOC/NNU) announced today.
"As a nurse and a veteran who cares for the injuries to both the minds and bodies of other veterans, I know the specialized care they need, and the importance of their healing together within a community of fellow veterans who understand their struggles and history," said Yesenia Novaton, RN. "We know the VA offers care that is designed to attend to not only the medical needs of veterans but also support them and their families. The VA is a unique and invaluable national asset that must be protected in order to fulfil its sacred duty to veterans." 
What: Town Hall Discussion — Protect Veterans Health Care at the VA
Speakers include:
Rep. Alexandria Ocasio-Cortez
John Rowan, Vietnam Veterans of America
Kristen Rouse, NYC Veterans Alliance
Johnnie Williams, Help is on the Way
Skip Delano, Save Our VA, Veterans for Peace
Jeremy Butler, Iraq & Afghanistan Veterans of America
When: Wednesday, April 17, 6 – 8:30 p.m. 
Where: P.S. 83, 950 Rhinelander Avenue, Bronx, New York  
"The VA … appears to be sliding too fast down the slippery slope toward privatization," warned John Rowan, the National President of Vietnam Veterans of America, during a Congressional hearing in March. "If [Congress] choose[s] to let the Kochs and their allies have their way, veterans will suffer while private healthcare facilities and doctors will benefit."  
Nurses and Veterans are calling for:
Congress to Fully Fund and Secretary Wilkie to Fully Staff the VA.
Currently there are nearly 43,000 vacancies in the VA health care system. Secretary Wilkie has billions of dollars at his disposal, yet he recently testified before Congress that fully staffing the VA is not a priority. However, he has said rolling out access to private sector care is a priority and the proposed 2020 VA budget request calls for 18 percent of the medical funding for the VA to be set aside for private sector care.
Congress and Wilkie to Reject Arbitrary Rules for Access to Private Sector Care.
The VA said this month it intends to start moving veterans out of the VA into the private sector this June under newly proposed rules. Nurses oppose these proposed rules, calling them "arbitrary", as they are based on wait times and driving distances, and they do not demand that private clinicians meet the same exacting standards that VA facilities and clinicians are required to meet, nor do they take in to account the quality of care the veterans will receive. 
A Cessation of All Efforts to Privatize Health Care for Veterans.
Nurses charge there is a concerted effort underway by the Koch brothers and others to starve the VA of necessary resources to function at full capacity. Nurses know that as the VA spends money on private health care, which is more expensive and often inferior to VA care, fewer veterans will get care for the same cost. When money is siphoned away from the VA into the private sector, the VA will continue to be chronically short staffed and the VA health care system will erode, leading to the closure of VA facilities. Veterans will then find they have lost the VA health care system as a viable option, and will be forced to get care in the private sector.
Press Must Preregister For This Event.
If you are interested in covering the event, please send a request by 3:00 p.m. EST Monday, April 15.  
https://act.nationalnursesunited.org/page/s/va-health-care-media-registration
Doors will open to the press at 5:15 p.m.
Please be advised that Rep. Ocasio-Cortez will NOT be available for one-on-one interviews.