Press Release
Rep. Max Rose Joins Veterans and RNs to Demand Congress Protect Veterans' Health Care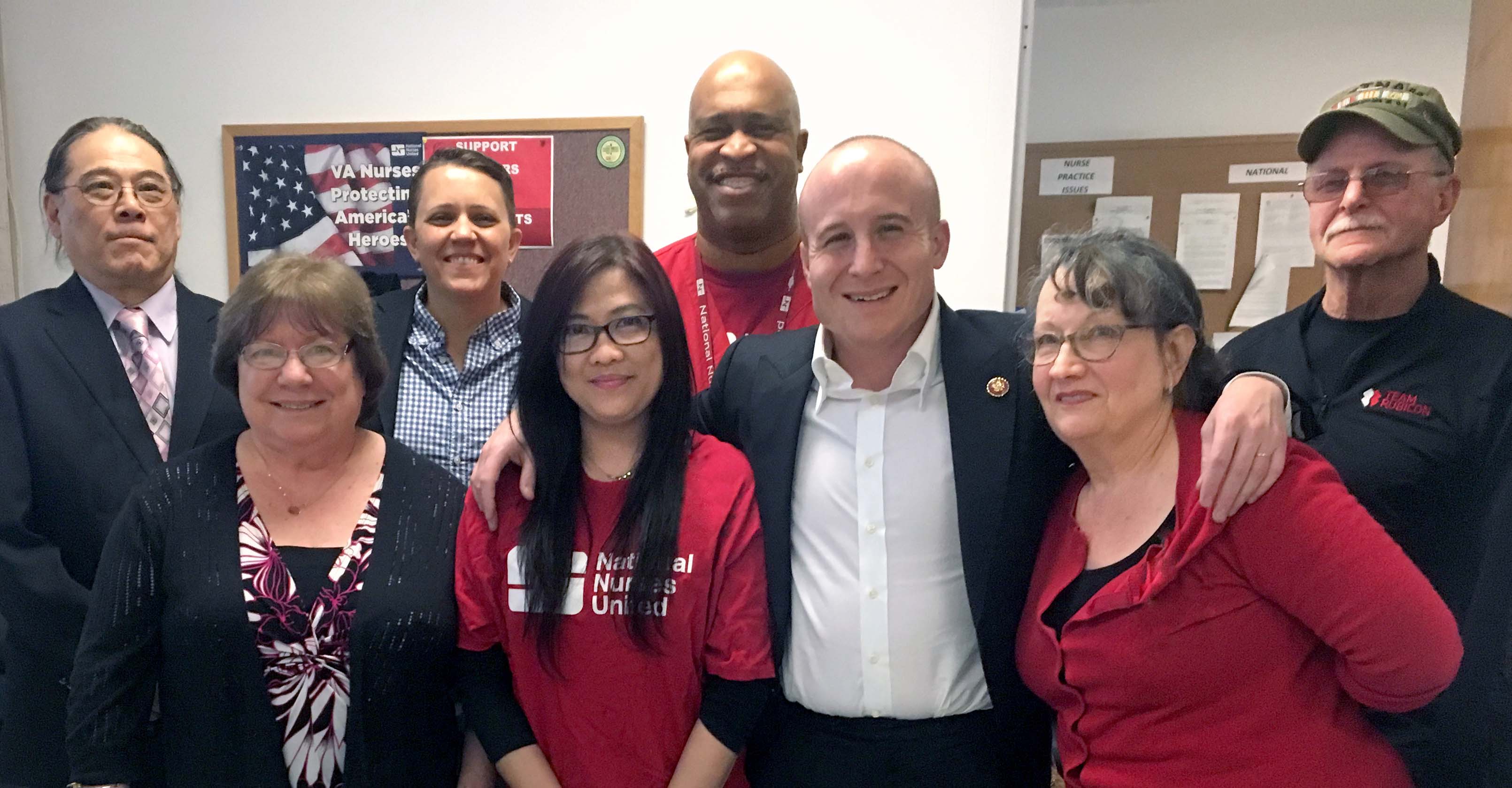 Town Hall Meeting- Friday, Oct. 4
Rep. Max Rose will join veterans and registered nurses on Friday, Oct. 4, 2019 for a town hall discussion on protecting the VA health care system from the threat of privatization. Nurses and veterans are calling for the immediate end to attacks on the VA health care system and to ensure the VA is fully staffed and funded so it can continue to provide the highest quality of care to our nation's veterans, announced National Nurses Organizing Committee/National Nurses United (NNOC/NNU) today.
"As a registered nurse and a U.S. Navy veteran, the VA for me is home," said Elton Smith, a perioperative nurse. "People who work at the VA have specific training to treat veterans and many are veterans themselves. Care at the VA is more holistic than in the private sector and the VA allows veterans to be part of a community of healing made up of other veterans who understand their struggles. A strong and fully-funded VA is critical if we are to fulfill our country's sacred duty to care for our veterans." 
What: Town Hall Discussion — Protect Veterans' Health Care at the VA Speakers include:
Congressman Max Rose, House Veterans Affairs Committee 
John Rowan, National President, Vietnam Veterans of America
Danny Freidman, Brooklyn Chapter 72 President, Vietnam Veterans of America
Lindsay Rodman, Executive Vice President, Iraq and Afghanistan Veterans of America
Kristen Rouse, President and Founding Director, NYC Veterans Alliance   
When: Friday, Oct. 4, 2019   5:30 – 8:30 p.m. 
Where: I.S. 259 William McKinley - 7305 Fort Hamilton Parkway, Brooklyn, NY 11228
At the town hall meeting, a newly compiled report, Retaining Effective and Sound Programs for Excellent Care and Treatment (RESPECT) for Veterans will be released to the public. The report is a detailed synthesis of more than 90 primary sources. RESPECT for Veterans lays out the data showing how VA health care is superior to the private sector by many measures, including access, quality and cost. Furthermore, RESPECT for Veterans found that "the [Veteran Health Administration] performs exceptionally well in suicide prevention and treating post-traumatic disorder and depression experienced by many veterans."  
The RESPECT for Veterans white paper can be found at this link.
Nurses and veterans are calling for:
Congress to fully fund and Secretary Wilkie to fully staff the VA.
Currently 49,000 positions are vacant throughout the VA system, with nearly 43,000 of those in the health care system. According to the Government Accountability Office (GAO), the VA is struggling with "large staffing shortages, including physicians and registered nurses." In addition, the GAO found that "high attrition, increased workload, and burnout among [Veterans Health Administration] human resources staff… have impeded the VHA's ability to serve the nation's veterans." Nurses contend the failure of the VA to address these persistent problems and to fill these vacancies is part of an overall strategy to privatize veteran care.
An end to privatization efforts of veterans' health care.
Nurses recognize that as money is siphoned away from the VA and into the more expensive private health care sector, the VA will continue to be chronically short staffed. This chronic short staffing will eventually erode the system, paving the way for the closure of VA facilities. This, in turn, leads to even more privatization of veterans' health care. 
Congress and Wilkie to reject arbitrary rules that push veterans into the private sector. 
Nurses oppose these rules, calling them "arbitrary" as they are based on wait times and driving distances, and they do not demand that private clinicians meet the same exacting standards that VA facilities and clinicians are required to meet, nor do they take into account the quality of care the veterans will receive. 
National Nurses United is the largest and fastest-growing union and professional association of registered nurses in the United States with more than 150,000 members nationwide. NNU plays a leadership role in safeguarding the health and safety of RNs and their patients and has won landmark legislation in the areas of staffing, safe patient handling, infectious disease, and workplace violence prevention.