Press Release
Reno Saint Mary's nurses to hold one-day strike for patient safety, community protections, retention, and recruitment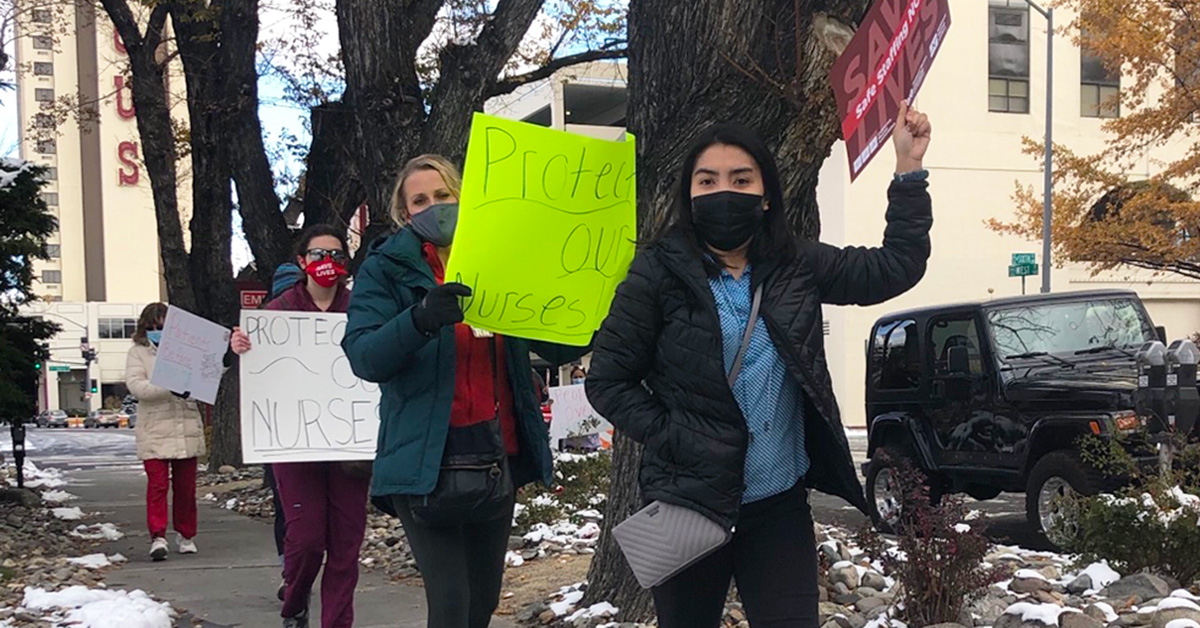 Nurses at Saint Mary's Regional Medical Center in Reno, Nev., will hold a strike for one day on June 23, 2022, to protest the administration's refusal to address RNs' deep concerns about patient care and safe staffing, announced California Nurses Association/National Nurses Organizing Committee (CNA/NNOC) today. This follows a nearly unanimous strike authorization vote on April 22, 2022. Nurses have given advance notice to the hospital for their strike.
"Saint Mary's used to be a place nurses like me aspired to work," said Katie Dawson, an RN in Saint Mary's critical care unit. "But mismanagement is driving talented nurses away from our facility. The best way to fix this is for management to listen to nurses because we know what this hospital needs to succeed."
Who:

Registered nurses at Saint Mary's Regional Medical Center

What:

One-day strike for patient safety and a fair contract

When:

Thursday, June 23, 7 a.m. to Friday, June 24, 6:59 a.m.

Where:

Saint Mary's Regional Medical Center Prime, 235 W. Sixth St., Reno
"Nurses have been clear with management: We need safe staffing, we need proper equipment, and we need better working conditions," said Lena Tran, RN, who works in the surgical/orthopedic unit at Saint Mary's. "But management refuses to listen. So, we are going to make sure they hear us for the sake of our patients."
Saint Mary's nurses have been in negotiations since October 2021 for a new contract with little to no movement on key issues. The RNs urge management to agree to a contract that provides:
Major investments in nurse staffing to safely staff Saint Mary's
Adequate supplies of basic medical equipment and supplies, including personal protective equipment, medical devices, and basic essentials
Improved working conditions that will slow the tide of staff attrition
Wages and benefits that are competitive with surrounding community standards to retain and recruit experienced nurses
"We're hopeful management will hear us on the strike line," said Bethany Want, RN, who works in the postpartum unit. "So many talented nurses have left Saint Mary's because of the administration's mismanagement and failures. It's time for management to do better and come to the table to solve these problems."
CNA/NNOC represents more than 500 nurses at Saint Mary's Regional Medical Center.
The California Nurses Association/National Nurses Organizing Committee is a national union and professional organization for registered nurses, advanced practice nurses, and RN organizations. NNOC is affiliated with National Nurses United, the largest and fastest-growing union and professional association of registered nurses in the United States with more than 175,000 members nationwide