Press Release
Registered Nurses at Washington Hospital in Fremont ratify four-year contract improving patient care conditions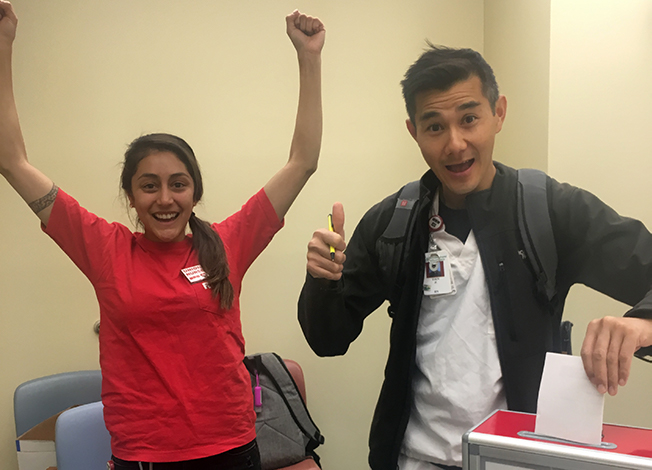 Registered nurses at Washington Hospital in Fremont voted this week to ratify a four-year contract that includes provisions that nurses say will lead to improved patient care, announced California Nurses Association (CNA) today.
"Nurses stood up for safe staffing standards by securing an agreement that promotes the training of qualified nurses in specialty areas," said Lizet Beltran, an oncology nurse. "This agreement will enable us to retain our highly qualified nursing staff who take care of the community."
Highlights of the contract include:
Strengthening nurses' voices to improve patient care. The new agreement increases nurse participation in the hospital's professional practice committee, a committee of nurses and hospital management which meets monthly to resolve patient care issues.
"With our new agreement, we will have increased representation to resolve patient care concerns and improve how nurses take care of patients at the bedside," said Kim Lake, a registered nurse at the Birth Center. "This contract is a testament to our solidarity and our commitment to serving our patients."
Support for nurses, leading to enhanced patient care. The contract includes improved staffing language to ensure RNs can safely take meal and rest breaks to reduce on-the-job stress and fatigue that studies show can erode patient safety.
Critical educational opportunities. The agreement includes increased incentives for RNs to take part in training and educational programs which enhances the quality of patient care and improves recruitment and retention of experienced nurses.
No takeaways to health benefits. Nurses were able to block the hospital management's effort to increase premiums for health care.
Economic gains to help with recruitment and retention. With an across the board wage increase of 11 percent over the four years of the agreement, this contract will help to attract the most experienced nurses to care for patients and the community served by the hospital.
CNA represents more than 800 nurses at Washington Hospital.
The California Nurses Association has 100,000 members statewide and is affiliated with National Nurses United, the largest and fastest growing union of RNs in the nation. CNA/NNU has won landmark health and safety protections for nurses and patients in the areas of staffing, safe patient handling, infectious disease and workplace violence protection.