Press Release
Registered Nurses Tell California Lawmakers: Honor National Nurses Week by Improving Patient Safety Protections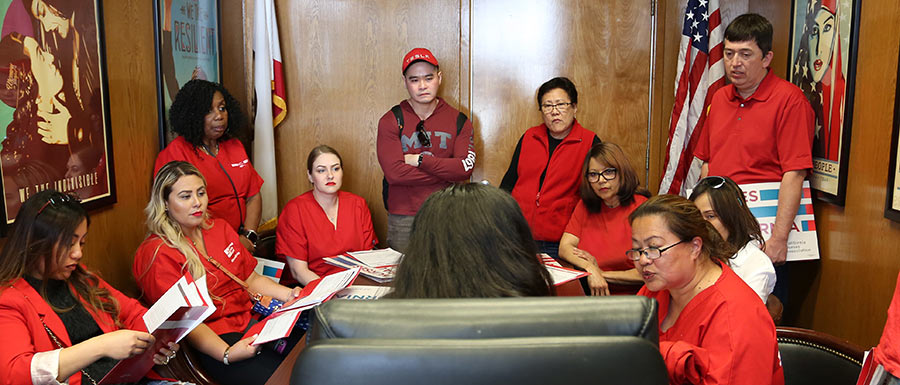 Hundreds of registered nurses with the California Nurses Association (CNA) are gathering in Sacramento, Tuesday, May 7, 2019 to meet with state legislators to urge the passage of a number of signature bills that protect the health and well-being of registered nurses, their patients and the public.
 
"As nurses, we take very seriously our responsibility to advocate for our patients' safety, and we know that responsibility does not stop in our medical facilities, but must be continued in the halls of power," said Bonnie Castillo, RN, executive director of National Nurses United (NNU) and the California Nurses Association/National Nurses Organizing Committee (CNA/NNOC). "Our nurses see every day the pain and suffering of patients who cannot access care because their community hospital has closed. We witness safety concerns in our facilities, and we must have the protections to share those concerns confidentially with state inspectors. The best way for lawmakers to honor nurses and their work this National Nurses Week is by working to pass these bills which improve patient safety protections."
Nurses will be available for interviews throughout the day.
Nurses' Legislative Action Day Events
What: Plenary Session
Where:  Crest Theater 1013 K St, Sacramento, CA
When: 9:45 to 11:45 a.m.
Speakers include:
Senator Anna Caballero (D-Salinas)
Senator Nancy Skinner (D-Berkeley)
Senator Steven Bradford (D-Gardena)
Assemblymember Patrick O'Donnell (D-Long Beach)
Kimberly Ellis, Candidate for California Democratic Party Chair
March: 12 noon Crest Theater to Capitol Steps
 
During their lobby visits, nurses will meet with their legislators to discuss the following bills that CNA is sponsoring:
 
S.B. 567 Health Care First Responder Workers' Compensation
Introduced by Sen. Anna Caballero and Sen. Nancy Skinner, S.B. 567 would give nurses the same protections for receiving workers' compensation due to work related injuries that firefighters, police officers and EMTs currently enjoy. It should be noted, nurses, a mostly female workforce, face the same exposures that first responders, a predominately male workforce, face on the job. This legislation addresses one aspect of gender inequality for nurses who become injured or ill through their employment.
 
Specifically, S.B. 567 allows nurses to get workers' compensation for a number of illnesses that are associated with their work, including infectious diseases, cancer, musculoskeletal injury, post-traumatic stress disorder, and respiratory illness, without having to prove the injury was work related.
 
A.B. 1014 Hospital Closure Notification
When a hospital closes, a community loses a vital public asset. Lives are put into danger when emergency rooms are shuttered, and communities, especially seniors and low-income people, are left without access to critical medical care. Furthermore, hospital closures weaken already strained emergency response networks that are critical when natural disasters hit, such as wildfires or earthquakes.
 
A.B. 1014, introduced by Assemblymembers Patrick O'Donnell, William Brough, and Buffy Wicks, would require hospitals and health facilities to provide the public a 180-day notice before downgrading their services or closing. This will give communities a reasonable time to work towards an alternative solution to closure or negotiate a solution.
 
S.B. 322 Hospital Inspection Parity
Registered nurses understand they have a responsibility to advocate for their patients and to ensure they get the best care possible. In order to perform that advocacy role effectively, nurses must be able to speak freely about conditions in their hospitals and facilities.
 
Currently, registered nurses are allowed to speak privately with inspectors from the California Division of Occupational Safety and Health Administration (Cal/OSHA) about health and safety violations or concerns. S.B. 322, introduced by Sen. Steven Bradford, would afford RNs the same protections to speak privately to state hospital inspectors from the California Department of Health.