Press Release
Registered Nurses Plan Picket Sept. 25 to Protest Layoffs of Vital Staff at St. Joseph Hospital, Eureka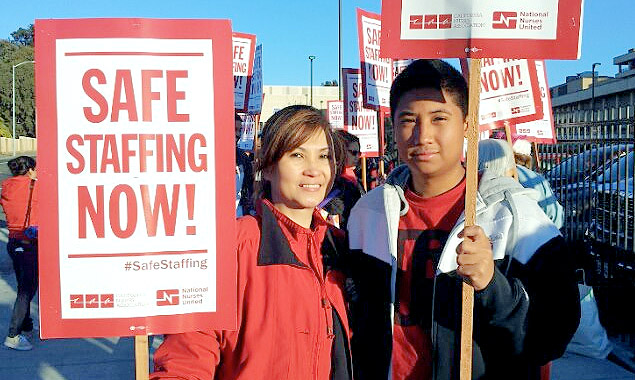 Registered nurses at St. Joseph Hospital, Eureka will hold an informational picket outside the hospital, Tuesday Sept. 25, to protest unsafe staffing at the hospital and demand immediate reinstatement of vital health care staff.
Last week St. Joseph Hospital, Eureka and Redwood Memorial Hospital abruptly terminated twenty acute care ancillary staff, including pharmacy technicians, emergency room technicians, nurses' aides, constant care attendants, and laboratory assistants. While no RNs were laid off, the cuts impact staff that provide invaluable patient care and support to the nursing team, say nurses.
What: RNs Picket to Demand Safe Staffing at St. Joseph Hospital, Eureka
When: Tuesday, Sept. 25, 2018. 2:00 – 4:00 p.m.
Where: St. Joseph Hospital, in front of hospital sign at corner of Harrison Avenue and St. Joseph Lane.
"As registered nurses we are deeply concerned about the continuing reduction in acute care ancillary staff, which started as hiring freezes and last week mushroomed into multiple layoffs of vital staff," said Lesley Ester, RN. "The continuing loss of ancillary staff has put an increased burden on the nursing staff, while the cost to patient care includes extended wait times for emergency room admissions, delayed blood draws, delays in administering medications and in responding to call lights when patients need assistance."
The California Nurses Association has 100,000 members statewide and is affiliated with National Nurses United, the largest- and fastest-growing union of RNs in the nation. CNA/NNU has won landmark health and safety protections for nurses and patients in the areas of staffing, safe patient handling, infectious disease, and workplace violence protection.