Press Release
Registered Nurses at Mee Memorial Hospital to Hold Candlelight Vigil to Alert Community to Patient Care Concerns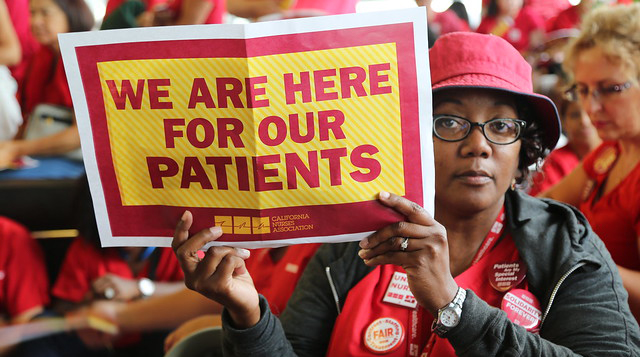 Registered nurses at Mee Memorial Hospital in King City, Calif. will hold a candlelight vigil on Monday, Aug. 12 to alert the community to patient care concerns at the hospital. Nurses say recently announced layoffs, chronic shortstaffing, and requiring nurses to work in units outside of their experience and expertise is putting patient care at risk. 
"We serve a very high-risk population: mothers with chronic disease like diabetes and chronic hypertension. These are patients who are at risk for bad outcomes, so it is imperative that we have enough staff, yet we are chronically understaffed," said Margie Saiz, an obstetrics nurse at Mee Memorial. "We are supposed to have three nurses on night shift but we are constantly short. Newborns are very fragile and their condition can change very rapidly. What happens if there is an emergency and there is just one nurse on the floor?"
What: Candlelight Vigil to Alert Community to Patient Care Concerns
When: August 12, 2019 ­— 6 p.m. to 8 p.m.
Where: Mee Memorial Hospital - 300 Canal St, King City, Calif.
The hospital recently announced it was laying off 43 health care workers, many of whom have worked at the hospital for years and even decades. Nurses note these health care workers provide a critical service as interpreters for a patient population that is overwhelmingly native Spanish or Triqui speakers. Nurses say these health care workers also provide the extra hands necessary to meet any number of patient care needs, including helping patients to the restroom, getting vital signs, or lifting patients.
Nurses are also extremely concerned that the company that provides housekeeping and food services at the hospital has notified its employees their last day will be Aug. 12, as Mee Memorial has failed to pay the company.
"It is appalling that hospital management is letting vital workers go and failing to pay for housekeeping and food services, yet choosing to hire new management staff with six figure salaries, and out-of-town technology consultants who are provided rental cars and pricey accommodations," said Michelle Villanueva, a registered nurse in the emergency department. "How are we going to run a hospital without techs, without housekeeping, without food services? 
Furthermore, nurses note that due to chronic shortstaffing, nurses are being asked to "float" to work in units that they are not trained to work in. In addition, because of the lack of staff and recent unit closures, patients are being cared for in units that are inappropriate for their needs; such as pregnant women being treated in the emergency room, and intensive care patients being cared for in medical-surgical units. 
Nurses say they are distressed that hospital management has repeatedly ignored their call for a town hall meeting to inform the hospital staff, the nurses, and the community about the changes at the hospital.
"We have tried again and again to get hospital management to respond to our requests for information about the changes at the hospital, but they have refused to even respond," said Porfirio Montoya, a registered nurse in the medical-surgical unit. "Because all our requests for transparency have fallen on deaf ears, we felt compelled to hold this candlelight vigil to make the community aware of our concerns for patient safety."