Press Release
Registered Nurses at Medstar Washington Hospital Center Set One-Day Strike for December 22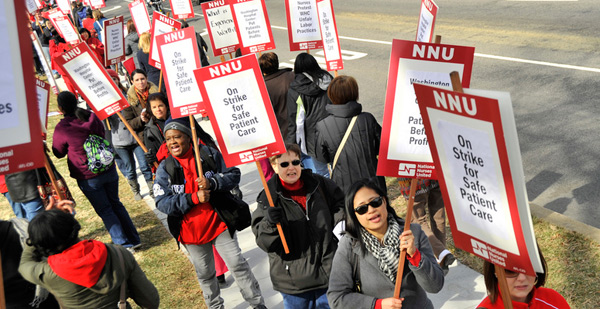 Nurses Say Health, Safety, and Welfare of Patients and Workers at Risk
Registered nurses at Medstar Washington Hospital Center (MWHC) in the District of Columbia announced today that they plan a one-day strike on December 22. The strike has been announced due to unfair labor practices committed by hospital executives and refusal to fairly address matters of health, safety and equity for patients and nurses.
On November 26 hospital executives acted unilaterally and what nurses believe to be illegally in implementing what they call their "last, best and final" offer and declared an impasse. However, there is no impasse because registered nurses are committed to negotiating with hospital executives to protect quality patient care and safe working conditions. Nurses believe that real progress is possible, despite management's unfair labor practice, as long as both sides commit to negotiating with a focus on patient care and fairness.
"We have raised serious concerns about safe staffing and clinical practices but we have received no serious response from hospital executives. Patients' lives are at stake," said Washington Hospital Center RN Mindy Blandon. "Nurses are forced to take this action in order for hospital managers to negotiate in good faith about issues of health, safety, and equity."
Nurses say that hospital management has been unwilling to work to solve patient care concerns, particularly safe staffing, and unwilling to fairly address inequities in nurses' wages or threats to their benefits. Nurses say that any chance at constructive negotiations have been hindered due to the hospital's unfair labor practice of moving forward unilaterally without improving staffing to protect patients and workers, as well as maintaining current RN benefits.
"If nurses are on the outside, it tells you there must be something wrong on the inside. What's wrong inside Washington Hospital Center is that hospital management routinely and dangerously understaffs nurses, putting patients at risk," said Gandessa Ortega, RN. "Poor staffing, substandard pay and unsafe working conditions makes turnover of bedside nurses dangerously high for those seeking care at the hospital. And now hospital executives are just making things worse with these unfair actions."
Nurses voted in late November to reject the hospitals final offer at the bargaining table and to authorize a strike. The strike is scheduled to begin at 7 a.m. on December 22 and will continue until 7 a.m. on December 23. Medstar Washington Hospital Center management received 10 days advance notice from NNU to postpone elective surgeries, transfer out any patients as needed, and make other preparations needed.
National Nurses United is the nation's largest direct-care registered nurses union, representing 190,000 members, including 4,400 RNs in the District of Columbia. NNOC/NNU represents RNs at facilities that includeProvidence Hospital, Washington Hospital Center, Children's Hospital, United Medical Center, Howard University Hospital and the Department of Veterans Affairs.