Press Release
Registered nurses, labor, and community groups to hold press conference in response to Cook County Board President Preckwinkle's austerity budget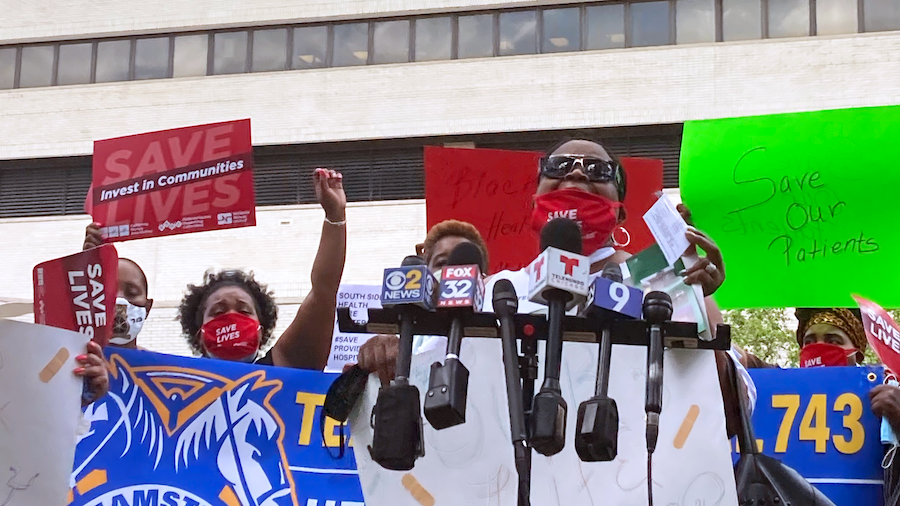 Nurses charge proposed cuts to critical medical services amount to a death sentence for Black and Brown communities
CHICAGO --  In the midst of a deadly pandemic, Cook County is preparing to release a budget which would close two community health clinics, South Shore Clinic and Woodlawn Clinic, and downgrade critically needed medical services, including the closure of the emergency room at Provident Hospital, the country's first Black-owned hospital. Registered nurses along with a coalition of labor organizations and community groups say these proposed cuts to vital services to predominately African American, Latinx, and vulnerable communities is dangerous, racist, and unconscionable, announced National Nurses United (NNU) today.
"Now is the time to care for the suffering people of Cook County," said Martese Chism, a registered nurse and a longtime case manager at Cook County Health. "Cutting health care services is an immoral and unconscionable position to take during a global pandemic and while so many are unemployed and uninsured. Cutting services during this time amounts to a death sentence for Black and Brown communities."
What: Registered nurses, labor leaders, and community groups respond to proposed Cook County austerity budget
When:  Thursday, Oct., 15, 11 a.m.
Where: Cook County Building, 118 N. Clark Street (outside)
             Chicago, Illinois
Cook County Board President Toni Preckwinkle has chosen to advance austerity measures in an attempt to balance the budget without any consideration for federal dollars, which may be determined after the election is decided on November 3. Furthermore, it should be noted that Provident Hospital is profitable, bringing $56 million into the Cook County coffers in 2019.
"The decision to cut life-saving medical services in order to adhere to a timetable during this deadly pandemic, which has already claimed the lives of more than 5,200 Cook County residents is immoral and indefensible," said Monica Owens, an operating room nurse at Provident Hospital. "As nurses committed to caring for the poor, the vulnerable, and the working people on the South Side of Chicago, we are determined to fight against Preckwinkle's timeline that puts political expediency ahead of people's lives."
Nurses recognize that the people seeking services at Provident Hospital, South Shore Clinic, and Woodlawn Clinic are extremely vulnerable during this pandemic. The large percentage of patients at these facilities are African American and Latinx, the very populations that have been hit hardest by Covid. According to Chicago's own data, of the nearly 3,000 people in the city who have died from Covid, 33 percent are Latinx and 42 percent are African American, yet African Americans make up only 30 percent of the population, and Latinx people, 28 percent. In addition, data from the Chicago Department of Health shows that infant mortality in parts of the city such as the Greater Grand Crossing neighborhood is similar to that of the infant mortality rate in the West Bank or Colombia, 13 deaths per 1,000.
Nurses note that this proposed budget not only hurts Cook County's most vulnerable patients but would also lead to the layoff of more than 130 workers, including nurses and others who have risked their own health caring for their patients and neighbors during this pandemic.
"As a union, we strongly oppose these cuts not only to prevent the loss of our members' jobs but to prevent the devasting impact it will have on the residents of the South Side of Chicago," said Debra Simmons-Peterson, the president of Teamsters Local 743. "With the Covid-19 pandemic, it is not the time to remove these crucial jobs and critical health care resources from the people who are most vulnerable and most at risk. We need to save these jobs and save health care!"
"It is well understood, that economic downtowns are associated with an increase substance abuse disorders, opiate overdoses, suicides, and violent crimes, as well as the normal illnesses and injuries of day-to-day living," said Chism. "It is infuriating to think that our elected officials would consider dissolving these good, living-wage jobs and leave more families unemployed and uninsured."
Among those who face the loss of their jobs, are workers in the Recorder of Deeds office, some of whom have worked for the county for more than 30 years. Clerk Karen Yarbrough has told these workers that she will be cutting staff and is requiring all of her the workers to reapply for their jobs, regardless of their seniority.
"For many of us, Clerk Yarbrough is overlooking our knowledge and expertise," said Tandalya Thomas, a worker in the Recorder of Deeds office, and member of SEIU Local 73. "We [now] face the harsh reality of having to start over. We are tired of being caught in a political game."
"We believe government exists to meet the need that the private sector can't or refuses to provide for, which is why public servants are there to support our communities, particularly the most vulnerable ones," said Dian Palmer, the president of SEIU Local 73. "The county should be a driver of jobs, not a destroyer of them."  
Nurses say Provident Hospital, South Shore Clinic, and Woodlawn Clinic are not the only health care facilities facing the threat of closure during this budget season. Mercy Hospital which also serves the marginalized communities of South Chicago, is slated to close next year.
"These closures are a glaring example of structural racism in a time when Black and Brown communities are disproportionately contracting and dying of Covid-19," said Chism. "We refuse to see these vital services shuttered when our communities are in crisis."