Press Release
Registered nurses at Hines VA to rally over concerns of patient safety and systemic racism and discrimination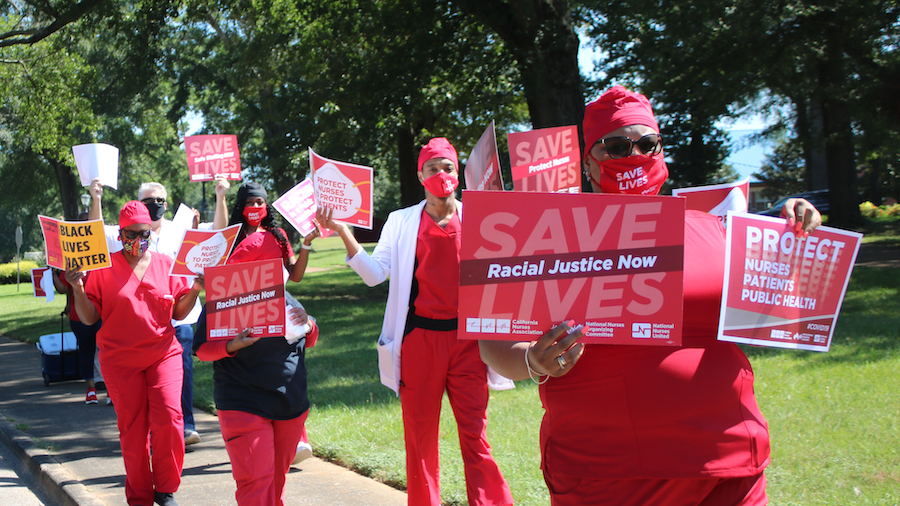 Registered nurses at Edward Hines, Jr. VA Hospital will hold a rally on Thursday, Sept. 24, 2020 to alert the public to patient safety concerns and the systemic racism and discrimination in nursing assignments, announced National Nurses United today.
"We are very concerned about the lack of appropriate personal protective equipment for nurses in the home-based primary care (HBPC) unit and the apparent flagrant disregard for our health and safety," said Carolene Hill, RN. "We are being told to reuse our N95s and we are not being properly fitted for the N95s we do receive. These practices are unsafe. Let us be very clear, if we are not protected, our patients, the veterans of our country are not protected."
Nurses in the home-based primary care (HBPC) unit go to the homes of veterans to provide care. The hospital's staffing documents indicate that 66-percent of the high-risk assignments in HBPC are going to nurses of color, who make up 24 percent of the nurses in the unit.
"We want to care for our patients, and we know that our work is life-saving, but we need to be protected on the job," said Matthis Gutierrez, RN and a veteran. "We want transparency in how assignments are distributed, we would like a fair distribution of assignments, and we would like to have security guards escort us in high-risk areas."
What: Rally for patient safety and to address systemic racism and discrimination
When: Thursday, Sept. 24 - 12 Noon
Where: Edward Hines Jr. VA Hospital
             5000 South 5th Avenue, Hines, Illinois
Veterans who receive care through Hines VA are scheduled to join the rally outside the hospital to show their support for the nurses.
"I rely on the VA for my healthcare and the registered nurses at the VA are the foundation of that care," said Aaron Hughes, a disabled Iraq War veteran. "These nurses deserve respect and appreciation as well as the best safety equipment. These nurses are the ones on the frontlines providing the care and know what is needed to ensure veterans receive the best care possible."