Press Release
Registered Nurses at Greenbrier Valley Medical Center in Ronceverte to Hold Informational Picket May 18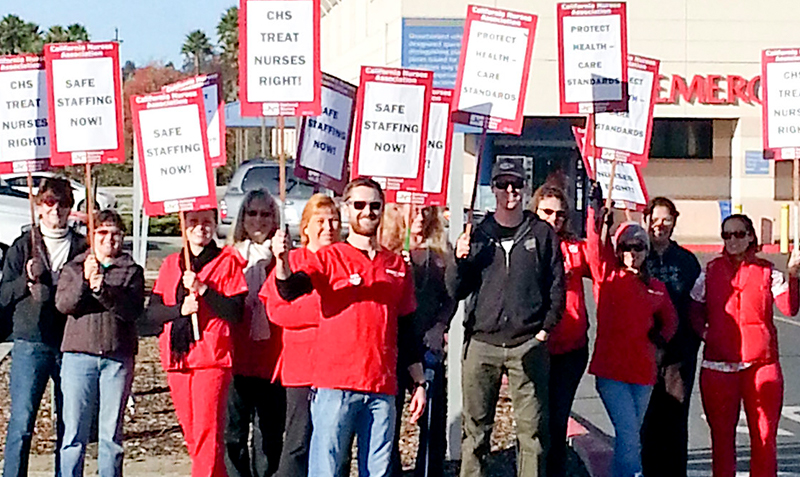 Registered nurses at Greenbrier Valley Medical Center (GVMC) in Ronceverte plan to hold an informational picket Saturday, May 18 to speak out about the eroding conditions at the hospital, including chronic short staffing, inadequate supplies and maintenance problems that undermine hygiene.
"I became a nurse because I wanted to help people and realized the best way to do that was to follow in my mother's footsteps and become an RN," said Tara Brammer, and RN in the ICU at GVMC. "I especially love working in the ICU where the patients need the highest level of care due to their conditions. But to give our patients the care they need it is absolutely essential that we have consistently safe staffing levels and currently that's not what's happening. We're holding the picket, to let the public know that we're advocating for them, so that if they come to our hospital they can get great care." 
What: Registered Nurses Hold Informational Picket for Quality Patient Care
When: Saturday, May 18 - 5:30 p.m. – 6:30 p.m.
Where: Greenbrier Valley Medical Center (CHS), 1320 Maplewood Ave, Ronceverte, W.Va. – on sidewalk of highway 219 (Maplewood Ave) at main entrance. 
Across the hospital industry the accepted standard for safe staffing in an ICU is a nurse to patient ratio of 1:1 or 1:2, depending on patient acuity. At GVMC nurses' in the ICU are regularly assigned up to three patients and sometimes four, and the hospital relies on pulling nurses from other units, who have not been provided appropriate orientation to the ICU, to make up for shortfalls in staffing in that unit. 
Short staffing is chronic in other units as well, including Med/Surg units where nurses are often assigned to care for nine patients. According to well-established research every patient over four assigned to one nurse in a Med/Surgunit could increase mortality by seven percent per patient, which means when there are nine patients per nurse at GVMC patient safety is likely to decline significantly. 
The hospital has difficulty filling vacancies, which has exacerbated the staffing problems over the past few months. Nurses say they are bargaining for a contract that guarantees the support and resources they need to provide safe, quality patient care, and that this in turn will improve the hospital's ability to recruit new nurses and retain the nurses they currently have. 
GVMC is owned by Community Health Systems (CHS), a hospital chain based in Franklin, Ten. The chain owns 106 hospitals in 18 states, including Bluefield Regional Medical Center in Bluefield, W.Va. A report released May 13 documents CHS' track record of buying hospitals in rural, non-urban markets, where lack of competition enables their charging some of the highest healthcare prices in the industry while investing as little as possible in infrastructure, staffing and supplies. To view the report, visit this link.
RNs at GVMC voted to affiliate with National Nurses Organizing Committee/National Nurses United (NNOC/NNU) in 2012, in response to management's continued failure to improve patient care conditions. CHS has engaged in rampant and serious unfair labor practices in an attempt to weaken support for the union and forestall reaching an initial collective bargaining agreement. The NLRB has upheld numerous unfair labor practice charges filed against GVMC and other CHS-affiliated hospitals by NNOC/NNU and three US District Courts issued injunctions in response to the employer's unlawful conduct early in contract negotiations with RNs. 
National Nurses Organizing Committee is affiliated with National Nurses United, the largest and fastest growing union of RNs in the nation. NNU has won landmark health and safety protections for nurses and patients in the areas of staffing, safe patient handling, infectious disease and workplace violence protection.