Press Release
Registered Nurses from CHS / Quorum Hospitals to Decry Eroding Patient Care Conditions at CHS/Quorum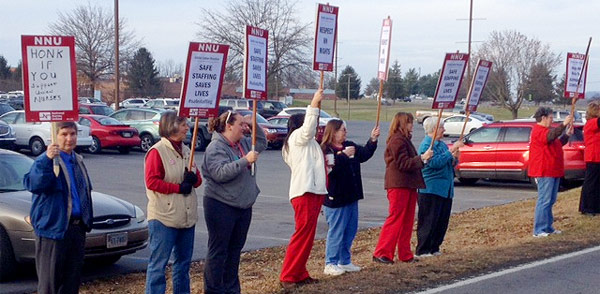 RNs Warn Potential Buyers They May Face Hidden Costs to
 Improve Staffing, Stem Runaway RN Turnover at Hospitals Across Systems 
Registered Nurses from Community Health Systems (CHS) and Quorum Health Corporation hospitals from across the country will attend the CHS and Quorum Board of Directors and shareholders meetings Tuesday, May 16 to protest the board's failure to address eroding patient care conditions due to high RN turnover rates.
Immediately after the shareholder meeting, RNs will hold a press conference to warn potential buyers of CHS / Quorum hospitals, and the communities they serve, that they may face hidden costs to address eroding patient care conditions and stem runaway turnover rates at the hospitals.  
What: Press Conference: CHS and Quorum RNs Speak Out on Eroding Conditions after CHS / Quorum Annual Shareholder Meeting.
Where: Franklin Marriott Cool Springs, 700 Cool Springs Blvd., Franklin, Tenn.
When: 9:30 a.m. Tuesday May 16, 2017
"In order to improve patient care and stabilize our RN workforce, we need Quorum to reinvest in our hospitals," said Jennifer Holm, an RN at Watsonville Community Hospital in California. "We are reaching out to health systems that are potential buyers for Quorum hospitals, as we did to potential CHS hospital buyers, to let them know that we believe investments above and beyond the asking price will be needed to improve the operation of the hospitals. We believe the board needs a change in priorities that puts patients first and has Quorum competing based on excellence of care."  
"I work at a Quorum-affiliated hospital in rural California, where we haven't seen any improvements since the change of name to Quorum to stop the RN turnover we constantly struggle with, and talking to more and more RNs from CHS and Quorum hospitals from West Virginia to Florida, I see a lot of the same patient care problems," said John Harrell, RN Operating Room, Barstow Community Hospital in Barstow, Calif.
Nurses are also participating in the meeting to oppose the board recommendations to approve executive compensation and endorse board candidates. They will report to shareholders that the companies' executive leadership and board have ignored reports from frontline caregivers of understaffing, high RN turnover and poor labor relations. RNs will also express support for a shareholder proposal to limit "windfall" compensation for executives in the case of a change in ownership.
The CHS/Quorum Board and Shareholder meetings take place against a backdrop of turmoil at the troubled hospital chains, including management's sell-off of hospitals in an attempt to raise $1.8 billion to pay down their huge debt. Earlier this year, CHS settled a lawsuit brought by shareholders alleging the company's directors and officers breached their fiduciary duties by causing CHS to develop and implement admissions criteria that systematically steered patients into unnecessary inpatient admissions, in contravention of Medicare and Medicaid regulations, when they should have been treated as outpatients. Shareholders from QHC, the CHS spinoff, have filed a class action complaint alleging that QHC executive offices made a series of false and misleading statements and failed to disclose appropriately to investors regarding performance at the time of the CHS spinoff.
The RNs attending the meetings are affiliated with National Nurses United, the largest and fastest growing union of registered nurses in the US with more than 150,000 members nationwide.  NNU plays a leadership role in safeguarding the health and safety of RNs and their patients and has won landmark legislation in the areas of staffing, safe patient handling, infectious disease and workplace violence prevention.