Press Release
Registered nurses and AFGE Local 2778 health care workers decry the abrupt closure of the Atlanta Veteran Affairs Medical Center nursing home and rally to alert public to eroding patient care during Covid-19 pandemic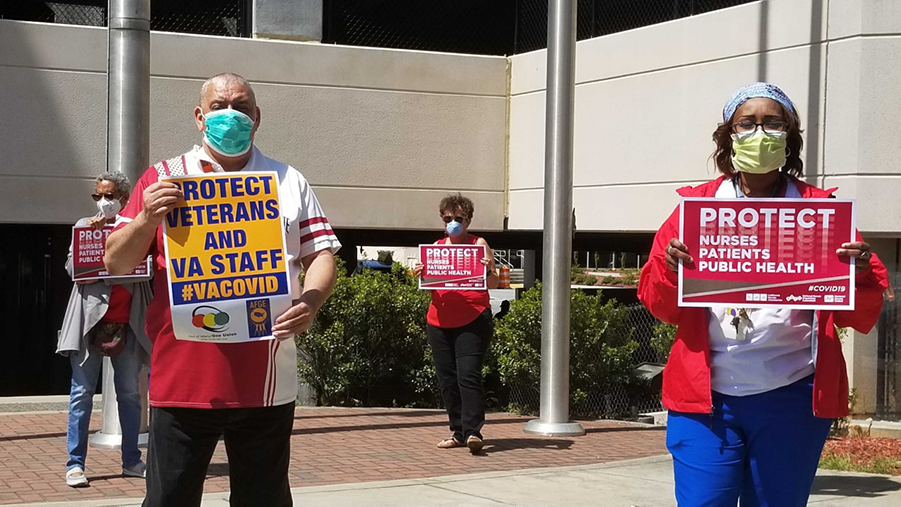 Registered nurses and other health care workers at the Atlanta VA Medical Center (VAMC) will hold a rally on Saturday, Oct. 24 to alert the public to the abrupt closure of the Atlanta Community Living Center (CLC), or VA nursing home, the displacement of the patient residents, and concerns about the lack of appropriate training for nurses moved to provide care outside of their expertise, announced National Nurses United (NNU) today.
"It broke my heart to see my patients moved outside of the Atlanta area where they are far from their loved ones, their families, and us who have built long-lasting relationships with our patient residents over years," said Marie Bien-Aime, a registered nurse and NNU member. "We who have worked with these patient residents in our Community Living Center understand how important connection is to vulnerable people, and to lose their connections to staff, to their families, and their support circle can be devastating and lead to poor outcomes."
What: Rally to demand reopening of Atlanta VAMC nursing home and alert public to patient safety concerns
Who: NNU registered nurses and AFGE members, including medical assistants, environmental service workers, administrative staff, food service employees and other workers, members of the American Legion, and community members
When:  Saturday, Oct. 24, 11:00 a.m. to 1:00 p.m.
Where: Atlanta VA Medical Center
             1670 Clairmont Avenue,
             Decatur, Georgia
             Rally will be held on sidewalk near main entrance
Nurses, veterans, and other health care workers say it is unconscionable that they were left out of the decision to close down and relocate the CLC patients to other facilities. The CLC was closed in mid-April with staff and patients given little notice. More than 20 patient residents were moved to other facilities, some of the facilities were more than 100 miles away from Atlanta.
"The voices of staff at the Atlanta VAMC have been ignored and silenced during this pandemic," said Rozena Williams, president of AFGE Local 2778. "Veterans care cannot be prioritized until management listens to the VA workers on the front lines of this crisis."
Nurses are also deeply concerned about management's decision to "float" CLC nurses with expertise in geriatric care into other units without providing appropriate preparation and training.
"I have worked with geriatric patients for more than a decade and have a great deal of knowledge in my field, but it is not reasonable or safe to expect me to work in a unit without providing me with the appropriate training," said Hanatu Scott, a registered nurse and NNU member. "I am willing to do the work, I am a nurse and I am committed to my patients, but I must have the training or I am being set up to fail and my patients' safety is at risk."
NNU represents 900 nurses at the Atlanta VAMC. AFGE represents more than 2,000 workers at Atlanta VAMC.