Press Release
Nurses to hold informational picket at Providence St. Mary Medical Center to demand safe staffing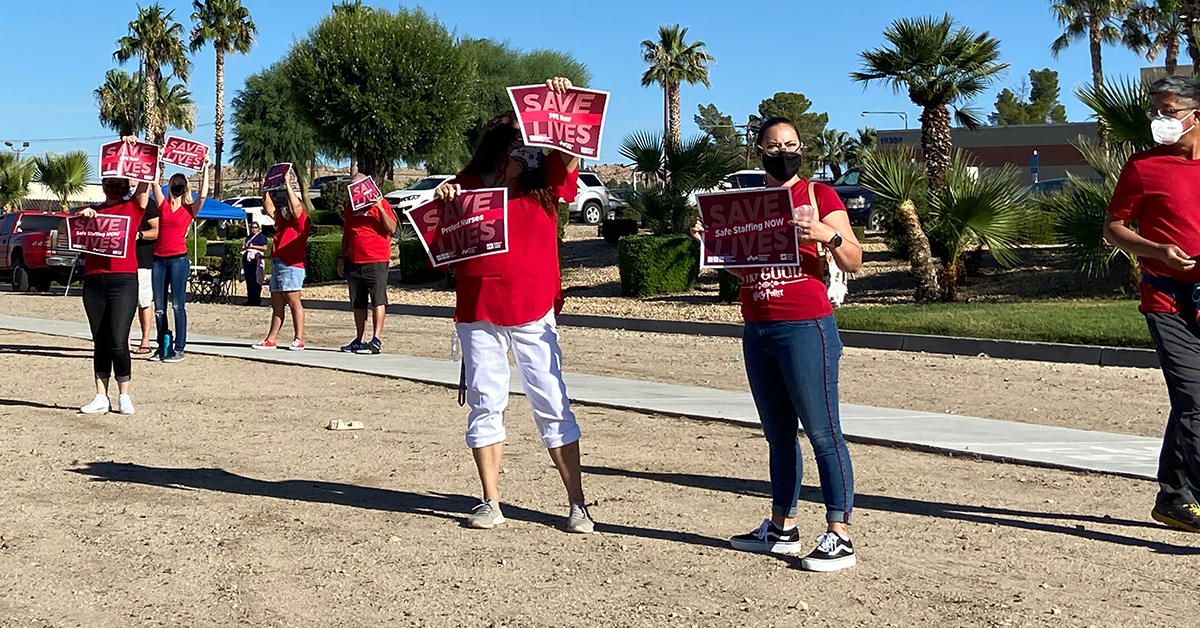 RNs condemn management's failure to retain nurses, more than 370 RNs have left since 2021 due to chronic short staffing, poor working conditions
Registered nurses at Providence St. Mary Medical Center, Apple Valley, Calif., will hold an informational picket on Friday, July 28, to protest the administration's refusal to address RNs' deep concerns about unsafe staffing, poor working conditions, and management's ongoing failure to retain nurses and adhere to the hospital's own staffing standards, announced California Nurses Association/National Nurses United (CNA/NNU).
Since 2021, more than 370 nurses have left St. Mary due to unsafe staffing throughout the hospital. Patients in the ER are waiting up to 8 hours for care and up to 48 hours for a bed if they are admitted. In addition, nurses are alarmed that the administration has applied for Level IV trauma center status when the hospital cannot retain nurses to adequately staff it now. The union nurses' contract expired on July 16, 2023. They have been in bargaining since May 2023 with little to no movement on key issues.
"St. Mary is continually short staffed and that is jeopardizing patient care," said Marissa Klein, RN in the ICU. "In an effort to accommodate more patients, St. Mary continues to make decisions that spread already-thin resources, even thinner. It is these decisions that put patients' safety at risk and call on nurses to work in unsafe conditions. It's time St. Mary steps up and puts patient and nurse safety at the forefront of health care."
Nurses say management is ignoring the hospital's own staffing standards and disregarding patient acuity — or how sick a patient is — in patient assignments. The number of patients in a nurse's assignment should go down when they include high-acuity patients, but that is not happening. The nurses have attempted to address their serious concerns through meetings with the hospital's chief nursing officer, but the RNs' concerns about patient safety, optimal patient care, and safe staffing remain unresolved.
Who:

Registered nurses at Providence St. Mary Medical Center 

What:

Informational picket to demand safe staffing, safe patient care

Where:

Providence St. Mary Medical Center, Apple Valley, Calif.,
              corner of 18300 Highway 18, and Kasota St. 
When

:

Friday, July 28, 6:30 a.m. to 8:30 a.m.
"St. Mary must invest in nurses and improve the staffing conditions so we can give our patients the best care," said Michelle Stuebe, RN in case management. "We desperately need safe staffing. We need to retain our longtime experienced nurses who help mentor new nurses. New grads will stay if they can get the support they need."
"St. Mary has no excuses for their unsafe practices and the large number of RNs leaving our hospital," said Stacy Teal, ICU RN. "The community deserves better. When you come to a hospital run by a large profitable health care corporation, you expect top-of-the-line patient care. That is not what you get when you come to St. Mary. Instead, you will find nurses stretched to their limits and inadequate resources. 
"The administration will tell you that there is a nursing shortage instead of telling you the truth: that the hospital continues to put the burden on already exhausted nurses and there aren't enough nurses willing to risk their license to work here," continued Teal. "We call on St. Mary to rise to the challenge and increase safety standards and protect patients and the nurses who take care of them. Conditions at St. Mary are often dangerous, and St. Mary can do better!"  
The latest data from the Bureau of Labor Statistics and the National Council of State Boards of Nursing shows that there are more than a million registered nurses with active licenses who are choosing not to work at the bedside. More information and data debunking the nurse "shortage" myth can be found here. 
CNA represents nearly 650 nurses at Providence St. Mary Medical Center.
---
California Nurses Association/National Nurses United is the largest and fastest-growing union and professional association of registered nurses in the nation with 100,000 members in more than 200 facilities throughout California and nearly 225,000 RNs nationwide.