Press Release
Providence St. Joseph Hospital Eureka Cited by State for Excessive Patient Restraint Use, RNs Call For Return of 'Sitters'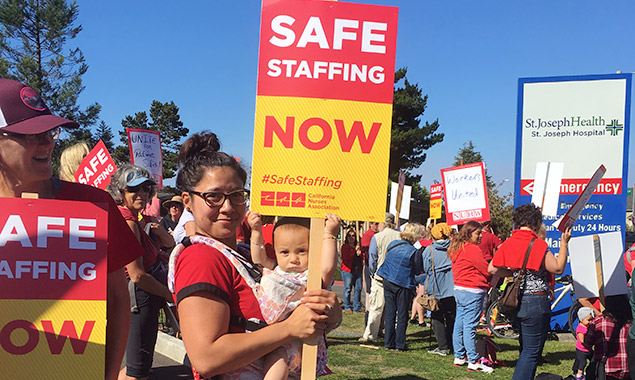 CA Dept. of Public Health Mandates Hospital Correct Issue, Nurses Urge Hospital to Comply
The California Department of Public Health (DPH) has found merit in a complaint from Providence St. Joseph Hospital Eureka registered nurses that the hospital excessively used patient restraints, rather than using Constant Care Attendants (or "sitters"), whose job is to protect patients in need of continuous care, the California Nurses Association announced today.
"Bedside caregivers know that sitters are an integral part of what we do every day, yet hospital administration thinks they are disposable and unnecessary. Fortunately, the state agrees with us," said Intensive Care Unit RN James Ladika, Chair of the Hospital's Professional Practice Committee (PPC), a working group of nurses from units throughout the hospital, who meet to advance patient care issues.
"Registered nurses respect the inherent dignity and worth of every patient and call on the administration of Providence St. Joseph Hospital Eureka to reevaluate their use of patient restraints, given this finding by the California Department of Public Health," said Chief Nurse Rep and Inpatient Rehab RN Lesley Ester. "We should always use the least restrictive measures possible when caring for our patients who, in our professional judgment, need one-to-one attention for safety."
Nurse leaders say they submitted a complaint to the California DPH after complaints to management and hospital administration went unanswered. The DPH announced this week that merit was found in the complaint, and a citation requiring a written plan of correction has been issued against the hospital.
"Nurses went out of our way to let everybody from managers all the way up to the board of trustees know that this was a problem," said Ladika, "The hospital was using restraints excessively, and this was harmful to our patients.  They ignored our warning, and the state had to step in and make them do the right thing."
According to nurses, the issue began this summer when Providence St. Joseph Hospital changed internal policy to reduce situations in which sitters were deemed necessary. An early August ICU memo, for example, stated that sitters could only be used for suicide risk. After artificially reducing the necessity for the position, say nurses, the hospital let all eight official "Constant Care Attendants"—or sitters—go in a September round of layoffs.
With no dedicated sitters, nurses say the hospital was too often going straight to the use of patient restraints, a violation of both state and federal law on patients' rights, dictating that restraint can only be imposed to ensure the safety of a patient, and must be discontinued at the earliest possible time. In the case of requesting aides to act as sitters, RNs explain that not only meant an aide could no longer do the assigned work of assisting nurses with care duties, but the hospital also added hurdles and forms to fill out, making the ask prohibitively complicated for nurses.
"The hospital created a culture where restraints were more acceptable than using a sitter," said Ladika, "They took the option of a sitter away from nurses by asking, 'Do you want aides on your floor or do you want patients to have sitter?"'—which is a false choice. You can't throw someone in restraints just to save money.  It's not appropriate, and it's not legal."
Nurses say they feel vindicated that the state has stepped in to hold the hospital accountable, and RNs call on Providence St. Joseph Hospital to bring back the sitters.
"We have asked repeatedly that the Constant Care attendants that were laid off in September be returned to duty so that our Emergency Department and inpatient units are not required to reassign floor personnel to provide a calming and safe environment or, even worse, to utilize restraints for our patients," said Ester.
"This is about people's lives, people's dignity and their wellbeing," said Ladika.
The California Nurses Association represents over 100,000 nurses in the state of California, as part of National Nurses United, the largest union of registered nurses in the country.