Press Release
Providence Saint John's Health Center Nurses Declare Victory in Winning Proper COVID PPE After Suspensions, Mass Protest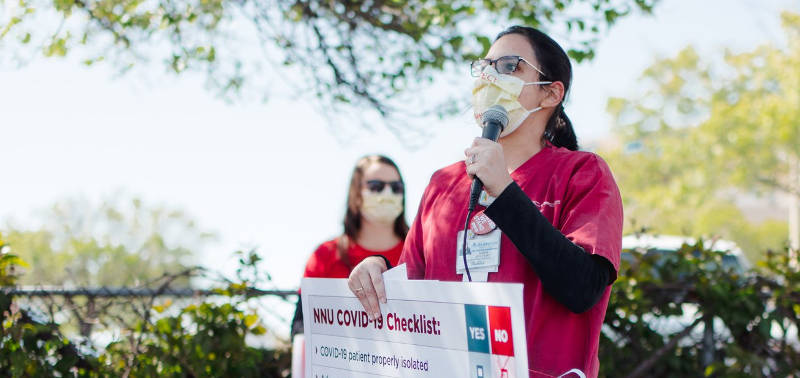 The registered nurses of Providence Saint John's Health Center are declaring victory today after hospital management announced that health care workers throughout the Providence system will be issued N95 respirator masks to wear when caring for COVID positive or potentially COVID positive patients, announced the California Nurses Association/National Nurses United. 
Over this past week, at least 15 nurses have refused to take patient assignments unless provided with N95 or higher-standard personal protective equipment (PPE) and 10 of those nurses were suspended and sent home. The nurses have been issued flimsy surgical-type masks that do not offer airborne protection as required by California's Cal-OSHA aerosol transmissible diseases standard. The hospital has N95 masks in its possession, but denied nurses working on the assigned COVID unit access to them unless they were performing certain procedures. Even doctors had advised the nurses not to enter patient rooms without wearing an N95. A number of nurses on the unit have begun to test positive for COVID. 
More than 50 nurses on Saturday held a socially-distanced demonstration outside the facility to protest the hospital's faulty infection control policies.
"It's a victory," said Chelsea Halmy, a medical-surgical RN who works on the COVID unit and is one of the suspended nurses. "They're finally doing what they should have been doing in the first place. We are glad, but it's upsetting that it had to come to this point and that our safety wasn't their first priority. We still have so much more work to do."
Halmy is referring to continuing hospital policies that require nurses to wear the same N95 mask for an entire shift unless no longer functional, meaning nurses are entering rooms where patients are COVID positive and rooms where patients are potentially negative -- increasing risks of cross contamination.
As of today, the 10 nurses are also still suspended pending investigatory hearings. Saint John's nurses, with the backing of their union CNA, are calling on management to immediately reinstate the nurses without discipline and resolve outstanding safety issues. 
"We want the hospital to sit down with us and resolve our remaining concerns," said Jack Cline, another of the RNs on the dedicated COVID unit who was suspended. "Our suggestions are always for the safety of nurses, of patients, and ultimately of the hospital. I am glad we are able to take a stand and speak out, knowing the union is backing us up." 
"We are so proud of these nurses," said Bonnie Castillo, RN and executive director of CNA/NNU. "Nurses understand and respect the science of infection control and that, with this virus, we must follow the precautionary principle by taking the most protective measures. This is the only way we can maintain our hospitals as centers of healing, and not vectors of disease."