Press Release
Press Conference Friday – Nurses, Community Leaders Speak Out, Call to Save Community Hospital Long Beach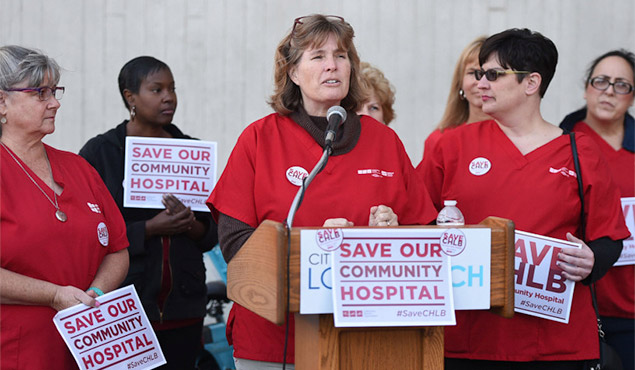 Nurses Demand MemorialCare End Moves to Hasten Closure
Registered nurses and Long Beach area community leaders will hold a press conference Friday to demand MemorialCare Health System stop artificial moves, including the design to fast forward an immediate emergency room diversion, to hasten it's unwarranted decision to close Community Hospital Long Beach.
Moves, such as the hasty ER diversion, even when MemorialCare has just given a 120 notice of intent to close the hospital, are intended to make the final closure inevitable as it begins ramping down vital services, and leaving the community at bay, says the California Nurses Association/National Nurses United, which represents CHLB RNs.
What: Press Conference Long Beach registered nurses and community leaders
When: Friday, March 16, 11 a.m.
Where: Community Hospital, 1720 Termino, Long Beach, in front of hospital
Additionally, CHLB's rapid moves will make finding an alternative operator for the hospital even more difficult, the nurses and community leaders warn.
MemorialCare is one of the most profitable hospital systems in Southern California with more than enough resources to maintain this vital community resource.
"MemorialCare still has at least a year to keep the hospital open under its own timetable," said Jackie McKay, a 33-year RN and Long Beach resident. "Instead they are purposely creating alternative facts and conditions on the ground to suit their own selfish needs with no consideration for the Long Beach community."
CNA cited a number of ways in which the closure puts patients and the community at risk, including:
The nearest Emergency Room is several miles away. This would lead to delays in emergency care, with devastating consequences. Severe traffic conditions, common in the area, would make this bad situation much worse.
Other ER's would suffer from increased wait times as a result of diverting patients from CMC.