Press Release
PIH Health-Good Samaritan Hospital RNs hold actions to honor fallen nurses, call for improved patient safety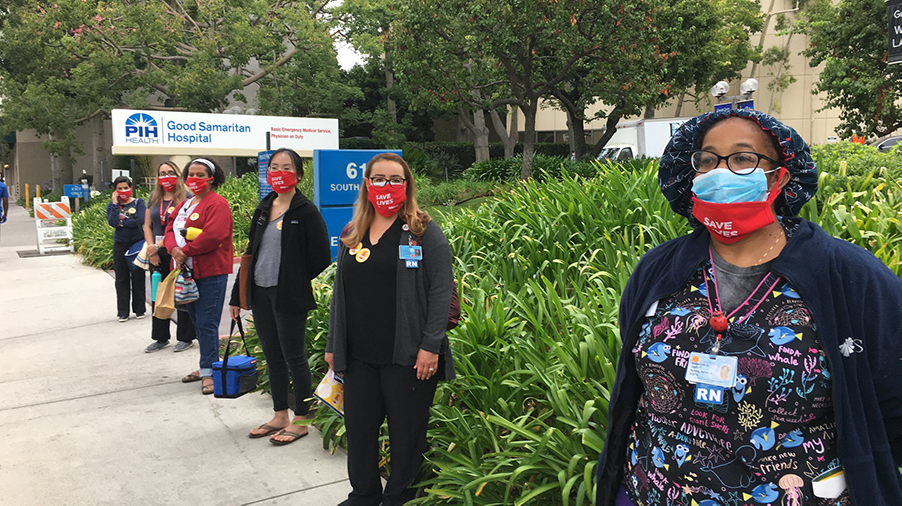 Registered nurses at PIH Health-Good Samaritan Hospital in Los Angeles will hold a candlelight vigil and silent protest Thursday, Oct. 29 to honor fallen RNs and publicize their immediate needs to improve care for their patients: safe RN staffing, incentives to retain and recruit staff, adequate provision of PPE when needed, and better support for nurses who become symptomatic and/or test positive for Covid-19.
"We want to make sure that patients and nurses are safe and that there is adequate staffing to care for our patients the way we need to," said Blanca Martinez, RN and chief nurse representative of the Good Samaritan nurses, who are represented by the California Nurses Association. "We also want to be sure that the hospital is providing all of the support nurses need in the event they contract Covid."
When: Thursday, October 29, 2020
Time: 6:30 p.m.-8 p.m.
Where: Good Samaritan Hospital, 1225 Wilshire Blvd., Los Angeles, in front of hospital main entrance where PIH Health-Good Samaritan Hospital sign is located (at corner of Witmer and Shatto).
PIH Health-Good Samaritan Hospital serves a diverse community – Black, Latinx, and Asian descent, as well as homeless patients. The nurses see the importance of continuing to serve their community regardless of ethnic background and income status. In this era of social unrest, the nurses see themselves as leaders in championing health and racial justice.
Martinez emphasized that the hospital has continued to understaff rather than provide staffing based on actual patient needs. The hospital has also been approved for a state waiver of California's safe RN-to-patient staffing ratios law, allowing it to not abide by these safety regulations, which puts our community at risk.
This is why RNs at PIH Health-Good Samaritan Hospital will continue to advocate for themselves and their patients.  Nurses know that safe staffing saves lives. "We need to be staffing up, not staffing down," Martinez said. "We are tired and exhausted, and we will continue to provide the best possible care to all our patients and to our community.  But we need your support."