Press Release
'The People of Puerto Rico are Dying' Say 50 Nurses Returning from Hurricane-Ravaged Puerto Rico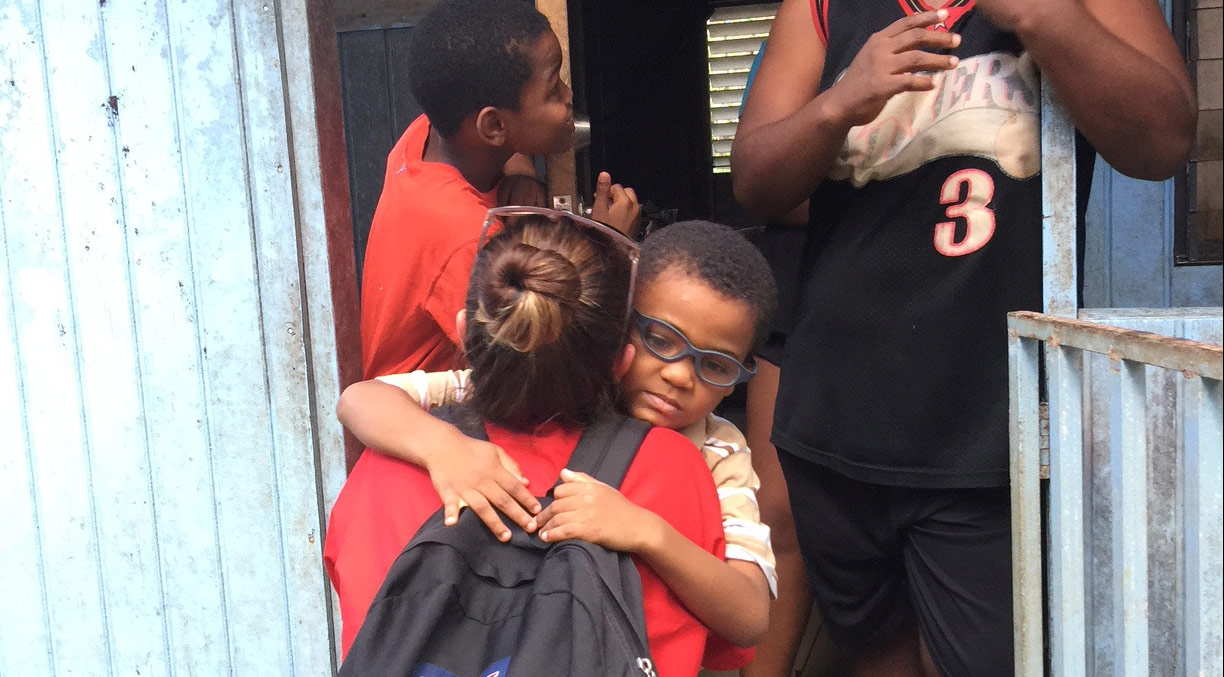 "They need clean water that is safe to drink! It is outrageous that we are leaving our fellow Americans with essentially no aid. Many more will die if we don't step up."
A large delegation of 50 volunteer registered nurses from across the U.S. returns this week from Puerto Rico after a two-week disaster relief effort in the wake of Hurricane Maria, describing an ineffective federal response that has led to deadly conditions including extreme lack of food, water and medicine; people living in houses infested with black mold; and water-borne illnesses such as leptospirosis that are already claiming lives.
"The people over here in Puerto Rico are dying. We have a healthcare crisis right now," said National Nurses United (NNU) vice president and Registered Nurse Response Network (RNRN) volunteer Cathy Kennedy, RN. "Nurses have been going out into communities, where all they ask for is water and food. And when you have to make a decision of who's going to get the food today or the water — we shouldn't have to do that. The United States is the richest country in the world; Puerto Rico is part of the United States."
The returning nurses are part of the Registered Nurse Response Network (RNRN), a disaster relief program sponsored by National Nurses United, and are among 300 union members the AFL-CIO organized for the relief mission to Puerto Rico.
For interviews with RNs who have returned from the two-week mission please call: 510-433-2759 or 510-273-2264.
The RN volunteers were shocked at the perilous conditions residents were enduring a full three weeks after Hurricane Maria. From the outskirts of San Juan to isolated mountain towns, they encountered many residents had yet to be assisted by the U.S. government's relief effort. Many were staying in houses that had been destroyed by the hurricane, flooded, roofless, cut off from electricity, food and clean water. Residents often told the nurses they were the first people offering them assistance. In addition to providing medical care, the RNs instructed residents on how to decontaminate their water and remove black mold from their homes. They also visited community radio stations where they provided health tips and water decontamination instructions on the air.
"These communities are at great risk of water borne illness epidemics. They need clean water that is safe to drink," said Erin Carrera, RN UC San Francisco. "It is outrageous that we are leaving our fellow Americans with essentially no aid. Many more will die if we don't step up."
Nurse testimonies include:
"Today our team traveled into the center of island into the mountain towns of Utuado. These towns are so isolated that relief efforts have not made it into these areas. It was due to impassable roads. But the local community cleared most of the roads. People said we were the first relief group to come into the area … They're struggling to get basics such as food, water and medicine." — Roxanna Garcia, RN
"We couldn't believe this is part of the United States. We did home visits in a low-income community with the public health liaisons who identify those in need and help them do basic blood pressure checks, blood sugar checks, refill their meds, etc. They have already had chronic diseases going on and now their environment is full of hazardous materials and sanitation is so poor." — Hau Yau, RN
"What our nurses witnessed daily is the harsh reality of a woefully inadequate government response and the brutal, inhumane impact on the Puerto Rican people. The Trump Administration, FEMA, and Congress must act immediately," said Bonnie Castillo, RN, director of NNU's RNRN program.
On October 11, National Nurses United sent a letter to all members of Congress pressing them to "take immediate action to prevent a further public health calamity in Puerto Rico".
"The response to the crisis in Puerto Rico from the U.S. federal government has been unacceptable for the wealthiest country in the world," wrote NNU RN Co-Presidents Deborah Burger and Jean Ross, citing eyewitness accounts by RNs on the ground, and the ongoing crisis of lack of water, food, and other emergencies faced by the island's 3.5 million residents.
NNU is calling on the federal government to supply greater technological and logistics support to Puerto Rico, immediately provide generators for hospitals and other essential infrastructure, install temporary telecommunications connections in remote areas, and deploy boots on the ground to help clear roads and deliver humanitarian aid. NNU has also called on the federal government to grant all Puerto Ricans immediate eligibility for Medicaid to insure that residents there receive the care they need in the midst of this public health crisis.
RNRN has more than 12 years of experience in providing disaster medical aid following global emergencies dating back to Hurricane Katrina and the deadly South Asia tsunami. Most recently, RNRN volunteers worked in a convention center in Houston and other locales in South Texas after Hurricane Harvey.
RNRN volunteer nurses have cared for thousands of patients during disaster relief and humanitarian assistance deployments that include the South Asian tsunami (2004); Hurricanes Katrina and Rita (2005); the Haiti earthquake (2010); Hurricane Sandy (2012); Super Typhoon Haiyan/Yolanda (2013) and the Continuing Promise 2010 and 2015 humanitarian missions with the Department of Defense. RNRN volunteers have also provided first aid and basic response services to hundreds of community events across the country, as well as rotating teams who assisted the water protectors in Standing Rock in 2016. RNRN is powered by NNU, the largest organization of registered nurses in the U.S.
See RNRN Director Bonnie Castillo's Blog on Puerto Rico, With Video, Photos, Testimonials
See earlier RNRN reports from Puerto Rico at: