Press Release
Palomar RNs and caregivers hold informational picket to demand prioritizing patient safety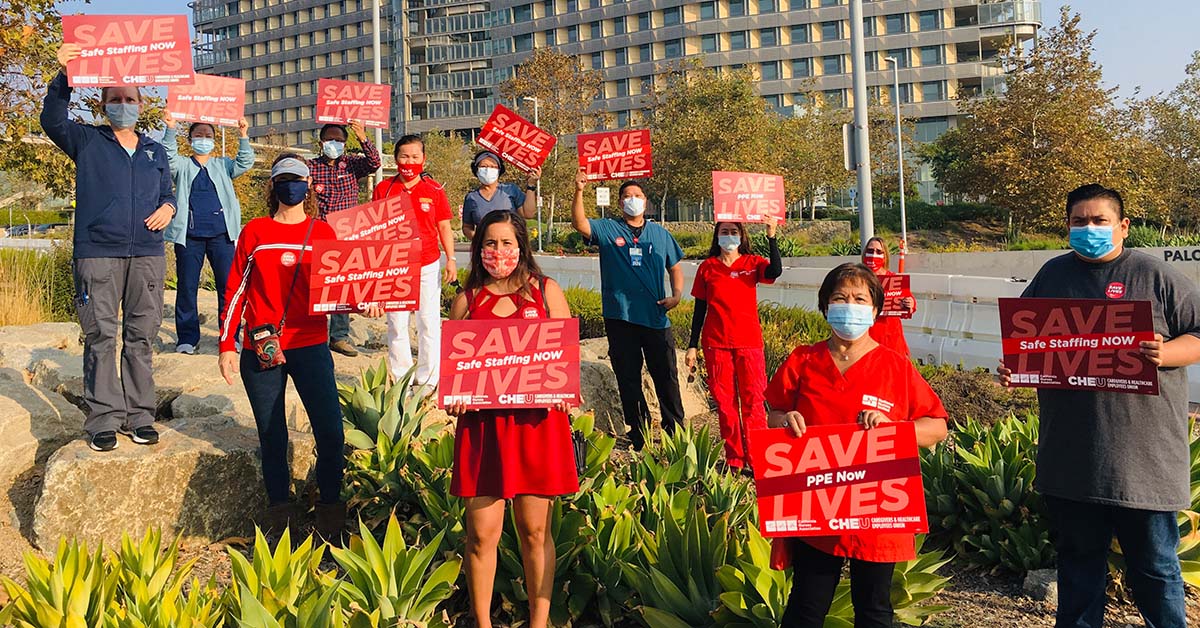 Registered nurse members of the California Nurses Association/National Nurses United (CNA/NNU) and caregiver members of the Caregivers and Healthcare Employees' Union (CHEU/NNU) will hold an informational picket at Palomar Health in Escondido on Tuesday, Nov. 16 to call on Palomar to support a series of RN and caregiver proposals aimed at improving staffing levels and strengthening safe patient care conditions.
Throughout the Covid-19 pandemic, RNs and caregivers have tirelessly worked on the front lines. Yet, Palomar Health administration showed them complete disregard and disrespect by laying off their colleagues—creating dangerous levels of short staffing, applying for waivers of the state-mandated safe nurse-to-patient staffing ratios, and creating uncertainty by restructuring departments.
"To ensure we continue to deliver the highest quality of patient care at Palomar, we need hospital administrators to end their restructuring programs that impact safe patient care. We take pride in caring for our community in their time of greatest need. We are holding an informational picket to remind Palomar Health that we must invest in a district healthcare system that puts patients first, instead of venture capital interests," said California Nurses Association (CNA) chief nurse representative Sue Phillips, RN.
What:

Palomar RNs and caregivers hold informational picket

When:

Tuesday, Nov. 16, 2021

Time

: 6 a.m. – 8 a.m.

Where:

Palomar Health, 2185 Citracado Pkwy, Escondido, CA 92029

(Informational picket will take place at hospital main entrance.)
Since April of 2021, union RNs and caregivers have been in the process of bargaining contracts that govern safe patient care conditions and their workplace safety. RNs and other health care workers say it is crucial to win these protections in writing because employers have proven during the pandemic that they will continue to prioritize the bottom line over occupational and public health and safety.
"Without safe staffing and access to ongoing health and safety training and other resources, we are not able to provide the safe patient care our community deserves. Our demands have fallen on deaf ears," said Marlon De La Barrera, interventional radiology tech. "Our requests for safe staffing and to end the restructuring of our public district hospital have been ignored by hospital administrators. So we're here to let the community know that when nurses and caregivers are outside, something is wrong on the inside."
California Nurses Association represents around 1,300 registered nurses at Palomar Health hospitals. The Caregiver and Healthcare Employees Union, an affiliate of CNA, represents around 1,700 ancillary caregivers. California Nurses Association is an affiliate of National Nurses United, the largest and fastest-growing union and professional association of RNs in the country, with more than 175,000 members nationwide.