Press Release
Palomar Health nurses and caregivers hold virtual town hall urging focus on patients over profits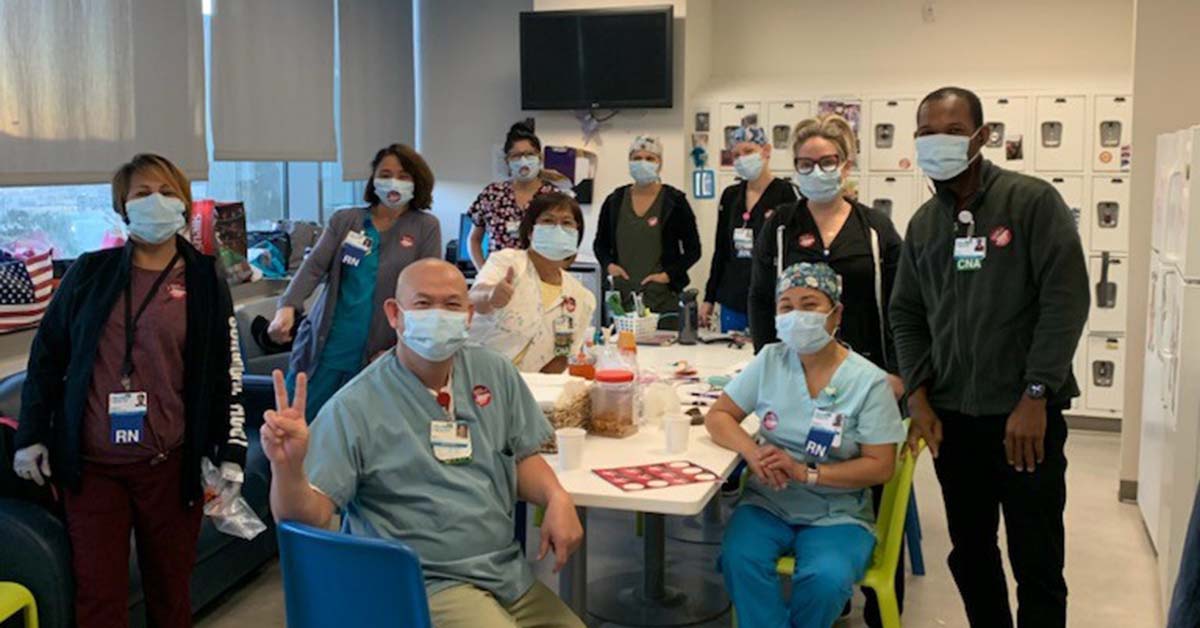 Registered nurses and caregivers at Palomar Health will hold a virtual town hall on Wednesday, Nov. 10 at 6 p.m. to discuss how Northern San Diego County can save Palomar Health, the California Nurses Association (CNA) and the Caregiver and Healthcare Employees Union (CHEU) announced today. During the townhall, nurses, caregivers, clergy, and labor leaders will speak about patient care, safe staffing, and the dire need for Palomar management to prioritize safe patient care conditions over profits.
Throughout the Covid-19 pandemic, RNs and caregivers say they have tirelessly worked on the front lines while Palomar Health administration showed them complete disregard and disrespect by laying off their colleagues—creating dangerous levels of short staffing, applying for waivers of the state-mandated safe nurse-to-patient staffing ratios, and creating uncertainty by restructuring departments.
"When the Covid-19 pandemic first came into our lives last year, nurses and caregivers were morally outraged as we watched our hospital fail to provide the basic resources to protect us, such as personal protective equipment and optimal RN staffing," said Joanne Meza, an RN at Palomar Medical Center at Poway. "Now, 22 months later, not only have we not healed, but nurses' and caregivers' morale continues to plummet as our hospital administration and management prioritize their bottom line over proper staffing and safe patient care."
Nurses and caregivers say they are disappointed that Palomar Health has not taken affirmative measures to be transparent with frontline workers and the community when making changes that impact patient care. For example, CNA and CHEU learned Palomar Health applied and was approved for a waiver that would allow the hospital to remove patient care from the bedside and shift care to the home.
"In most cases, removing patients from the bedside would delay patient care and shift the burden to family, and in most cases, women in the household," said Morgan Celaya, an MRI Tech at Palomar Medical Center in Escondido. "Palomar's restructuring program puts patients and our community at risk. Nurses and caregivers have asked Palomar Health on multiple occasions to be more transparent about patient care. But once again, Palomar Health did not engage in discussion with the unions about the possible changes that impact patient care, before applying for the waiver."
CNA, CHEU, and the community are calling on Palomar Health management and the Palomar Health board to protect patients, nurses, caregivers, and the community by being transparent. Registered nurses and caregivers have been at the bargaining table with Palomar Health for nearly seven months to address patient care conditions and short staffing. RNs and caregivers affirm that if conditions at Palomar Health don't improve, it will be challenging to retain qualified staff amidst the ongoing pandemic.
California Nurses Association represents around 1,300 nurses at Palomar Health hospitals. The Caregiver and Healthcare Employees Union, an affiliate of CNA, represents around 1,700 ancillary caregivers. California Nurses Association/National Nurses United is the nation's largest and fastest-growing nurses' union representing more than 175,000 registered nurses across the country.