Press Release
Palomar Health nurses and Caregivers to hold press conference to demand hospital prioritize patient safety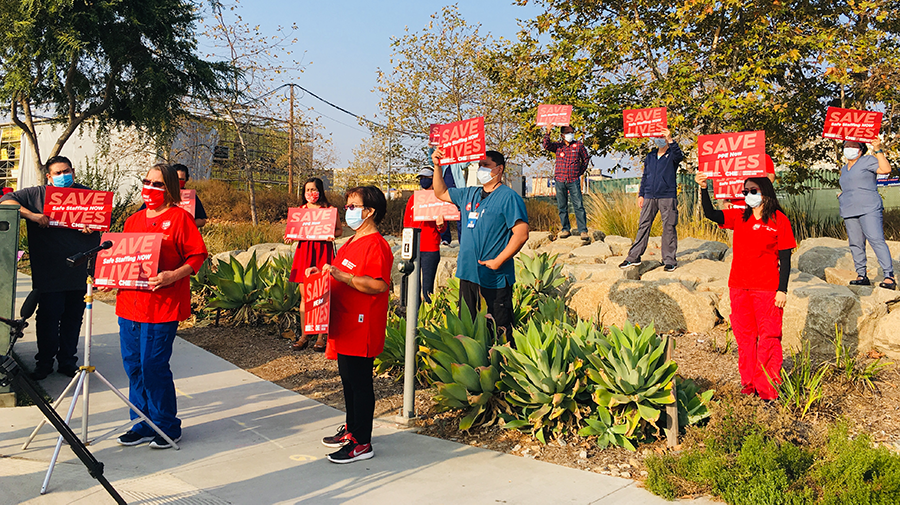 California Nurses Association/Caregiver & Healthcare Employees Union/National Nurses United to protest staffing ratio waiver
Poway, Calif - Registered nurses and caregivers will hold a press conference on Friday, Dec.11 at Palomar Health in Poway, Calif., to declare their opposition to the hospital's application for a waiver of state-mandated nurse-to-patient staffing ratios, which was approved by the California Department of Public Health (CDPH) on Dec. 9, 2020 the California Nurses Association (CNA) and Caregivers & Healthcare Employees Union (CHEU) announced today.
Who: Registered nurses, caregivers, and concerned community members
What: Press Conference to protest waiver of staffing ratios
When: Friday, Dec. 11 at 8:00 a.m.
Where: Palomar Health Poway 15615 Pomerado Rd., Poway, CA92064 (at the street entrance)
Palomar Health moved to apply for higher, and dangerous patient ratios for nurses. This short-sighted action places patients, caregivers and community at risk and negatively impacts nurses' ability to deliver safe care. Palomar Health medical facilities have been stretched thin amidst the Covid-19 pandemic with more patients who are very sick and require more care. State-mandated nurse-to-patient staffing ratios provide assurance for nurses and patients that safe care will be delivered.
Recently, the CDPH announced that hospitals may apply for a waiver of these ratios in cases of short staffing. Nurses say the hospital's decision is premature, and that Palomar Health administrators who applied for the waiver, have not taken sufficient preventive measures to protect patients from short staffing or even provided adequate personal protective equipment (PPE). Numerous nurses, caregivers and skilled nursing facility staff have faced staffing shortages which are exacerbated by the layoff of hundreds of frontline nurses and caregivers just months ago. The health care workers have also struggled to obtain needed PPE, including home health RNs who Palomar Health refuses to provide N-95 masks for when they visit Covid-19 patients at home.
Nurses and caregivers also report the comingling of Covid-19 positive patients with non- Covid-19 patients
"We know safe nurse-to-patient ratios save lives," said CNA Nurse Representative Joanne Meza, RN, who works at the Poway campus ICU. "We know what it's like when we don't have ratios – we become overworked and patients suffer. We are already exhausted – a waiver does not help anyone."
"Palomar Health is already not providing enough supportive services and adding more patients in an assignment to nurses or even caregivers at a time like this is unconscionable," said Grace Vicente, a Certified Nurse Assistant also at the Poway campus who added that "short staffing leads to patient care delays."
California Nurses Association represents about 1,400 nurses at Palomar Health Hospitals. The Caregiver and Healthcare Employees Union represents about 1,700 ancillary caregivers.